Soundelux e49 Press Release
(Reproduced from http://www.transaudioelite.com/sonowshe49la.html, archived copy from 2006-11-13)
LAS VEGAS, NEVADA: Transamerica Audio Group, the U.S. distributor for Soundelux Microphones announces the new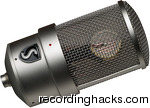 e49 large diaphragm condenser microphone, based on the original 1952 German IRT design, is now shipping. The original vintage tube 49 microphone is still the gold standard in studios around the world, due to its incredible flexibility in any application from distant orchestral recordings requiring a neutral sound quality to close up micing where the tailored proximity effect is well known and valued for achieving big vocal sounds.
Like the original, the Soundelux E49 is a remote variable pattern tube mic that uses Soundelux' KK47 large diaphragm capsule and a unique head grille design that replicates the original's acoustic and mechanical sonic signatures. A specially designed Soundelux SteadyState(r) fixed-bias type tube amplifier (similar to the original) is used but has lower noise and distortion. The output transformer provides a correct impedance match to any mic pre-amp input and, compared to transformerless designs, has lower intermodulation distortion and significantly improved frequency linearity in the low and middle frequencies. The E49 delivers a consistent and stable sound; much longer term when compared to typical transformerless mic designs whose sound quality changes over time because the large electrolytic capacitors needed in the audio path 'age' over the years.
The E49 has a unique double shock mounting system. It includes a capsule-to-electronics shock assembly and a separate capsule and electronics package shock mount. This double system all but eliminates intrusive mechanical vibration and noise from affecting the mic's sound.
The included universal outboard power supply has a continuous variable polar pattern control that adjusts from figure-of-eight to cardioid and then to full omni-directional. The E49 microphone comes in a wooden storage box complete with a stand adapter and optional shock mount mic holder.
Transamerica Audio Group, founded by industry veteran Brad Lunde, has quickly become the premier U.S. importer/distributor for high-end audio. Success hinges on Transamerica providing users with technical expertise extending far beyond the norm. Transamerica AG's product lines include AEA ribbon microphones (USA), Apex (Belgium), ATC Loudspeakers (UK), Brauner (Germany), Drawmer (UK), Geoffrey Daking & Co. (USA), George Massenburg Labs (GML) (USA), Mission Audio (UK) Phoenix Audio (UK) Soundelux (USA), SoundField (UK), and Z-Systems (USA).
MSRP: $3,750.00
Please contact Toni Flosi at: tflosi@…..com for review samples.
TransAudio Group, Inc. – 7320 Smoke Ranch Rd Suite G
Las Vegas, Nevada 89128 – Tel: 702-365-5155 Fax: 702-365-5145