MXL M3 Stands Up To Expensive Imported Mics
El Segundo, CA, November 18, 2008 – MXL® Microphones, the professional audio division of Marshall Electronics, has launched the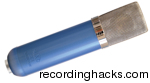 MXL M3 pressure-gradient condenser microphone. Developed and manufactured at Marshall's headquarters in Southern California, the M3 is a beautifully crafted microphone that captures big vocal sound but is transparent enough to bring out detail from the most complicated musical arrangements.
"Even the most seasoned recording professionals would be hard pressed to tell this isn't a tube microphone," exclaims Jim Mona, MXL's National Sales Manager. "The M3 has a classic look and incredible sensitivity to capture the subtleties of the human voice and instruments."
According to Mr. Mona, the MXL M3 is a large diaphragm, pressure-gradient condenser microphone with a warm sound that is free of coloration–making it an excellent choice for vocals as well as brass and strings. Unique design factors of the M3 include a solid-state FET amplifier, transformer-coupled output, and carefully selected components, all which combine to mimic the performance characteristics of tubes with uncanny accuracy. As a solid-state microphone, the M3 requires neither an external power supply, nor does it take valuable time to warm up–as is common with tube microphones.
The MXL M3 has a hi-tech blue finish, chrome grill and ships in a cherry wood box.