I get "
name that mic
" challenges all the time. People send me a fuzzy photograph from 1950 or a Youtube video clip in which a microphone is briefly glimpsed, jiggling from the perspective of a handheld shakycam, obscured by an oversized DIY pop filter, and expect me to immediately recognize it. I used to respond, after poring over the mic profile images on the RecordingHacks website, with likely choices (allowing for 3rd-party shockmounts, dim studio lighting, and the color shift of aging photographic prints).
But any more I just write back, "they all look the same to me." Because it's mostly true. Cut a steel or brass tube 50-60mm in diameter by 200mm long, and you have any of about 700 large-diaphragm condenser microphones. As far as I can tell from your crappy photograph, anyway.
Why am I telling you this? Because it sets the stage for the most unique mic giveaway of the year:
March Newsletter Sponsor: Ear Trumpet Labs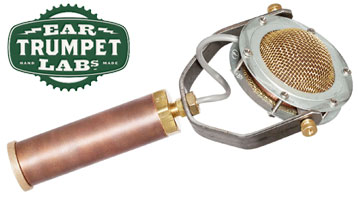 I suspect my frustration with lookalike microphones is shared by Philip Graham, a maker well-versed in both electronics and metalwork, and lately the head microphone designer and proprietor of Portland, Oregon based
Ear Trumpet Labs
. If you are familiar with his products, you know
they don't look like anything else.
But these microphones are not merely visually distinctive. They are serious audio tools – handbuilt, hand-tested, hand-tuned. Graham selects specific capsules to meet his design goals, rejecting the significant percentage of every lot that fails to meet specifications. He mounts them in housings to create a desired frequency and polar-pattern response, then mates each capsule head to a transformerless impedance conversion circuit tuned to deliver a specific response at a given working distance.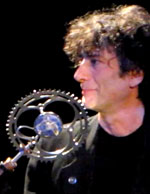 At a time when so many microphones seem like cookie-cutter combinations of standard mass-produced parts, the Ear Trumpet Labs products provide a refreshing change of perspective, simultaneously both "fresh air" and an appealing retro vibe. Their popularity has spread from the Portland club scene to the digerati's literary hero,
Neil Gaiman, who used Ear Trumpet Labs' "Trudy" on a recent tour
. (Apparently Gaiman's Twitter post sent such a flood of traffic that the ETL webserver collapsed!)
The "
Edwina
" is arguably the most versatile microphone in the ETL product line, in part because the capsule head is mounted on a yoke that allows it to swivel from a side-address to end-address orientation. The value of this feature is difficult to overstate, especially when positioning stereo pairs. Having this additional axis of movement without adjusting the mic stand is a huge benefit. Imagine sneaking the mic up over a drum rim, or draping it down the grille of a guitar cab.
Although built for "close live vocal use," the mic has found many more uses around the studio. We've just published a
glowing review of the Edwina
by the inimitable Don Gunn (see profile at right!), in which a pair of these mics find a permanent home above a drum kit, at least until they're pulled off for guitars and lead vocals. Did I mention these are versatile?
Don writes, "With the pair of mics about 1 meter over the snare drum/rack toms, I was immediately impressed by the full, round tones I was getting from the drums as well as the sense of width from the cymbals on the outside arcs of the kit. My usual overheads are either an old pair of AKG 414B-ULS or
Mojave Audio MA-200
tube mics; the Edwinas have a distinctly more mellow high-end than either of the other two options, almost like the smooth top-end of a ribbon mic..."
There is more great stuff in the review; be sure to
check it out
.
The Ear Trumpet Labs product line is new, but we predict a rapid rise in popularity. The mics have fans in studios and on stage too; all you working musicians with home studios would be very well served by a pair of Edwinas.
We'll try to get you started: ETL is sponsoring this newsletter by awarding one Edwina microphone to one lucky subscriber. If you received this newsletter via email, you're already entered in the drawing, which will take place in mid-April. If you're reading this online and would like to subscribe to the newsletter,
click here for details
.
(Philip, while you're feeling so generous, can you get Neil Gaiman to tweet about RecordingHacks.com? ;)
Mic sets are here!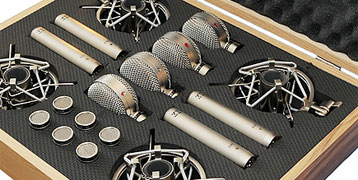 Most manufacturers offer pre-selected sets of microphones. Whether it's a
matched stereo pair
(click for entertaining debate about the merits of same) or, hell, a
mismatched
pair
, or any of numerous drum microphone packs, we have lots of them listed and are adding more daily.
These mic sets appear on each manufacturer's product listing page. For example, check out
Oktava
or
Microtech-Gefell
.
Also, when you're looking at a mic, you can see what sets it belongs to (if any). As an example, look in the right sidebar of the profile for the
MXL A-55 Kicker
, which kicks a55 in three different MXL drum mic kits.
Awesome Advertisers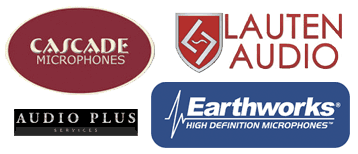 You've hopefully noticed some swanky new ads around the RecordingHacks website these past few weeks. I am excited to have found a handful of vendors who recognize that the RecordingHacks audience is just a bit cleverer and a lot better-looking than, say, your average audio forum website audience. And they want to be a part of it.
So remember, they're here for
you.
These advertisers are supporting the RecordingHacks project, sure, but it's you they're trying to reach. So check out these ads, and click on them to see the offers and information pages developed especially for you.
This month's advertisers include
Lauten Audio
(courtesy their insightful and wise distributor,
Audio Plus Services
),
Cascade Microphones
, and
Earthworks Audio
. I consider all these folks friends, and I have gear from all of them on my shortlist. You should too!
Announcing the 3-Zigma CHI LDC Winner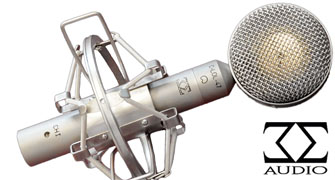 Our February newsletter was sponsored by Larry Villella at 3-Zigma; the prize is the 3-Zigma "CHI" hybrid mic with the winner's choice of large-diaphragm capsules.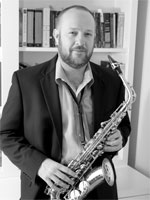 The winner is...
Marcus Gilley
. Marc is a sax player and project studio owner, based near Athens, GA. He teaches music classes at Georgia Gwinnett College when he's not performing with or recording
The Four Thieves
, funk/soul band
The HEAP
(see also the audio streaming from the Heap's
bandcamp site
), and the
Odd Trio
(a band that is celebrating its CD Release party as I write this).
Given the CHI/67's spectacular showing in a different Marc's
sax-centric condenser mic review
this month, we're especially gratified that Marcus is taking home this CHI LDC.
Congratulations, Marcus! Serendipity!
Future Sponsors
These newsletter sponsorships have taken off; the next 3 months are spoken for. There is a lot of free gear in the pipeline. Stay tuned!