If you pay any attention to the pro audio industry, you've noticed an avalanche of new product announcements recently—new companies, new endorsements, new products, even some old products with new paint jobs (really). It's not a coincidence; it's the NAMM show, the industry's annual insiders-only event.
Thousands of companies filled the Anaheim Convention Center last week to spend four days schmoozing dealers, distributors, the media, and me. (And I can tell you, I was overdue for some schmoozing!)
The "NAMMvalanche" of audio product news results from thousands of companies tying their product development cycles to the annual trade-show schedule. The news you've been hearing is just an advance peek at a year's worth of products to come.
I will post a roundup of microphone news within the next week. As you should expect, it will go deeper than the breathless press releases, to tell you the stuff that really matters.
In the meantime, we've got a sensational new sponsorship prize for January, and lots more good stuff below.
January Newsletter Sponsor: RealTraps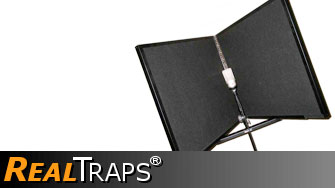 I've been a fan and unofficial endorser of the RealTraps "Portable Vocal Booth" for years, so I'm really excited to announce that now I get to give one away. Huge thanks to Ethan and James from RealTraps for this opportunity!
The
PVB
is a hinged acoustic panel that stands behind your microphone to control room reflections. It works in both directions: it reduces the sound going past the mic and into the room to bounce around and muddy up your recording. And it reduces whatever ambient/reflected sound there is from coming back into the mic. In the words of the manufacturer, it creates "a highly controlled environment for recording vocals and spoken narration in acoustically hostile spaces."
When the PVB and other "reflection filters" first hit the market, I was suspicious of the hype. But I tested the PVB extensively, and was impressed enough to buy it. Here's an excerpt from my
review of the Portable Vocal Booth
: "The PVB looks good. It sets up quickly. It is undemanding when in session. And it works as advertised. I wish I could say that about the rest of my gear."
If you don't have a purpose-built vocal booth, you'll use this every time you track. I say this from personal experience.
James from RealTraps recorded a
podcast
about the product, which not only gives you another demo of its effectiveness, but presents a neat approach to capturing a
controlled
room tone.
If you received this newsletter via email, you're already entered in the PVB drawing, which will take place in mid-February. If you're reading this online and would like to subscribe to the newsletter,
click here for details
.
Shure Month!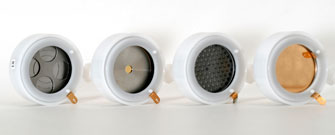 Since I met the gang from Shure, they have consistently stepped up to provide obscure product details, historical perspectives, and evaluation gear. The support has been fantastic, and has fueled a recent series of content features: First, we had Jordan Reynolds'
voiceover test of the KSM313 and KSM353 ribbon microphones
. Next we had Jon Tidey's over-the-top
review of the A27M stereo mount and A75M multi-clamp
. Finally, four of Shure's exclusive condenser capsule designs—from the KSM42, KSM44/44A, SM27, and Beta 27, pictured above but in a totally different order—have been lovingly documented in the
Large-Diaphragm Capsule Directory
.
Coming soon: an homage to the vintage

Shure SM5B
broadcast dynamic. (Meanwhile, the KSM ribbons will wing their way to NYC for part III of Marc Mommaas' "Quest for the Ultimate Sax Mic" feature.)
Everything You Need To Know About Audio!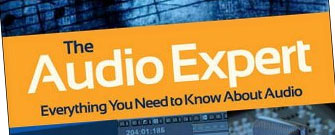 When we were trading emails about the PVB sponsorship, Ethan Winer mentioned that he has a new book coming out, modestly titled
Everything You Need To Know About Audio.
I put it on my Amazon wishlist immediately! Well, then I took it back off because I remembered that Ethan promised to send me a review copy. But I'll buy it if I have to, because I think it's going to serve as an outstanding reference for audio engineers. Check out the
TOC
: from basic concepts like comb filtering, the null test, Fletcher-Munson curves, and perception issues, to recording techniques, mics and outboard effects, even video and MIDI. It's a big book, with a companion website filled with audio and video examples. (Seriously, why try to imagine what flutter echo sounds like when you could just go
listen to a sample of it
?)
Preview the book:
The Audio Expert: Everything You Need to Know About Audio
. See also
Ethan's description
.
Announcing the Kel Audio HM-3C Winner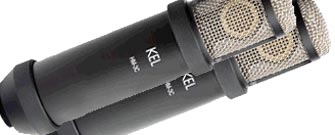 The
Kel Audio HM-3C
condensers work midrange magic on strings. Kelly Dueck of Kel Audio generously donated a pair of them, which have been won by ... (
drumroll please
) ...
Todd McKernan
of Southern California.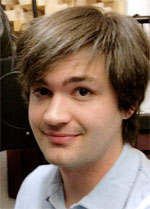 Todd earned his degree at Citrus College's Recording Block Program in Los Angeles. He now works at the up-and-coming
Inter-Pulse Studios
where he produces many independent acts.
Congratulations, Todd! I'm sure you will enjoy the heck out of those microphones!
Be sure to check the RecordingHacks site next week for the big NAMM Microphone Roundup!