With the last of the holiday gifts unwrapped, and the crunchy-dry Noble Fir tossed unceremoniously off the back deck before it spontaneously combusts, taking out my new Christmas sweater (not to mention the guy wearing it), it's time to reflect on the past year, celebrate the successes, and make some thoughtful preparations for the new year.
But before I do any of that, I have to get this newsletter in the mail! :)
December Newsletter Sponsor:
Kel Audio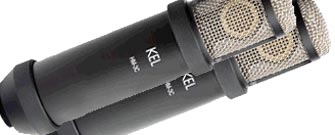 Kelly Dueck has been making innovative, inexpensive microphones for years. If you think most low-cost mics sound shrill or hyped, check out the
Kel Audio product line
. You won't find a screechy high end on
any
of them.
Kelly has generously
donated a pair of HM-3C microphones
to be awarded to one MIC NEWS subscriber in mid-January.
The
Kel Audio HM-3C
is, somewhat unusually for a small-diaphragm design, a side-address microphone. Designed primarily for acoustic instruments, it has drawn comparisons by reviewers to the
Neumann KM-84
for its midrange detail and unhyped top. Kelly tells me these mics are excellent on banjo, mandolin, and acoustic guitar.
He has a great explanation for these mics' neutral high-frequency response, and the reason this works so well for bringing out the tone of acoustic stringed instruments. Paraphrased: "You spent hundreds, or maybe thousands of dollars on your instrument; do you really want to hear the 40-cent plastic pick?"
Like all of Kel's mics, the HM-3C puts high-quality components into the circuit, and solid engineering throughout. Each mic includes a recently-redesigned shockmount, whose cutaway front allows easier positioning close to a guitar or cabinet.
If you received this newsletter via email, you're already entered in the HM-3C drawing, which will take place in mid-January.
Studio Workhorses?
or One-Hit Wonders?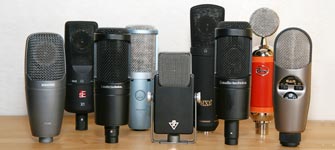 I'm asked to recommend microphones all the time. Usually there's a price range attached. Usually the specific range provided is "cheap."
I most often recommend the
CAD M179
. It's a neutrally-voiced mic that is maybe the only multipattern mic available for under $200, and I actually own a pair, so I can say they do pretty well on numerous sources. It's a solid recommendation, and without knowing any details of an inquirer's sources or needs, it is the best recommendation I have.
I realized that my default response deserved closer consideration while speaking to James Ishmaev-Young at AESNYC. James is one of the founders of sE Electronics, and his new
X1
microphone is a new entry into this category. I get the impression that maybe sE isn't making a lot of money on this mic -- rather, I suspect the X1 is sold as a gateway mic to sE's higher-cost offerings. I've personally seen a lot of brand loyalty among mic buyers, so I see the logic of this strategy.
James had a specific mic he wanted us to test against the X1. I had a bigger plan, though -- I wanted to round up
all
the mics in this category, at least one from every vendor, and test them together.
I think this review is great for first-time mic buyers especially. But I hope it is useful for experienced recordists and studio owners who could use another couple condensers. When the best mics are already set up for vocals and acoustic guitar, but you need something else for percussion, or sound effects, or yet-another room mic for the drum kit, what do you reach for? I don't personally want to drop $500 for any such mic, but $150 doesn't seem out of reach.
The review turned into a 3-part series, with maybe still more to come.
Part I
, written by Aaron Lyon, put seven mics through a battery of vocal and guitar tests. You can hear all seven mics on sung vocals, acoustic guitar, and guitar cab. In
Part II
, I went overboard on a podcast/voiceover test; I spent days listening to audio samples, teasing out subtle differences between the mics, then in the last hours repeated the entire test at half the working distance... which changed nearly all my selected favorites. Part III, drum overheads (in mono, argh!), will follow in January.
The mics in question are pictured above: Shure PG42, sE X1, Audio-Technica AT2020, AKG Perception 220, Studio Projects LSM, MXL 2003A, Audio-Technica AT2035, Blue Spark, and CAD M179. They're all decent mics, with a variety of strengths and weaknesses, and few exceptions you could use any of them on any source and get a pretty reasonable result. But a few shine more brightly than the rest, turning in solid tracks from a variety of sources. Read the articles to find which ones
you
like.
Yet another mic giveaway!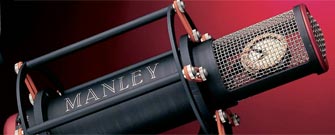 My friends at Front End Audio are giving away a Manley Reference Cardioid mic -- a $2700 value! -- just one day after I give away a Microtech Gefell M 930 Ts. (That's about $4500 worth of free mics in two days.) I am unfortunately not eligible for my own giveaway, but you'd better believe I'm in the Front End Audio drawing. The entry form for the Manley giveaway is on the Front End Audio website,
right here
. (I am not involved in the Manley giveaway, other than as a hopeful contestant. For more info on the M 930 Ts giveaway, see the MTG logo in the right column, or click
here
.)
The Capsule Guide, Version 2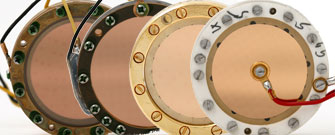 More capsules, more photos, text descriptions, and a fresh coat of CSS, and the capsule directory is ready for public consumption.
Four LDC capsules from Shure will be added next. I'm still working on Neumann, Campbell, Beesneez, Hand-Crafted Labs, and a couple more. The Flea caspules are MIA -- rumored to have been sent six weeks ago, but perhaps lost in translation if not in the post.
I'm more proud of this than is probably healthy to admit, so I hope you mic builders and modders find it useful:
Large-Diaphragm Condenser Capsule Guide
Announcing the Avenson DI Winners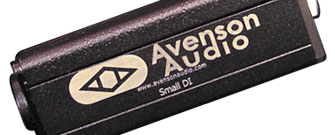 Last month's prize was a pair of DI boxes from my pal Brad Avenson. The
IsoDI
winner is ... (
drumroll please
) ... Ian Walker of Lansing, MI. Ian is a sound engineer who spends his 9 to 5 fixing Mac computers. In addition to his freelance work, which is mostly rock music, Ian also does a lot of classical and Jazz recording for the College of Music at Michigan State University. You can find him online at
MichiganSoundServices.com
, and on Twitter:
@EvilPowerMaster
.
The
Small DI
winner is ... (
drumroll please
) ... Joey Townsend of Pineville, NC. Joey is a singer, songwriter, and recordist whose material has earned a number of strong finishes in nationwide songwriting competitions. Find him online at
JoeyTownsendMusic.com
.
Congratulations, Ian and Joey! You both have some high-headroom, low-noise DI experiences to look forward to.
Thanks for reading, and best wishes for a prosperous 2012!