Issue #4 is upon us, along with the impending crush of the holiday season. Raise your hand if you're feeling overwhelmed? Man, that's a tough word to type with one hand.
But hey, there's news to share, and some
exclusive pro-audio deals and discounts
to lighten your holiday-shopping load, and a Vari-Ohm winner to announce. Plus the usual audio geekery. Let's get started!
(Can I put my hand down now?)
November Newsletter Sponsor:
Avenson Audio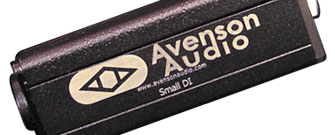 I've been a fan of
Brad Avenson
's gear for years, so I'm really pleased to have him join us as this month's sponsor. He's pitching in two DI units, one each for two winners to be selected soon.
The
Avenson SmallDI
is a miniature direct box, intended as a very portable DI for gigging musicians, or a transparent (but high-bandwidth) complement to preamps with no built-in DI. It adds no gain, relying instead on the downstream preamp to which it is connected. High-quality components deliver a surprisingly big sound for such a small package -- in fact, one reviewer found the SmallDI to "outshine" the built-in direct inputs on both an A-Designs Pacifica and a LaChapell 992EG preamp! The SmallDI is an $80 problem-solver, with equal utility on stage and in the studio.
The
IsoDI
is the larger of Avenson's direct boxes. Like the SmallDI, it is phantom-powered, but incorporates a DC-DC converter to prevent noise and hum. It retains the basic circuit topology of the SmallDI, with the additional option of a second, transformer-isolated output. As Scott McChane wrote in his Tape Op review, "It's a little bit of vibe and a whole lot of truth." Street price: $160.
Oh, I forgot to mention the durability of the IsoDI.
Tape Op drove a minivan over one
. Yep, it still worked!
If you received this newsletter via email, you're already entered in
both
the Avenson DI drawings, which will take place in mid-December. Residents of Quebec are, sadly, ineligible, although we encourage them to upgrade their low-fi DI boxes anyway. The winners will be announced in the next issue of
Mic News
. (No purchase is necessary. Void where prohibited by law, and in clubs that hire DJs more than two nights a week.)
OMG Discounts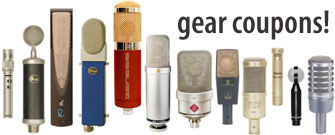 Holiday gifting always seems like a mixed blessing for audio enthusiasts. It's not just that Santa's elves don't make U47s any more. Most of the audio gear I'd really like to have is way out of reach for anyone who wants to buy me something.
If you share that pain, maybe you could share some of these links, too -- let your shoppers buy something you really want and save some coin at the same time.
| | |
| --- | --- |
| » | Save 10% at Front End Audio. Coupon code: Black10 (good through Sunday) |
| » | Save 15% at Music123. Coupon code: MEGA15 |
| » | Save 15% at Woodwind & Brasswind (drums, band instruments as well as pro audio gear!). Coupon code: BLKITEM |
| » | 2-day Thanksgiving sale on recording gear at Musician's Friend. Coupon code: GIVETHANKS. |
| » | Save $25 on the Magneto Labs Vari-Ohm -- an exclusive MIC NEWS rebate! Coupon code: (for subscribers only) |
| » | Remember that you can always find today's microphone price-drops on the RecordingHacks site. We sort through the pricing data from 13 stores to show you the day's best deals. Currently there are 13 mics on sale for $150 or less. "They don't all suck!" :) |
If you're buying gear anyway, please consider buying through these links to support RecordingHacks.com.
Ribbon Mic Shootout Acoustic Session!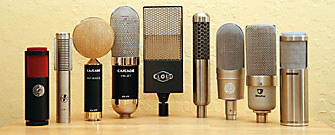 At long last! Hear 18 ribbon mics on two acoustic guitars. This session features Michael Capella, playing both Taylor and Mossman acoustics. It was the last session of the summer's
$60,000 Ribbon Mic Shootout
.
We had already returned the RNR1's, the active Royers, the big R44, and the Woodpeckers, but there remained 18 different ribbon mics in this lineup, plus the back sides of three of them.
The mics ranged in price from a few hundred to well over $3000 apiece. None of them sounded bad, but a couple, as usual, shined a bit brighter than the rest (and remain on my wishlist!).
Give them a listen:
Ribbon Mic Shootout: Acoustic Guitar
Pro Audio Documentaries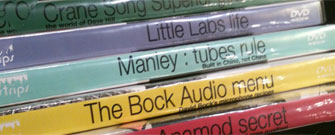 I was fortunate to meet filmmaker Alain Le Kim at AES. He has made a half-dozen documentaries about some of the heroes of the pro audio gear industry, and he sent me home with a stack for review. We've published three thus far, with two more in the works.
If you dig the gear, you'll dig these films. Put 'em on your wishlist soon. They even fit in a stocking!
These links go to our reviews (one of which is by Joel Patterson, and the other by Randy Coppinger):
Still Coming Soon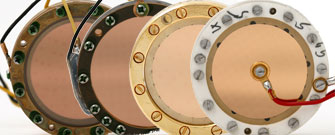 The capsule directory I mentioned last month is coming along nicely. Side-view and three-quarter-view photos are in the can. We've received, photographed, and measured three M7s (two from Thiersch and a US-made M7 from Cathedral Pipes) and another K67. Capsules from Neumann and Shure are in the works, thanks to generous support from friends at these companies. I expect to launch the directory within two weeks.
Announcing the Vari-Ohm Winner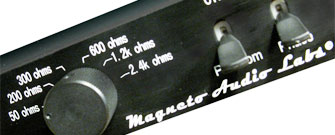 Last month's prize was the
Magneto Labs Vari-Ohm
. The winner is ... (
drumroll please
) ... Daniel Zelonky of Milwaukee, WI. Danny is a producer, engineer, composer, and musician (aka Suite Crude Revue, Low Res). He operates
National Recording LLC
in Milwaukee. He produced his first vinyl single (for The Misfits) in 1979, and his most recent vinyl production of Gina Barrington is coming out on 7-inch, on December 13, 2011.
Congratulations, Danny! I think you'll really enjoy the Vari-Ohm!
Thanks for reading, and Happy Thanksgiving!