Hi gang, and welcome to issue #3 of Mic News! We have a fun sponsor for this month's newsletter, some updates from AES, and a sneak peek at a groundbreaking (yet oh so nerdy!) new feature that I'm really excited to share. Strap in tight; here we go:
October Newsletter Sponsor:
Magneto Audio Labs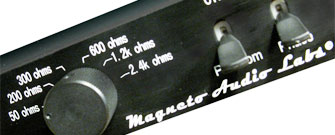 Thanks to the generous sponsorship of Magneto Audio Labs, we're giving away a device that will make all your microphones sound
better!
It's called the Vari-Ohm, and it is a passive impedance-matching device that sits between your mic and preamp. It has four super-useful features:
A 6-position switch lets you set the ideal impedance load for your mic, source, and desired sound.
An input transformer warms up your audio signal (and does nice things to transients) -- especially great for DAWs with transformerless mic pre's.
A phantom-power kill switch will protect your passive ribbon mics.
A phase-reverse switch, such as is not found on most consumer-grade pre's, will help you work around mis-wired mics (it happens more often than you think).
If you haven't already seen it, check out
Ryan Canestro's review of the Vari-Ohm
. Listen to the audio samples there; as the impedance changes, you'll hear the mids smooth out and come into focus. There really is a "best" setting for every mic and pre combination.
Also you can read more at the
Magneto Audio Labs
website, which includes a nice video of company founder Bob Reardon walking through the Vari-Ohm's features.
If you received this newsletter via email, you're already entered for the Vari-Ohm drawing, which will take place in mid-November. The giveaway is void in Quebec and anywhere sweepstakes or neighborly kindness are prohibited. The winner will be announced in the next issue of
Mic News
. (No purchase is necessary. Nor must you multitrack-record an entire orchestra with a single SM57, although as we all know, you certainly could.)
Can't wait? Exclusive Vari-Ohm Discount
Bob has offered everyone here an exclusive $25 rebate on the Vari-Ohm!
Order via this link
and he'll put one of these hot little boxes in your hands for the best price on the planet. Use coupon code
[coupon code was sent to newsletter subscribers but is not published here]
.
Yet another drum overhead shootout!
(but even more awesome)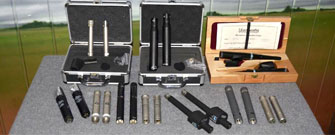 Last month I gave a preview of my latest overkill shootout project, a 10-way small-diaphragm condenser comparison. The article has since been published, and includes 10 tracks of drum overhead audio from one studio and six more from another. Check out the
Prairie Sun Drum Overhead Mic Shootout
.
I found this test extremely educational. For one thing, I was putting my go-to mics against some significantly more-expensive competitors, and for another, we had two dramatically different acoustic environments to compare.
Session engineer
Isha Erskine
still likes the
Neumann KM54
, a choice with which I find no fault! To my ear, the new
Neve/sE Electronics RN17
was so musical and pleasing that I'd reach for them first if given the choice.
There were other great mics in the lineup, to be sure. The
Earthworks SR40
had a brighter sound, with great articulation and detail in the highs. The
Nevaton MC49
had serious balls. And my modded vintage
AKG C460B
s turned in a clean, balanced, and surprisingly nice track considering the affordable cost of the pair. (I intended to promote Jim Williams' C460B mod service, but then I learned that he's not doing microphone mods any more. Alas!)
The audio files in this shootout are posted without labels, so you can listen to them all without preconceived notions about what ought to sound best.
By the way, if you pick the KM54 after all, head over to Prairie Sun soon so you can use those mics for cheap while enjoying the studio's
summer 2011 rate discounts
.
AES Report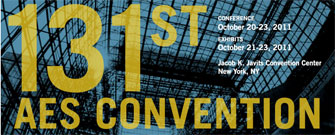 I spent a couple days in New York at the AES convention. There were some great moments, and a pile of exciting new gear that is fighting for room at the top of my GAS list. Just to name a few of the new mics I saw and possibly drooled on: the new
Blackspade UM25
and
UM17
, a new Microtech-Gefell reissue called (believe it!) the
CMV-563
, the
Cascade Knucklehead
ribbon, and
two
giant new tube vocal mics that I will have more details on soon -- the Charteroak H1000A, and the Ronin Applied Sciences Pegasus. The latter incorporates components and know-how from numerous pro audio experts whose names you know, or ought to. Stay tuned!
My pal Mark Fouxman had a booth for his new
Samar MF65 ribbon mic
and his array of microphone output transformers. I staffed the booth for a couple hours each day, so he could take a break and I could pretend that I make awesome ribbon microphones. I got to meet a lot of nice folks, including some RecordingHacks fans and Twitter friends, which was gratifying. To those who stopped by, thank you!
One of my favorite moments from the weekend happened when in the space of a few minutes Mark and I were visited by Tony Merrill of Stephen Paul Audio, David Bock (of
Bock Audio
), Brent Casey (of
Studio Projects
), and Martins Saulespurens (of
BLUE
). These guys are some of the best-known capsule and mic designers in the business! And that's what makes AES so great.
The other thing that makes AES so great happens after hours. But you didn't really expect me to commit any of that to public record, eh?
Oh, I nearly forgot -- we will soon have some good news for
Earthworks SR20
owners, namely a free accessory. You heard it here first, because it was my idea. Kudos to Earthworks management for agreeing with me. ;) Tune in to RecordingHacks.com over the next couple days for the full story.
Coming Soon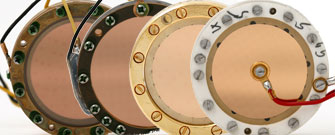 I'm taking grief from all sides for not having finished the acoustic guitar session of the big ribbon shootout. It's coming, I promise!
In the meantime I have been working on a pet project that should be a treat for the modders and DIYers in the audience. It's a directory of every available aftermarket large-diaphragm condenser capsule. I have 22 so far, with specifications and high-resolution photos.
This is not ready for the world to see yet, but I will share the sneak preview that I showed off on my phone at AES. Everybody who saw this
loved it
(or were just being really kind?). Please don't publish this URL yet, but do take a look:
Large-diaphragm condenser capsule catalog
More photos, deeper information, and additional capsules are in the works... including a couple neat capsules I'm sure you've never heard of.
Announcing the September Winner
Last month's prize was the
Avantone CK-7 multipattern condenser
. The winner is ... (
drumroll please
) ... Dustin Stallings of Portland, OR!
Congratulations, Dustin! Enjoy the new Avantone microphone.