Hi gang, it's time for
Mic News
! There is a ton of great stuff in the works, including naming the winner of the Shure PG42-USB (last month's sponsorship prize). But I'm going to do that annoying thing like they do on television, where they give you the tantalizing teaser headline at the beginning and then make you sit through sports and weather and traffic, grumbling all the while, until the thing they teased you about finally airs at the very end of the show.
Hey wait, don't scroll down yet!!
September Newsletter Sponsor:
Avantone Pro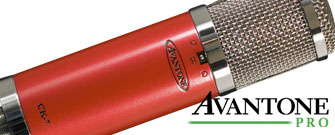 Avant Electronics, maker of the popular Avantone microphones as well as the little MixCubes monitors that I see in just about every studio I visit, has been relaunched as
Avantone Pro
. My pal Glen Heffner, the company's founder, main contact, and all-around nice guy, is sponsoring this issue of
Mic News
-- which means one of you gets to take home an
Avantone CK-7 multipattern condenser
.
The CK-7 is fantastic example of the company's mission of providing "affordable excellence." The mic has a 35mm large-diaphragm capsule, a three-way pattern switch (Cardioid, Omni, Bidirectional), and a transformer-coupled output. It ships in a padded wooden box with an elastic shockmount, all of which is packed into a metal flightcase.
It has a pad and high-pass filter, and it is destined to become somebody's new all-purpose studio workhorse. Drums, acoustic guitar, vocals... this mic can do it all.
As a subscriber, you are already entered for the drawing, unless you live in Quebec or some other crazy place where the law prohibits us from giving anything to you for free. The winner will be announced in the next issue.
In the meantime, check out all the
Avantone microphones
in the mic database.
Thanks again, Glen!
Tube Microphones for Voiceover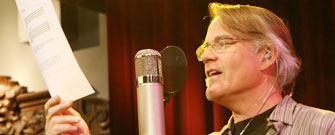 We've published our second
Tube Mic Voiceover Shootout
. It features Mark Keller, the voice of National Geographic's
Shark Men,
performing both a narration and a commercial read into his U47 (pictured above), plus the Manley Reference Cardioid and Reference Gold tube mics, the MXL Revelation, and a FET mic that's so big and warm you'll wonder where they hid the tube.
Because Mark's studio,
Loudville
(Sausalito, CA) is equipped for video as well as audio recording, we turned this shootout into a movie. Personally I find it fascinating to watch voice actors work, because usually you only get to
hear
them.
This test turned into an interesting demo of three of the most popular condenser capsule types in history: the Neumann K67, the Neumann K47, and the AKG CK12. Certainly there is more going on in these microphones than just the capsule, but still, you
will
hear the similarities in the three K67 microphones. Chances are, all your inexpensive imported condensers use some variation of exactly this same capsule.
The video and session writeup are here:
Manley Reference Microphone Voiceover Test
The same page lets you listen to the unlabeled audio tracks, without the burden of your preconceptions. Will you pick the vintage Telefunken U47 in a blind test?
Oh, the irony!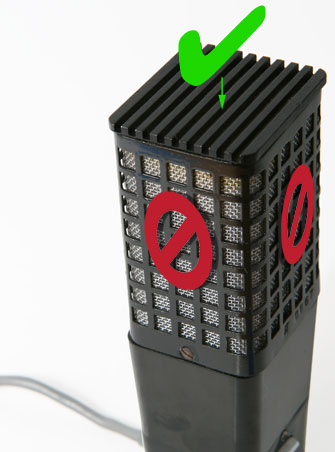 If you follow me on Twitter you'll know that I've been posting tips, including occasionally snarky tips, about microphones and recording. One of the recent items said, "if your cardioid mic sounds unexpectedly roomy, it's pointed the wrong way."
Later that same day I unpacked my new
Oktava ML-19
Cardioid ribbon mic. These things have been out of production for years, so although mine had been restored by the factory in Tula, it came without a mic clip or any sort of documentation.
"Hmm, I wonder which side is front," I thought. I put the mic on a stand and spoke into the two sides that seemed to be the most obvious choices. That should immediately reveal which side of a Cardioid mic is the one you're supposed to point the sound at, right?
No dice. Both sides sounded like crap: dull, roomy, and indistinct.
Maybe they didn't restore it after all?
And then I realized: it's an end-address microphone.
The good news is that when it's pointed the right way, the mic sounds wonderful. It has an amazing high end for a ribbon mic. We'll include it in the next ribbon-mic voice test for sure.
Coming Soon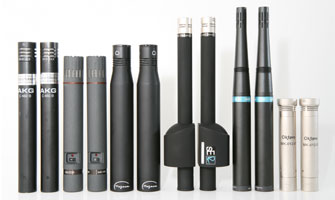 I'm working on a sweet drum-overhead mic shootout conducted at
Prairie Sun
earlier this month. We tested the cream of the crop of contemporary FET pencil mics against the studio's vintage Neumann and Schoeps mics. We recorded tracks in the studio's
Corn room
. If you want a big, live drum sound, this is the room for you! Then for contrast I recorded a set of tracks in my own studio, which at 1/10 the size, and with significantly more acoustic treatment, produces a much drier, more direct sound.
The result should be online within a week. You will hear microphones from AKG, Nevaton, Mojave Audio, sE Electronics, Earthworks, and Oktava, in two distinctly different acoustic environments. If you're shopping for drum-overhead mics, you won't want to miss this.
Announcing the August Winner
Last month's prize was the
Shure PG42-USB
. The winner is ... (
drumroll please
) ... Jacque Harper of Chicago, IL!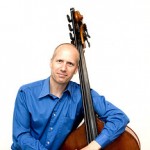 Jacque Harper is the founder of the
Chicago Bass Ensemble
, a small group of large instruments, playing chamber music for double basses. He also plays musical theater and jazz, and has been a member of regional orchestras in the greater Chicagoland area. He drives a
well-worn Subaru Outback
and occasionally plays the washtub bass with the Ukezootub Orchestra.
Congratulations, Jacque! Enjoy the new Shure microphone.