RØDE NT2
Multi-Pattern Condenser Microphone
The Rode NT2 was a large-diaphragm FET condenser. The most common version of the NT2 used a transformerless circuit adapted from the Schoeps design by Jim Williams, The NT1 and NT2 were companion microphones with similar circuits and similar sound; the primary difference was that the NT2 had an Omni/Cardioid polar pattern switch.
According to Jim Williams, both circuits used high-quality components, including Hitachi transistors, a JFET from Siliconix, Röderstein metal-film resistors and Wima polypropylene film caps. Every component on the circuit board was handpicked; as Williams describes them, the NT1 and NT2 were "pre-modded."
The specs for the mic changed over its lifetime; for example, the self-noise ranged from "<14dBA" to 17dBA. Max SPL ranged from 130 dB to 135 dB (or 145 with the pad). Whether these changes were due to circuitry improvements or test methodology changes is unknown.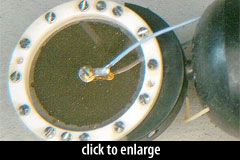 The capsule in both the NT1 and NT2 appear to be derivatives of the Neumann K67; both are center-terminated, and the photos we've seen reveal the characteristic K67 backplate drilling pattern. The NT2 version would have been a dual-diaphragm capsule, to enable the mic's omnidirectional pattern.
A switch on the mic body enabled either a high-pass filter, or a -10dB pad, or neither. The HPF is reportedly noisy, due to the way it is implemented.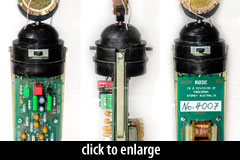 Pictured at right is what we believe to be one of the first generation Rode NT2 microphones. Note the output transformer. We believe this microphone was designed by Rode prior to 1995. It has been described by Jim Williams as having been based on the U87 circuit. Jim's revised NT2 design used a transformerless circuit based on the Schoeps design.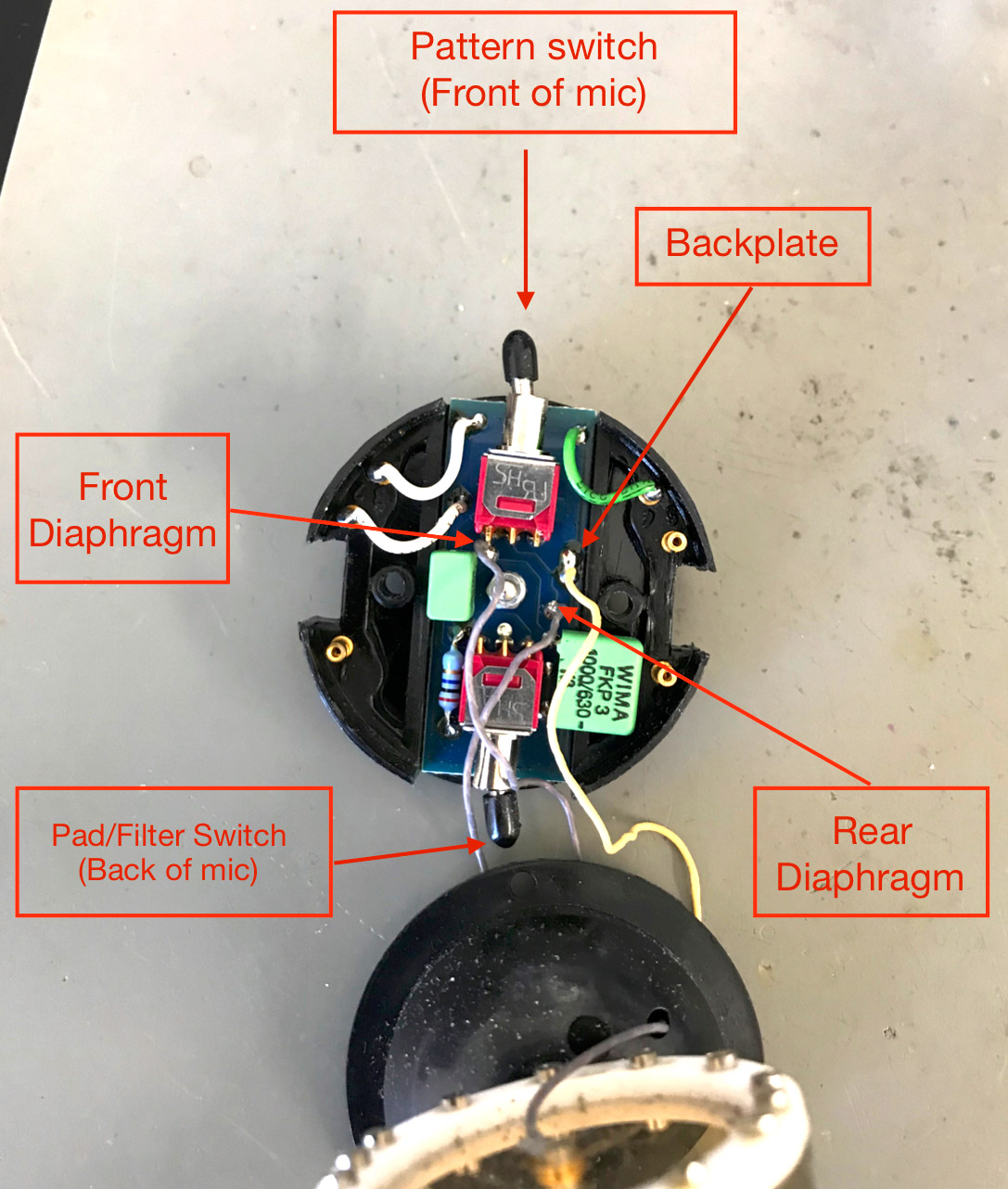 The mic's pad and HPF features are built on a small round PCB with the switches. The image at right identifies the capsule wire connection points.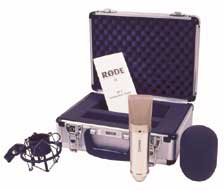 The NT2 body was made of nickel-plated brass. The mic was sold in two configurations:
NT2 - included the SM-1 shockmount with spare elastics, a European thread adapter, a foam windscreen, and a padded aluminum flightcase
NT2-NC - included the SM-1 shockmount, a European thread adapter, and a vinyl storage pouch (p/n ZP-1)
Rode

Never lend the NT 2 to anyone! Tell them to buy one of their own.
SoundOnSound, 1995

The NT2 seemed a little more sensitive than my other large-diaphragm models, and the transformerless design certainly translated into a more detailed sound at the high-frequency end of the spectrum.
Studio Sound

It is honest enough to fit snugly into various specific areas where its undeniable high-mid lift is a pronounced advantage.
NT2/U87 photos and history contributed by Steve Puntolillo of Mastercraft Recordings
The RØDE NT2 is also known as: NT-2, NT2-NC.
Specifications
Pickup Patterns
Pads & Filters
Omnidirectional (16 mV/Pa; 20 - 20,000 Hz)
Cardioid (16 mV/Pa; 20 - 20,000 Hz)


Pad: -10dB (Via Switch)
Filter: HPF (Via Switch)
Capsule Dimensions
Impedance
SPL/Noise
Diameter n/a

40 Ohms (Low)
Max SPL: 130 dB
Self-noise: 14.0 dB(A)
| Weight | Length | Max Diameter | Interface(s) |
| --- | --- | --- | --- |
| 530g (18.70oz) | n/a | n/a | |
Power Specifications
Requires phantom power
Phantom voltage: 48v
Did we get anything wrong on this page? Please let us know!