beyerdynamic TG-X 50
Hypercardioid Dynamic Microphone
The TG-X 50 is a large-diaphragm dynamic microphone intended for use on kick drum and other bass instruments.
It is built into the case of the M 380, but differs from that mic in just about every other respect. The TG-X 50 is hypercardioid, and uses a traditional moving-coil capsule rather than a repurposed headphone driver.
The TG-X 50 capsule was taken from the TG-X 80 handheld vocal microphone. The same capsule shows up in the Opus 99, M 99 TG, and Opus 65.
The mic had no output transformer or other circuitry of any kind. The schematic shows a hum-compensation coil, but this is built into the capsule itself.
The mic shipped with a mic clip (p/n MKV 8) and a padded vinyl storage pouch.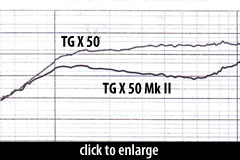 Around the year 2000, the TG-X 50 was relaunched as the TG-X 50 Mk II. The new microphone retained the body and capsule of the original, but introduced a tailored frequency response designed for kick drums.
Electronic Musician

The TG-X 50 has a distinctive (and not always pleasant-sounding) high-mid "presence" boost and sometimes lacks sufficient lows, but otherwise it tended to be the most natural sounding and "honest" of the seven microphones. …[T]he TG-X 50 had the best transient response… and produced the most dimensional "image." Listening to the TG-X 50 tracks with my eyes closed, I could practically see the drum being hit…

The TG-X 50 is not a mic for positioning inside the bass drum close to the batter head. The close-miked track sounded boxy and even mildly distorted, with a surfeit of attack… and not much oomph to back it up. Resonance was restored, though, with the mic positioned farther from the head; still, the sound was thin compared to that of the "tailored" mics.

[T]he TG-X 50 sounded similar to the Audix D4… however, the TG-X 50 had consistently better transient response, was noticeably more dimensional, and generally sounded bigger.
The beyerdynamic TG-X 50 is also known as: TGX-50.
Specifications
Frequency Response - Hypercardioid

Click Graph to Compare!
| Pickup Patterns | Pads & Filters |
| --- | --- |
| Hypercardioid (3.2 mV/Pa; 15 - 18,000) | |
| Coil Diameter | Impedance | SPL/Noise |
| --- | --- | --- |
| n/a | 280 Ohms (Low) | Max SPL: 150 dB |
| Weight | Length | Max Diameter | Interface(s) |
| --- | --- | --- | --- |
| 380g (13.40oz) | n/a | n/a | |
Did we get anything wrong on this page? Please let us know!