beyerdynamic M 260
Hypercardioid Ribbon Microphone
The M 260 is a hypercardioid ribbon microphone.
The current production version, called the "M 260.80," has a reduced low-end frequency response; the ".80" suffix denotes a fixed high-pass filter at 80Hz, implemented within the mic's output transformer. This filter is not switchable. It is designed to reduce the natural proximity effect of the ribbon transducer to improve its utility for close-miking applications.
Sound & Recording

Unusually for a ribbon microphone, the M 260 has slight presence accentuation in the upper mid-range, which makes it sound lighter and more assertive than [the M 130 and M 160]. Due to the fixed low cut filter the M 260 is designed for close miking. It has [a] hypercardioid polar pattern but unlike the M 130 it is equipped with a single ribbon. In spite of this, it is even slightly louder — presumably as the M 260 is somewhat larger overall. It is only a little bit smaller than a Shure SM 58 and in principle actually robust enough to be used as a microphone for singing on stage or in the studio.
The mic's hypercardioid pickup pattern reduces off-axis noise.
It ships with a mic clip (p/n MKV 8).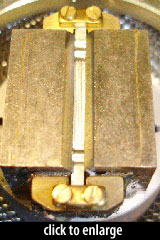 The M260 shares the unusual corrugation pattern of the other Beyerdynamic ribbons.
Stephen Sank, 2009

The stock ribbon is only corrugated in the normal sense, meaning in a manner that makes it flexible, at the ends, and [uses] shallow corrugations. The whole middle section is rendered rigid by the lengthwise pleats. This is why:

stock Beyer ribbons have a large amount of overshoot distortion that rises with frequency,
they fatigue with normal sound pressure levels (due to shallow & few corrugations, and…
they have higher output level than with a fully corrugated ribbon, [because] the rigid ribbon moves pistonically, so generates current more uniformly & efficiently than a ribbon that moves naturally with the soundwave.

So, one plus at the expense of two whopping big negatives.
The beyerdynamic M 260 is also known as: M260, M260.80.
Specifications
Frequency Response - Hypercardioid

Click Graph to Compare!
| Pickup Patterns | Pads & Filters |
| --- | --- |
| Hypercardioid (1.2 mV/Pa; 40 - 18,000 Hz) | |
| Ribbon Construction | Impedance | SPL/Noise |
| --- | --- | --- |
| aluminum ribbon | 200 Ohms (Low) | |
| Weight | Length | Max Diameter | Interface(s) |
| --- | --- | --- | --- |
| 230g (8.11oz) | 163mm (6.42'') | 24mm (0.94'') | |
Did we get anything wrong on this page? Please let us know!