Studio Projects B1
Cardioid Condenser Microphone
The Studio Projects B1 is an entry-level large-diaphragm FET condenser microphone, designed by PMI's Brent Casey and manufactured in China by 797 Audio.
Like all Studio Projects FET mics, the B1 has transformerless output and a 3-micron large-diaphragm capsule. The mic's impedance conversion circuit, according to Brent Casey of PMI, is linear.
The original version of the B1, which shipped from March 2002 through mid-2006, had no pad nor high-pass filters and sold for $119.95 (MSRP). The current version has a 3-way pad (0, -10, -20) and 3-way HPF (flat, -6dB/octave @ 75Hz, -6dB/octave @ 150Hz), and an MSRP of $149.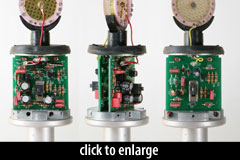 Inspection of the circuit board reveals high-quality components and construction. Most capacitors are Wima film units. The input coupling capacitor is polystyrene. All wires are glued in place to prevent breakage/disconnection under manual strain.
SoundOnSound, 2005

[O]ne very pleasant surprise was the way this mic interpreted acoustic guitar. Most capacitor mics will render a fairly clean and natural-sounding recording of an acoustic guitar if correctly positioned, but this model added some flattering weight to the sound and seemed less critical of positioning. It also seemed to smooth out the rough edges without losing any detail
MIX

It's pretty scary that mics this inexpensive can sound this good.
The Studio Projects B1 is also known as: B-1.
The mic was released in 2002.
Specifications
Frequency Response - Cardioid

Click Graph to Compare!
Pickup Patterns
Pads & Filters
Cardioid (20 mV/Pa; 20 - 20,000 Hz)


Pad: -10dB (Via Switch)
Pad: -20dB (Via Switch)
Filter: HPF: -6dB/octave @ 75Hz (Via Switch)
Filter: HPF: -6dB/octave @ 150Hz (Via Switch)
Capsule Dimensions
Impedance
SPL/Noise
Diaphragm diameter: 25mm
Capsule diameter: 34mm
Diaphragm gauge: 3 microns
200 Ohms (Low)
Max SPL: 132 dB
Self-noise: 12.0 dB(A)
| Weight | Length | Max Diameter | Interface(s) |
| --- | --- | --- | --- |
| n/a | n/a | n/a | |
Power Specifications
Requires phantom power
Phantom voltage: 48 ± 4v
Did we get anything wrong on this page? Please let us know!