Sontronics Sigma
Bidirectional Active Ribbon Microphone
The Sigma is a phantom-powered ribbon microphone with high sensitivity (18mV/Pa), designed primarily for quiet, acoustic sources.
Sontronics

Think of SIGMA like your ear when considering the proximity to the source you are recording, and take care not to overload the delicate ribbon membrane itself. For example, when miking an electric guitar cabinet, you can afford to place SIGMA two or three feet further back than you would put a regular ribbon microphone. However, when miking string instruments such as violin or cello, SIGMA is happy to be placed closer to the source.
It ships in a padded ABS (plastic) or aluminum carrying case with the microphone's visually-distinctive shockmount.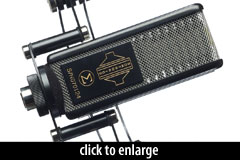 SoundOnSound

A spoken-word vocal test showed the tonality to be extremely warm and silky. Those with indistinct voices might find it a disadvantage, but where there is harshness that needs to be polished over, this mic is definitely up for it. There seems to be a subtle tonal difference between the front and rear of the microphone, but on voice it is barely noticeable and both sides pour on the warmth like double cream.
ProAudioReview

The Sigma will do the job on electric guitar with some limitations. Side by side with my AEA R92 ribbon, both did a great job of picking up thick, clean, jazzy tones. But for some hardrocking overdubs on "11" (with a Marshall and a Mesa Boogie) the R92 held up to the SPL but the Sigma noticeably distorted. I had the Sigma at a 45-degree angle to the speaker cone, but had to back off to about 24 inches or so to avoid clipping and get a roomier tone.
SoundOnSound, 2007

Opinion was split on the Sontronics Sigma, until we all started to understand where it is coming from — which, really, is a slightly different place from most other mics on test here. At first, we felt it was simply dull (the singer told us that "it sounds like I'm singing under a duvet"), but once we'd put our ears in 1950s mode and donned the studio smoking jackets, we started to appreciate the smoothness in the mids and were charmed by the sheer jazziness of this mic. After a few minutes I couldn't wait to record a jazz singer, a saxophone and a drum kit with it — preferably all in the one room at the same time…
Permalink: Sontronics Sigma
The mic was released in 2006.
Specifications
Frequency Response - Bidirectional

Click Graph to Compare!
| Pickup Patterns | Pads & Filters |
| --- | --- |
| Bidirectional (18 mV/Pa; 20 - 15,000 Hz) | |
Ribbon Construction
Impedance
SPL/Noise
aluminum ribbon < 2 microns thick
150 Ohms (Low)
Max SPL: 135 dB
Self-noise: 14.0 dB(A)
| Weight | Length | Max Diameter | Interface(s) |
| --- | --- | --- | --- |
| 495g (17.46oz) | 165mm (6.50'') | n/a | |
Power Specifications
Requires phantom power
Phantom voltage: 48 ± 4v
Did we get anything wrong on this page? Please let us know!