Samson VR88
Bidirectional Active Ribbon Microphone
The VR88 is a long-geometry active ribbon microphone. Its built-in amplifier circuit requires 48v phantom power and delivers 6-7 dB hotter output than typical passive ribbon mics.
The mic's frequency response is typical of many ribbons, with the high-frequency rolloff beginning around 5kHz. The -3dB point is 7kHz.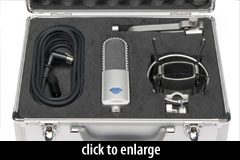 The mic ships in an aluminum flight case, with included yoke mount, shock mount, right-angle XLR cable, and warranty.
Electronic Musician

Compared with the typically crisp and detailed response of a good condenser, the VR88s sounded a bit veiled and dark on drum overheads, but the sound was smooth and had decent definition…

While not as present as a Royer R-121 on an electric guitar cabinet, it still held its own and captured great tone.
Pro Audio Review

The sound [on a drum room application] was unmistakably ribbon, with a delightfully emphasized bottom, an overall (compressed) smoothness dynamically and an understated, rolled off top end. Side by side with the AEA R92… the VR88 was a little darker, a little slower with transients and a little less "real" sounding in its soundstage. There was a certain irregularity in the mids …[that] made the VR88 sound a little further back, but after some EQing … and extreme limiting (about 12dB) the resulting sound was nicely "in my face" and attention-grabbing without nasty condenser mic transients.
MIX, 2009

Everything about the mic speaks quality… On the downside, I found that while it isn't a one-trick pony, it is limited in its application. This is due to its lackluster tonal character. Although ribbons as a group aren't the brightest mics in the universe, there is a definite personality that can be covered up by the tuning, electronics and/or enclosure.
The Samson VR88 is also known as: VR-88.
The mic was released in 2006.
Specifications
Frequency Response - Bidirectional

Click Graph to Compare!
| Pickup Patterns | Pads & Filters |
| --- | --- |
| Bidirectional (10 mV/Pa; 30 - 16,000 Hz) | |
Ribbon Construction
Impedance
SPL/Noise
2.5'', 2-micron aluminum ribbon
200 Ohms (Low)
Max SPL: 138 dB
Self-noise: 17.0 dB(A)
| Weight | Length | Max Diameter | Interface(s) |
| --- | --- | --- | --- |
| 500g (17.64oz) | 178mm (7.01'') | 32mm (1.26'') | |
Power Specifications
Requires phantom power
Phantom voltage: 48v
Did we get anything wrong on this page? Please let us know!