Samar Audio Design Hybrid
Cardioid Hybrid Microphone
This prototype microphone, announced in early 2004 in a post to the HomeRecording forum, is believed to be the world's first hybrid ribbon/condenser microphone. It was designed by Samar Audio founder Mark Fouxman, who built it into the housing of a vintage Electro-Voice microphone.
The design was conceptually based on the Altec / Western Electric 639 (see sidebar link to Coutant profile), which combined a ribbon motor and a dynamic transducer in one housing. In the Altec mic, the ribbon's figure-of-8 pattern was combined internally with the dynamic cartridge's omnidirectional pattern to produce Cardioid or, via a switch that controlled the relative gain of the two transducers, a variety of sub- and super-cardioid polar patterns.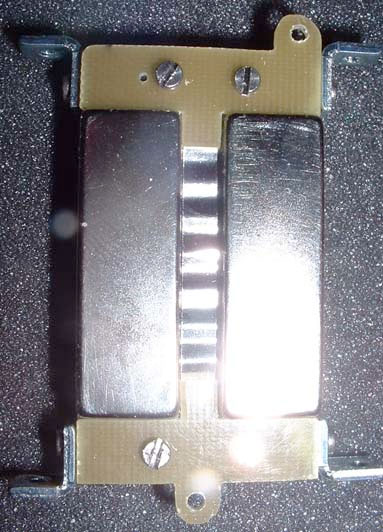 In the Samar Hybrid Prototype, a 6mm Panasonic WM61 electret capsule is used to capture an omnidirectional signal. It is mounted immediately above a custom ribbon motor, with 10x10x36mm magnets and a corrugated 1.5-micron aluminum ribbon measuring approximately 25mm in length.
The omni capsule captures high frequencies that the ribbon motor does not. Further, the omni signal is combined with the polarity-reversed rear lobe of the ribbon's pickup pattern to produce cancellation of the audio signal behind the microphone — essentially creating a Cardioid pickup pattern, much as in the Altec design.
This microphone was never produced commercially, but stands up as an important landmark in the production of the Samar Audio Design TF08, released in 2012.
Permalink: Samar Audio Design Hybrid-Prototype
The mic was released in 2004.
Specifications
| Pickup Patterns | Pads & Filters |
| --- | --- |
| Cardioid (n/a mV/Pa; n/a) | |
| Capsule Dimensions | Impedance | SPL/Noise |
| --- | --- | --- |
| n/a | n/a | |
| Weight | Length | Max Diameter | Interface(s) |
| --- | --- | --- | --- |
| n/a | n/a | n/a | |
Did we get anything wrong on this page? Please let us know!