SE Electronics Voodoo VR1
Bidirectional Ribbon Microphone
The "Voodoo" VR1 is a passive ribbon microphone, promoted as the first passive ribbon to reproduce 20Hz–20kHz (±3dB).
At 1.6 mV/Pa, the mic's sensitivity is typical for most dynamic mics, including passive ribbon mics. The use of a high-gain preamp, or an inline "pre-preamp" like the Cloud Electronics Cloudlifter is recommended, especially when miking quiet acoustic sources.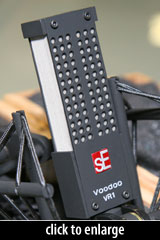 Most passive ribbon mics exhibit significant attenuation in the high frequencies. In contrast, the published frequency response for the VR1 shows it to be nearly linear — -2dB at 20kHz. This is a significant deviation from what most audio engineers would expect from a ribbon mic.
A "mechanical device" developed by sE founder Siwei Zou is credited with the mic's ability to reproduce high-frequency information.
James Ishmaev-Young, sE Electronics, 2010

There is a mechanical diffuser device, comprising an outer perforated diffuser incorporated in the chassis, and a further diffuser perforated membrane surrounding the capsule, that combine to balance the HF normally missing from Ribbons such that you get a fairly linear response from 20Hz to 20kHz.
According to sE, the ribbon element in the VR1 and VR2 is identical in size to that of the company's earlier ribbon mics, the R1 and RT1. The ribbon is made of 1.8-micron aluminum, measuring 4.5mm x 45mm.
The magnets straddling the ribbon are high-grade Neodymium.
The Voodoo VR1 was part of our massive $60,000 Ribbon Mic Shootout.
Permalink: SE Electronics VR1
The mic was released in 2010.
Specifications
Frequency Response - Bidirectional

Click Graph to Compare!
| Pickup Patterns | Pads & Filters |
| --- | --- |
| Bidirectional (1.6 mV/Pa; 20 - 18,000 Hz) | |
Ribbon Construction
Impedance
SPL/Noise
4.5mm x 45mm, 1.8-micron aluminum ribbon
300 Ohms (Low)
Max SPL: 135 dB
Self-noise: 17.0 dB(A)
| Weight | Length | Max Diameter | Interface(s) |
| --- | --- | --- | --- |
| n/a | n/a | n/a | |
Did we get anything wrong on this page? Please let us know!