Roswell Pro Audio Mini K87
Cardioid Condenser Microphone
The Mini K87 was the second mic of Roswell's "Mini K" series. Like its sibling, the Mini K47, the Mini K87 uses a transformerless circuit. Unlike the Mini K47, the Mini K87 uses a "K87" capsule.
K87 is Roswell's own designation for this K67-style capsule. Although based on the Neumann K67 design, the K87 capsule is unique to Roswell Pro Audio. The n ame designates a K67 voicing that is less boosted in the highs, and therefore requires less in-circuit corrective EQ to achieve a neutral response.
Each Mini K87 is tuned by hand to match the company's target frequency response. In practice, the mic's frequency response is within 1dB of flat from 1kHz to 12kHz, with a gradual roll-off in the "air" octave above 12kHz. The Mini K87's high-frequency rolloff is more gradual than that of the U87 Ai, by at least 2dB — that is, the Mini K87 has 2dB more output above 13kHz than does the U87 Ai.
The mic's circuit is a transformerless design. Circuit components were selected for their contribution to the sound of the mic. Resistors are 1% tolerance, 50ppm parts, selected for their sonic transparency. Signal capacitors are vintage European made parts, matched to 1% (or better) tolerance. Transistors are all NOS (new old stock).
The Mini K87 uses the same CMOS based DC oscillator as the Mini K47; it is a very low-noise design, and avoids the ultrasonic noise and instability problems common to inductor based oscillators found in Chinese-made condenser mics.
The Mini K87 is assembled, tuned, and tested in California. Each mic is burned in prior to final QC.
As part of the tuning process, each mic's sensitivity is fine-tuned to ±0.5dB of the company's standard for this model.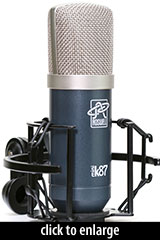 The mic is packed with Roswell's Cutaway™ shockmount and an upgraded flight case.
This microphone's voicing is described as neutral, but not without character. The mic does not impose its own color on the sound, but avoids sounding sterile or lifeless through the careful voicing of the capsule and circuit components.
The Mini K87 is also available as a factory matched pair. Microphones in these pairs are matched for both sensitivity (within 0.5dB at 1kHz) and frequency response (within 1.5dB, 50Hz-15kHz). Matched pairs are packed in a single compact flight case with two shockmounts.
Permalink: Roswell Pro Audio Mini-K87
Specifications
| Pickup Patterns | Pads & Filters |
| --- | --- |
| Cardioid (18 mV/Pa; 20 - 20,000) | |
Capsule Dimensions
Impedance
SPL/Noise
Diaphragm diameter: 26mm
Capsule diameter: 34mm
Diaphragm gauge: 3 microns
112 Ohms (Low)
Self-noise: 12.0 dB(A)
| Weight | Length | Max Diameter | Interface(s) |
| --- | --- | --- | --- |
| n/a | 150mm (5.91'') | 44mm (1.73'') | |
Power Specifications
Did we get anything wrong on this page? Please let us know!