Peluso Microphone Lab 22 47 LE
Multi-Pattern Tube Condenser Microphone
The 22 47 LE is a large-diaphragm tube mic "inspired by and styled after" the Neumann U-47.
That said, it is not a replica or reproduction. Purists note several differences:
The U-47 offered only two pickup patterns, cardioid and omni, whereas the 22 47 LE offers 9.
The U-47 had two diaphragms with a shared backplate (both the original M7 capsule and the later K47 capsule were single-backplate designs). The 22 47 has a dual-backplate capsule.
The circuitry uses a modern design.
The capsule in the 22 47 is a dual-diaphragm, dual-backplate design, as noted above. The diaphragms are made of 6-micron Mylar coated with pure gold. The diameter of the gold disc is 25.2mm; the backplate diameter is 34mm.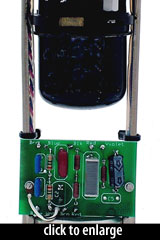 The 22 47 comes in three flavors; the LE version is distinguished by the use of a German "steel" tube, currently a hand-selected EF-12 or EF-13. The SE version swaps this for a tube of US origin; the SE tube is arguably less authentic, but has lower noise.
(The original U-47 used a Telefunken VF-14, a steel tube that Neumann abandoned 50+ years ago because of its unavailability.)
All three models of the 22 47 provide 9 pickup patterns, switched from the power supply.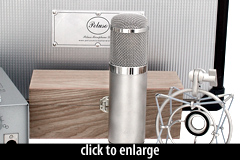 The microphone ships in a flight case with a dedicated power supply and cable, a shockmount, and a padded wooden storage box.
The Peluso Microphone Lab 22 47 LE is also known as: 2247LE.
Specifications
Pickup Patterns
Pads & Filters
Omnidirectional (12 mV/Pa; 20 - 22,000 Hz)
Cardioid (12 mV/Pa; 20 - 22,000 Hz)
Bidirectional (12 mV/Pa; 20 - 22,000 Hz)

Capsule Dimensions
Impedance
SPL/Noise
Diaphragm diameter: 25.2mm
Capsule diameter: 34mm
Diaphragm gauge: 6 microns
200 Ohms (Low)
Max SPL: 140 dB
Self-noise: 16.0 dB(A)
Weight
Length
Max Diameter
Interface(s)
855g (30.16oz)
235mm (9.25'')
58mm (2.28'')

3-pin XLR male (1)
7-pin XLR male (1)
Power Specifications
Includes tube power supply
Did we get anything wrong on this page? Please let us know!