Oktava MKL-2500
Cardioid Tube Condenser Microphone
The MKL-2500 is a fixed-cardioid, large-diaphragm tube condenser mic. Like most Oktava mics, it has a reputation for offering a lot of performance for the price.
The power supply and tube circuit were engineered to introduce third-harmonic distortion, with the intent of enhance the mic's sound in a musical way.
The 2500 circuit design changed at some point, from a "cathode follower" design to a "plate loaded" design.
Michael Joly

Originally introduced with Cathode Follower topology, the MKL-2500 was redesigned to be a Plate Load circuit at some point during production. There is a sonic difference — even using the same tube model in each circuit.

The cathode follower is a very fast transient response circuit with nearly infinite headroom that is almost impossible to clip. It has a righteous sparkle and fundamental-to-harmonic alignment that is very powerful and alluring. The cathode follower topology was used in the classic Sony C37, some early Altec mics, the current small diaphragm DPA (B&K) mics and is the preferred topology Dave Royer uses in his new tube-based ribbon mic.

The plate-loaded circuit provides more of that "rounded" soft clipping of transient signals that we occasionally associate with the "tube" sound.

Both topologies have their supporters and detractors. Some people don't like cathode followers because they don't hear enough of the "tube distortion sound." I actually am quite fond of the cathode follower in the MKL-2500. They make a great acoustic guitar mic; you get the bigness of the large-diaphragm condenser capsule, quick transient response of the cathode follower and harmonic richness of the output transformer. Accurate, but slightly colored. The plate load model on the other hand exudes a certain "fatness" and larger-than-life quality.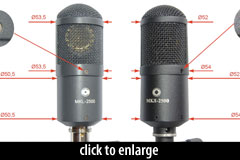 Like the MK-012, the MKL-2500 was produced for a short time in China under the direction of Oktava's UK-based distributor. During this time (mid-2005), some Russian-made mics were shipped with Chinese power supplies, and some Chinese-made mics were shipped with Russian power supplies, and sometimes the entire package came from China.
The Chinese version differed from the Russian in numerous details, including its physical dimensions; see image at right. Additional information is available here.
The Chinese power supplies have a design flaw that causes an audible hum; it can be mitigated by grounding the XLR cable shield to the XLR connector.
SoundOnSound

The [mic] is quite flattering on most voice types, and though the sound doesn't have the same degree of silky smoothness as the best tube mics, switching back to an otherwise comparable solid-state mic demonstrates that the tube is doing something musically attractive.
The Oktava MKL-2500 is also known as: MKL2500, MKL-100.
Specifications
Frequency Response - Cardioid

Click Graph to Compare!
| Pickup Patterns | Pads & Filters |
| --- | --- |
| Cardioid (13 mV/Pa; 20 - 20,000 Hz) | |
| Capsule Dimensions | Impedance | SPL/Noise |
| --- | --- | --- |
| Diaphragm diameter: 33mm | 500 Ohms (Low) | Max SPL: 135 dB |
| Weight | Length | Max Diameter | Interface(s) |
| --- | --- | --- | --- |
| 300g (10.58oz) | 15mm (0.59'') | 52mm (2.05'') | |
Power Specifications
Includes tube power supply
Did we get anything wrong on this page? Please let us know!