Nevaton MC48
X/Y Stereo Condenser Stereo Microphone
The MC48 is a FET condenser microphone with two large-diaphragm capsules shockmounted on a unique parallel-swivel device that allows the capsules to be offset from ±25° to ±70° — meaning, from a stereo width of 50° to a stereo width of 140°.
A red LED marks the front of the microphone. Note that front of the mic has a metal support rib running vertically along the length of the headbasket. This appears to be "sideways" but is obviously necessary so that the XY-mounted capsules have an unobstructed path to the incoming sound.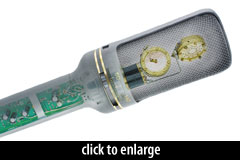 The swivel control is marked in degrees, 50–140. There are no detents; operation from one extreme to the other is smooth.
The two condenser capsules have 25mm diaphragms made of aged 3-micron Mylar. Each is connected to a separate transformerless amplifier circuit.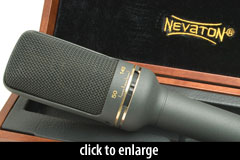 The mic ships in a padded hardwood box with an "isolation" mic clip.
The MC48 has much in common with the MC47 (see sidebar link); both have dual 3-micron 25mm capsules mounted on an adjustable-angle swivel bracket, with twin transformerless amplifier circuits and a 5-pin output. The primary differences are:
The MC47 can be adjusted from 0° to 90°; the MC48 can be adjusted from 50° to 140°.
The MC47 has a "mono" mode switch. The MC48 does not.
The MC48 can be used to create a mono image, but the two channels of it stereo signal would need to be combined via an external mixer or DAW. Panning the two signals equally right and left at equal gain should produce a wide cardioid signal [corrections welcome].
All Nevaton microphones are manufactured in St. Petersburg, Russia.
Pro Audio Review, 2009

I applied the MC48 at drum overheads … with a 90-degree spread. Monitoring in my makeshift control room confirmed I could widen that spread to about 100 or 110 degrees with better stereo separation and still a strong, mono middle… The slight high-end emphasis sweetened the cymbals and the pleasant midrange quality flattered the snare.
The Nevaton MC48 is also known as: MK48.
The mic was released in 2002.
Specifications
Frequency Response - X/Y Stereo

Click Graph to Compare!
| Pickup Patterns | Pads & Filters |
| --- | --- |
| X/Y Stereo (20 mV/Pa; 20 - 20,000 Hz) | |
Capsule Dimensions
Impedance
SPL/Noise
Diaphragm diameter: 25mm
Diaphragm gauge: 3 microns
50 Ohms (Low)
Max SPL: 135 dB
Self-noise: 12.0 dB(A)
| Weight | Length | Max Diameter | Interface(s) |
| --- | --- | --- | --- |
| 500g (17.64oz) | 249mm (9.80'') | n/a | |
Power Specifications
Requires phantom power
Phantom voltage: 48 ± 4v
Did we get anything wrong on this page? Please let us know!