Neumann SM 69
Multi-Pattern Tube Condenser Stereo Microphone
The SM 69 was Neumann's first large-diaphragm stereo microphone. Its descendents include the solid-state SM 69 fet, and later the USM 69.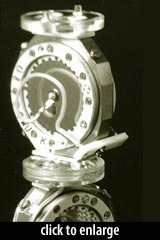 All three microphones contain two large-diaphragm K67/K87 center-terminated capsules, mounted one atop the other. The top capsule assembly can be rotated 270° (presumably, -90°–+180° like the USM 69). The K67 capsule uses dual 26mm diaphragms on dual 34mm backplates. The same capsule was used in the U67 and U87.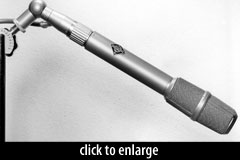 Both capsules could be set, via a pair of rotary switches on the external power supply, to Omnidirectional, Cardioid, Figure-of-8, or any of the six intermediate patterns.
This feature, combined with a rotating top capsule assembly, allowed the SM 69 to support a variety of single-point stereo pickup patterns:
X-Y - With both capsules set to Cardioid, rotate the top capsule 45°–120°.
Mid-Side - Set the lower capsule ("Mid" channel) to Cardioid; set the top ("Side channel") to Figure-8 and rotate it 90°.
Blumlein - With both capsules set to Figure-8, rotate the top capsule 90°.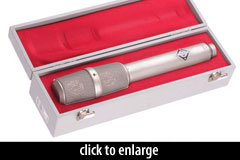 The mic contained two separate amplifier circuits, and two separate Telefunken AC701k triode tubes. The output stage was transformer-coupled.
The mic's output impedance was 200Ω, but could be reconfigured for 50Ω by "connecting the secondary windings of the output transformer in parallel" — which would reduce the mic's output by 6dB.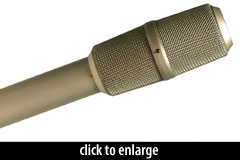 The mic requires an external power supply. The following models are compatible:
NSMa 23 - a single supply powers both top and bottom capsules, and allows pattern selection for both capsules. Connects to the mic via cables SC 1 or SC 2.
NN 48b - will power a single capsule only (thus, a pair of NN 48b supplies is needed to use the SM 69 in stereo). Requires an adapter Z 10 to attach to cable SC1/SC2.
N 52t - like the NN 48b, but designed for rack-mounting.
BB 50 - battery-powered version of the NN 48b.
Permalink: Neumann SM-69
The mic was released in 1964.
Specifications
Frequency Response - Omnidirectional

Click Graph to Compare!
Frequency Response - Cardioid

Click Graph to Compare!
Frequency Response - Bidirectional

Click Graph to Compare!
Pickup Patterns
Pads & Filters
Omnidirectional (10 mV/Pa; 40 - 20,000 Hz)
Cardioid (10 mV/Pa; 40 - 20,000 Hz)
Bidirectional (10 mV/Pa; 40 - 20,000 Hz)
X/Y Stereo (10 mV/Pa; 40 - 20,000 Hz)
Mid-Side Stereo (10 mV/Pa; 40 - 20,000 Hz)
Blumlein (10 mV/Pa; 40 - 20,000 Hz)

Capsule Dimensions
Impedance
SPL/Noise
Diaphragm diameter: 26mm
Capsule diameter: 34mm

200 Ohms (Low)
Max SPL: 118 dB

| Weight | Length | Max Diameter | Interface(s) |
| --- | --- | --- | --- |
| 460g (16.23oz) | 256mm (10.08'') | n/a | |
Did we get anything wrong on this page? Please let us know!