MicW n201
Omnidirectional Pencil Condenser Microphone
The MicW n201 is a small-diaphragm omnidirectional condenser microphone. It uses a 1/2'' (12.7mm) nickel diaphragm, housed within a capsule that can be detached from the microphone body.
The n201 head amplifier (body) is identical to the e216; only the capsules differ. Both microphones are half-inch omnis. The capsules are significantly different in composition and construction, and offer different performance specifications. Note, however, that MicW does not sell capsules individually, so it is not possible to upgrade to the n201 from the e216 simply by purchasing the n201 capsule.
According to MicW, the n201 nickel capsule is an electret design. It is pre-polarized, rather than being polarized by the amplifier electronics.
The n201 has a flat frequency response to 4kHz, with a gentle +2dB peak centered at 10kHz.
MicW manufactures a variety of attachments for N-series microphones:
PP290 - shockmount
PP080 - elastic shockmount with fixed pop screen
PP090 - longer shockmount with removable pop screen
Additional accessories are made specifically for the n201. (Prices are as of late 2010.)
WS052 - 50mm foam windscreen ($13)
WS092 - 90mm foam windscreen ($20)
GD012 - waterproof metal capsule "grid" ($72)
AM032 - slide-on spherical acoustic passive equalizer, 30mm ($49)
AM042 - slide-on spherical acoustic passive equalizer, 40mm ($60)
AM052 - slide-on spherical acoustic passive equalizer, 50mm ($75)
AM101 - slide-on disk-shaped acoustic passive equalizer, 100mm x 30mm ($120)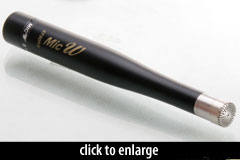 AudioMedia 2010

The clarity of the N201 is very noticeable and has an open, airy, crystal clear sonic pick up that is highly detailed without any harshness at all. There was absolutely no noise to speak of, the mic was wonderfully transparent reflecting the true nature of the space. This is not a microphone that exhibits any specific character.
The N201 is also available in matched pairs, which are guaranteed to sensitivity match within 0.5 dB and phase match within 5º.
Permalink: MicW n201
Specifications
| Pickup Patterns | Pads & Filters |
| --- | --- |
| Omnidirectional (40 mV/Pa; 20 - 20,000Hz) | |
Capsule Dimensions
Impedance
SPL/Noise
Capsule diameter: 12.7mm

75 Ohms (Low)
Max SPL: 130 dB
Self-noise: 18.0 dB(A)
| Weight | Length | Max Diameter | Interface(s) |
| --- | --- | --- | --- |
| 120g (4.23oz) | 155mm (6.10'') | n/a | |
Power Specifications
Requires phantom power
Phantom voltage: 48v
Did we get anything wrong on this page? Please let us know!