Horch Audio RM4
Cardioid Tube Condenser Microphone
The Horch RM4 is a large-diaphragm tube condenser microphone inspired by the Neumann U 47. The "RM" in the model name comes from Röhrenmikrofon, the German word for "tube microphone."
The mic uses an ECC81 dual-triode tube in a class A amplifier circuit with a custom-wound nickel/iron transformer said to be "perfectly adapted" to the tube.
The tube's heater voltage is remotely controllable from the power supply. The Horch PSU is common to all the Horch mics; it has a pattern-control switch that on the RM4 controls the voltage to the tube rather than the relative polarity and gain of the capsule's diaphragms. By over- or under-driving the tube, the character of the mic's sound can be altered. Horch describes this feature as an ability to vary the microphone's "saturation," "compression," or "dynamic range."
Analog Audio GmbH

The saturation of the tube is adjustable from a very clear to a high saturated and compressed sound.
There is no risk of damaging the RM4's ECC81 tube, as the voltage change is within the tube's normal range of operation.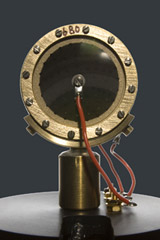 The capsule is a large-diaphragm design that appears to be modeled to some degree after the Neumann K47. It is a dual-diaphragm, center-terminated design like the K47. Photos suggest that the RM4 capsule shares a backplate drilling style with the K47, in that the outer holes are equidistant from the center (forming a circle).
However, unlike the K47, the RM4 capsule is a dual-backplate design, and at 32mm outside diameter is slightly smaller than the K47.
The diaphragms are made of a 4-micron film metallized with a thin coating of platinum. Platinum is said to be lighter and more resistant to corrosion than gold.
Both front and back diaphragms appear to be wired, although the mic has a fixed Cardioid pickup pattern.
The RM4 capsule is similar to the capsule of the RM2J. It is manufactured in Germany, presumably by Haun/MBHO.
Permalink: Horch Audio RM4
Specifications
| Pickup Patterns | Pads & Filters |
| --- | --- |
| Cardioid (n/a mV/Pa; n/a) | |
Capsule Dimensions
Impedance
SPL/Noise
Diaphragm diameter: 25mm
Diaphragm gauge: 4 microns
200 Ohms (Low)
Max SPL: 140 dB

| Weight | Length | Max Diameter | Interface(s) |
| --- | --- | --- | --- |
| n/a | n/a | n/a | |
Power Specifications
Includes tube power supply
Did we get anything wrong on this page? Please let us know!