Heil Sound PR-48
Cardioid Dynamic Microphone
The PR-48 is Heil's entry into the dedicated kick-drum microphone market. It is a dynamic mic with a very large moving-coil element, measuring 1.5'' in diameter.
The PR-48's cartridge is the same as found in the PR-30, but built with a stronger diaphragm and magnet assembly to withstand the high sound pressure levels found inside a kick drum. In the PR-48, this cartridge is held in place by an "internal vulcanized shockmount" to reduce mechanical vibrations and rumble.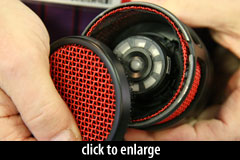 Like all the Heil dynamic mics, the PR-48 uses strong rare-earth magnets made of Neodymium, boron, and iron.
Unlike many dynamic mics, the Heil mics do not use output transformers. According to Bob Heil, the design of the moving coil cartridge produces balanced output without the need for a transformer, and further that this transformerless circuit design is responsible for his microphones' extended dynamic range.
The PR-48 has a tailored response, with significant peaks in the frequency response at 70Hz and 4kHz. According to Heil, the dynamic transducer's output is fed through a low-pass filter to produce this frequency profile. The LF peak is at +12dB. The HF peak is at +9dB. Above 4kHz, the mic's HF response rolls off rapidly.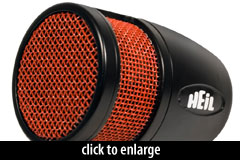 Most kick-drum microphones produce a visually similar frequency response, with a LF peak between 50-90Hz and a HF peak around 4kHz. However, few mics that we've seen create such a pronounced peak, especially in the low frequency range.
The 570g die-cast alloy body is rugged enough for stage use.
The PR-48 was introduced with Heil's "HDK" drum kit mic sets at the winter NAMM show in January, 2009. As of August, 2009, the mics in these kits — the PR-48, PR-30B, and PR-28 — are also available individually.
The Heil Sound PR-48 is also known as: PR48.
The mic was released in 2009.
Specifications
Frequency Response - Cardioid

Click Graph to Compare!
| Pickup Patterns | Pads & Filters |
| --- | --- |
| Cardioid (1.1 mV/Pa; 30 - 8,000 Hz) | |
| Coil Diameter | Impedance | SPL/Noise |
| --- | --- | --- |
| n/a | 600 Ohms (Low) | Max SPL: 148 dB |
| Weight | Length | Max Diameter | Interface(s) |
| --- | --- | --- | --- |
| 570g (20.11oz) | n/a | n/a | |
Did we get anything wrong on this page? Please let us know!