Heil Sound PR-30
Supercardioid Dynamic Microphone
The Heil PR 30 is a large-diaphragm dynamic microphone featuring a smooth, wide frequency range and high SPL handling capability. The manufacturer markets it as "the absolute best guitar microphone in the industry."
The Heil PR series of dynamic microphones incorporates new ideas for dynamic mic construction. Magnets are made of a unique combination of materials (neodymium, iron, and boron); diaphragms are exceptionally large. The resulting microphones offer better rejection of off-axis sound, and wider dynamic range than is typical of dynamic microphones.
The PR-30 has two screens of differing mesh diameters, in addition to an internal blast filter to reduce pops and sibilance in vocal applications. The 1.5'' element is shock-mounted in Sorbothane© to decouple the element from the microphone body. The steel body and internal humbucking coil reduce the risk of electronic interference.
The mic's voice coil, according to Bob Heil, creates balanced output without the need for an output transformer.
Note that although the case looks like a side-address design, the moving coil points out the top of the microphone.
The mic's polar pattern exhibits a pronounced rear lobe. The null axis is not 180°, but 126°. Although Heil literature describes the mic as having a Cardioid pattern, it is closer to Supercardioid.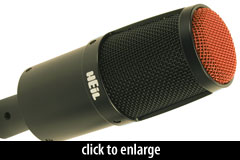 The mic was originally offered in a silver finish. At the request of lighting crews, Heil began offering the mic in a black finish.
Heil microphones are made in the USA.
MIX, 2007

[T]he PR30 has a tendency to round out the transient in a beneficial way, almost as though it mildly compresses the signal. This was subtle, yet noticeable in a number of high-transient applications. Heil claims that this sounds like the response you would get from a ribbon mic, and I'd have to agree that the effect is similar…
On axis, the PR-30's response was smooth and certainly competitive with other dynamic microphones costing far more. I did start to notice a small amount of coloration of the sound as I moved to the 45° and 90° points, more so than with a more-expensive mic. Without using an external pop filter, I noticed this mic's proclivity to popping a bit more than I expected…
Performing Musician, 2009

[T]he PR 30 is an extremely well-specified microphone that sounds more natural than the majority of dynamic models currently in use on the live circuit.
Premier Guitar, 2007

When we started using the PR30, we thought it might be the new "Swiss Army knife" of the mic world — one that could cover most sound reinforcement and recording tasks decently. But after some time with it, we realized that moniker might not fit. Yes, it's versatile… But if you're looking for a Shure-on-steroids, that it isn't. Rather, the Heil PR30 has a character all its own — natural sounding, highly detailed, and with a smooth, warm top end.
The Heil Sound PR-30 is also known as: PR30.
Specifications
Frequency Response - Supercardioid

Click Graph to Compare!
| Pickup Patterns | Pads & Filters |
| --- | --- |
| Supercardioid (2.3 mV/Pa; 40 - 14,000 Hz) | |
| Coil Diameter | Impedance | SPL/Noise |
| --- | --- | --- |
| n/a | 600 Ohms (Low) | Max SPL: 145 dB |
| Weight | Length | Max Diameter | Interface(s) |
| --- | --- | --- | --- |
| 255g (8.99oz) | 159mm (6.26'') | 52mm (2.05'') | |
Did we get anything wrong on this page? Please let us know!