Earthworks Audio TC20
Omnidirectional Condenser Microphone
The TC20 is Earthworks' lowest-cost "high definition" omni condenser microphone. Like all the TC and QTC mics, it produces extremely flat frequency response and strives for an accurate/neutral sound rather than a colored one.
All but one of Earthworks' requirements for "High Definition" microphones apply:
Fast transient response (aka "impulse response")


Fast diaphragm settling time


Extended frequency response — although all other TC and QTC mics extend below 10Hz and above 20kHz, the TC20 is relatively limited at 10Hz-20kHz.


Minimal signal path (no pads or filters)


High SPL handling


Low impedance


Consistent polar pattern across the mic's full frequency range
The "TC" model name stands for "Time Coherent," a phrase Earthworks uses to distinguish its designs from competitive offerings. According to Earthworks, mics with larger diaphragms suffer from in-band resonance due to the ringing of the diaphragm, and phase cancellations due to the frequency-dependent response of directional capsules. Only a very small (~6mm) omni capsule with fast impulse response and fast diaphragm settling time can avoid these problems to deliver a very clear, accurate picture of the source.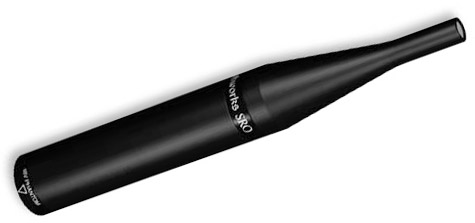 The TC20 was initially released around the year 2000 as the SRO, "Sound Reinforcement Omni."
SoundOnSound, 2008

The TC20 is quite happy sitting over percussion, where it picks up a very detailed and articulate sound that feels more 'in focus' than what you get from most conventional mics… it gave a good, crisp picture that really brought out the transients.

Despite its highish noise floor, I also decided to use it to record a lute, to see just how well it could perform on quieter sources… the self-noise of the mic was only audible at playback levels that were louder than normal, during pauses where the instrument wasn't playing. Subjectively, I'd say it was less than I've heard with some Far Eastern mics that have claimed noise figures of 20dB or better.
Earthworks

The inverse square law is your main tool to control the balance between the sound of the source and the sound of the room when using an omni… As you move closer to a source, the amplitude from that source increases exponentially. The proportion of sound from other sources decreases very rapidly as you move the microphone closer to the primary source.

When separation is desired an omni should be positioned as close as possible. Positioning an omni at about a third the distance you would use for a cardioid will give you better separation without any coloration.
The Earthworks Audio TC20 is also known as: TC-20, SRO.
The mic was released in 2000.
Specifications
Frequency Response - Omnidirectional

Click Graph to Compare!
| Pickup Patterns | Pads & Filters |
| --- | --- |
| Omnidirectional (8 mV/Pa; 10 - 20,000 Hz) | |
Capsule Dimensions
Impedance
SPL/Noise
Capsule diameter: 6mm

100 Ohms (Low)
Max SPL: 145 dB
Self-noise: 27.0 dB(A)
| Weight | Length | Max Diameter | Interface(s) |
| --- | --- | --- | --- |
| 160g (5.64oz) | 165mm (6.50'') | 22mm (0.87'') | |
Power Specifications
Requires phantom power
Phantom voltage: 48v
Did we get anything wrong on this page? Please let us know!