Earthworks Audio SR20
Cardioid Condenser Microphone
The SR20, formerly known as the SR69, is a cardioid FET condenser microphone with Earthworks' characteristic 9mm electret capsule and transformerless amplifier circuitry. With its detachable blast filter in place, it is intended for use as a vocal microphone.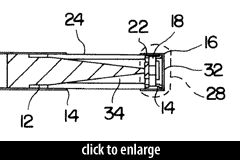 The mic's physical housing, particularly the internal components engineered to produce a Cardioid polar response, are covered by patent #6,091,829 (July, 2000). The patent describes a conical, tapered structure behind the capsule, which serves multiple benefits to the mic's polar response.
Patent 6,091,829

The tapered structure has a generally conic shape to provide a gradually increasing acoustic impedance… [it] preferentially collects signal components from behind the microphone and ducts them into the rear ports of the [capsule]; and guides reflected, unwanted signals outwardly and away…

[It] improves the front frequency response of the microphone, and [provides] more-effective rear-port signal cancellation, thereby providing a better front-to-back signal ratio than provided in the prior art.
The SR69/SR20 has very similar specs to the newer SR25:

| | | |
| --- | --- | --- |
| | SR20 | SR25 |
| Sensitivity | 10 mV/Pa | 10 mV/Pa |
| Frequency Response | 50 - 20,000 Hz ±2dB | 50 - 25,000 Hz ±2dB |
| Self-Noise | 22 dBA | 22 dBA |
| Max SPL | 145dB | 145dB |
| Length | 212mm | 165mm |
| Weight | 135g | 160g |
| MSRP (2010) | $765 | $795 |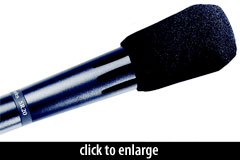 Nonetheless, the SR20 was designed primarily for vocal applications, rather than drums. The SR20 includes a clip-on pop filter.
According to Daniel Blackmer, all of the Cardioid microphones from Earthworks use a 9mm electret capsule. The extended frequency response of the higher-end models is created by proprietary combinations of mechanical (acoustic) and electronic equalization devices.
The published frequency-response graph of the SR20 (and SR25) shows a nominally flat line from 30Hz (SR20) or 25Hz (SR25) through 10kHz, but users should note that this measurement was made at a distance of 30cm from the sound source — not 1m, as is more typically the case.
In distant-miking applications, both mics roll off about 1.5dB/octave below 300Hz, and as a result will sound brighter and possibly thinner than typical Cardioid microphones, whose responses tend to be flatter at 1m. However, unlike most Cardioid microphones — which become omnidirectional at low frequencies — the SR-series microphones are much better able to maintain their Cardioid pattern at low frequencies.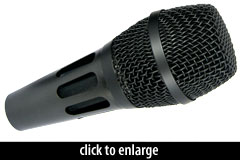 In 2011, the SR20's slip-on foam windscreen (designed as a blast filter to make the microphone useful for vocal applications) was replaced by a metal-mesh grille as is typical of handheld vocal microphones.
For a limited time, existing SR20 owners are eligible to receive one of these windscreens for free; the windscreen screws onto the SR20 body without modification.
Andy Hong, 2002

The SR69 (aka SR20) is the best snare drum mic I've ever heard.
ProAudioReview, 2001

All the vocalists who tried the SR69 enjoyed using it, with several being downright enthusiastic… I noticed the SR69 has very little handling noise — a surprise for such a pixie… It delivers a superb vocal image that is brimming with uncolored detail and clarity.

I particularly liked how the SR69 sounded at a distance of several inches from a singer's mouth. It didn't lose all the body of its sound when someone would back off a bit while it was not overly bassy when used intimately.
The Earthworks Audio SR20 is also known as: SR69.
Specifications
| Pickup Patterns | Pads & Filters |
| --- | --- |
| Cardioid (10 mV/Pa; 50 - 20,000 Hz) | |
| Capsule Dimensions | Impedance | SPL/Noise |
| --- | --- | --- |
| Capsule diameter: 9mm | 100 Ohms (Low) | Self-noise: 22.0 dB(A) |
| Weight | Length | Max Diameter | Interface(s) |
| --- | --- | --- | --- |
| 135g (4.76oz) | 212mm (8.35'') | n/a | |
Power Specifications
Requires phantom power
Phantom voltage: 48v
Did we get anything wrong on this page? Please let us know!