Avantone Pro CV-12
Multi-Pattern Tube Condenser Microphone
The CV-12 is a multipattern large-diaphragm tube mic in the physical style of the AKG C-12.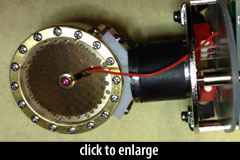 This mic's capsule has likely changed during the course of its production. Reports from users who have opened them up universally indicate that the mic uses a standard Chinese-made 32mm K67 capsule, as pictured at right. Nonetheless, it is possible that recent production runs have begun incorporating a 34mm edge-terminated capsule.
A rotary switch on the external power supply provides 9 pickup patterns — Omni, Cardioid, Figure-8, and six intermediate patterns.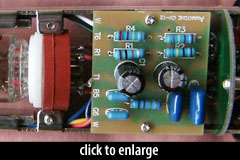 The amplifier circuit is built with high-quality through-hole components. Although in its earliest revisions this mic was a component-for-component clone of the Apex 460 and equivalents, current shipping models use upgraded components such as metallized polypropylene capacitors in the audio path.
The output circuit uses a transformer.
The single supplied tube is a 6072A dual-triode, sourced from Russia.
The CV-12 ships in a padded wooden box, and includes a suspension shockmount, dedicated power supply, power cable, and aluminum flightcase. The mic carries a 5-year warranty.
Until early 2009, Avant included two spare tubes with the microphone, enabling users to swap tubes to achieve different sounds. The three included tubes were all of Russian origin: 6072A, ECC81 & ECC83. The Avant website contained detailed tube-swap instructions, which stated:
Avant Electronics

Avant Electronics feels that the 6072a tube that is installed in the microphone is the best balanced tube by far for the majority of work with the CV-12, but we have provided two additional tubes, the ECC81 and ECC83 for different tube "voicings".

Starting with the 6072a tube each tube has an increasingly "hotter" output, thus distorting the transformer sooner. Many of you might never require these tubes but if you require an unconditionally aggressive, distorted vocal track or have an exceptionally mellow female vocalist; then you might find them useful.
StudioAuditions

6072A Tube : Smoothest of the lot, balanced warm character, very revealing on vocals
EEC81 Tube : Brighter response, accentuates the sizzle and the sheen
EEC83 Tube: Almost "gritty" character, veers into classic tube distortion territory
Like all Avant mics, the CV-12 is individually tested by Avant staff in California prior to shipment.
Electronic Musician, 2009

I used the CV-12 in subcardioid mode … for up to 10 [vocal] overdubs at once. Cumulative layering can exaggerate deficiencies or bumps in a microphone's response, but I was very pleased at how the Avantone didn't pile on undesirable components of the vocal sound or room tone. This real-world application was a convincing demonstration of the CV-12's unhyped tone on vocals.
Barry Rudolph

In the studio I found the CV-12 wonderfully warm and fat sounding.
The Avantone Pro CV-12 is also known as: CV12.
Specifications
Frequency Response - Omnidirectional

Click Graph to Compare!
Frequency Response - Cardioid

Click Graph to Compare!
Frequency Response - Bidirectional

Click Graph to Compare!
Pickup Patterns
Pads & Filters
Omnidirectional (17.8 mV/Pa; 25 - 20,000 Hz)
Cardioid (17.8 mV/Pa; 25 - 20,000 Hz)
Bidirectional (17.8 mV/Pa; 25 - 20,000 Hz)


Pad: -10dB (Via Switch)
Filter: HPF: -6dB/oct @ 80 Hz (Via Switch)
Capsule Dimensions
Impedance
SPL/Noise
Diaphragm diameter: 32mm

250 Ohms (Low)
Max SPL: 146 dB
Self-noise: 17.0 dB(A)
| Weight | Length | Max Diameter | Interface(s) |
| --- | --- | --- | --- |
| 800g (28.22oz) | 237mm (9.33'') | 46mm (1.81'') | |
Power Specifications
Includes tube power supply
Did we get anything wrong on this page? Please let us know!