Advanced Audio Microphones DM20
Cardioid Dynamic Microphone
The DM20 is a dynamic microphone intended for broadcast and vocal recording applications. It is modeled to some degree after the Electro-Voice RE20, but has a significantly different response plot, with hugely scooped mids.
Unlike the original RE20, the DM20 has no output transformer.
Dave Thomas

The DM20 is similar the EV RE-20, but it has a redesigned, higher-impedance voice coil that does not require an output transformer.

The weakest link in dynamics is usually the small transformer they use, which can get saturated in high-SPL situations.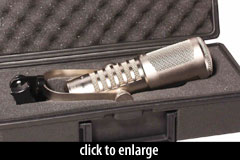 The mic's frequency response graph shows significant peaks; there is a +6dB peak at 150Hz, and a +13dB peak at 6-7kHz.
Although at a glance this response profile appears similar to many tailored kick-drum mics, the peaks accentuate different frequency bands. Most kick-drum mics have a LF peak between 50–100Hz, and a HF peak around 2–4kHz. The DM20 peaks occur at higher frequencies in both cases.
The preliminary specifications below are subject to change.
Permalink: Advanced Audio Microphones DM20
The mic was released in 2010.
Specifications
Frequency Response - Cardioid

Click Graph to Compare!
| Pickup Patterns | Pads & Filters |
| --- | --- |
| Cardioid (0.3 mV/Pa; 95 - 14,000 Hz) | |
| Coil Diameter | Impedance | SPL/Noise |
| --- | --- | --- |
| n/a | n/a | SPL n/a |
| Weight | Length | Max Diameter | Interface(s) |
| --- | --- | --- | --- |
| n/a | n/a | n/a | |
Did we get anything wrong on this page? Please let us know!