Royer Microphone Giveaway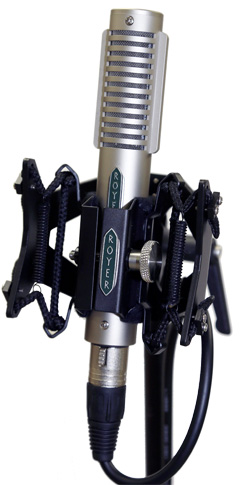 Would you like to win a Royer R-121 Ribbon Microphone and Royer's patented Sling-Shock™ shockmount?
It is an incredible combination, and we're giving it away on May 1, 2014.
This contest is open to musicians, producers, recordists, audio engineers, podcasters, voice artists, and studio owners. Winners will be asked to submit a photo of their home or commercial studio.
We are no longer accepting entries; the winner will be announced soon.
The Prize
The R-121 has been a studio standard since its introduction in 1998. It is a passive ribbon microphone with Royer's patented "offset ribbon" design, which provides higher SPL handling and a subtly different tone from the back of the microphone.
The "Sling-Shock™" is David Royer's answer to two problem of shockmounts: degradation of rubber parts and elastic bands, and poor mechanical isolation. The Sling-Shock uses no rubber parts or rubberized elastic bands, so the rubber degradation, particularly stretched and worn our elastic bands, is eliminated. Also, undamped springs and elastics tend to resonate in the audio band, which means your microphone will record the sound of its shockmount along with the sound of the source. The Sling-Shock uses nonresonant nylon bands and damped springs to reduce sympathetic vibration.