Microphone Giveaway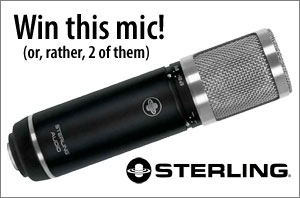 Win a pair of Sterling ST59 multipattern condensers! The drawing will be held late June, 2012.
The winner will be selected from the subscribers to our monthly MIC NEWS newsletter.
2011 – The Mic-a-Month Giveaway
In 2011, we gave away over $17,000 worth of microphones — one (or sometimes two) a month for the full year. We are grateful to our 13 sponsors, listed on the right side of this page, for their generous contributions!
Past Winners
See the Winners' Gallery.