Telefunken M16 and Apex 460 Comparison
Originally published here: http://www.studioreviews.com/m16-460.htm; rescued from Internet obscurity 2010-05-30.
EDITOR'S NOTE: November 2006 This comparison was for the original Telefunken USA M16. Telefunken USA has since done some major modifications and introduced the M16 MkII as well as the AK47. We've had these mics here for testing and are absolutely impressed. Read the new reviews of the M16 Mk II and AK47 tube microphones.
R-F-T Telefunken M16 and Apex 460
by Dan Richards; published May, 2005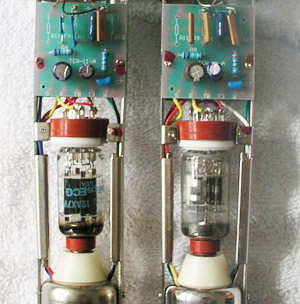 Front view of M16 and 460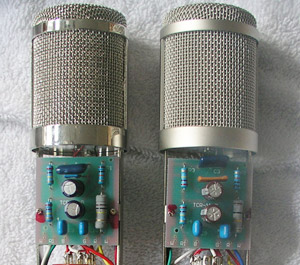 Rear view of M16 and 460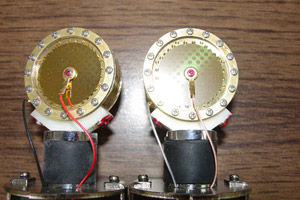 Capsules front image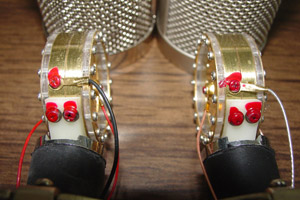 Capsules side image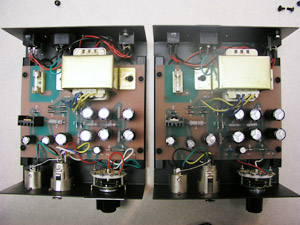 Power supplies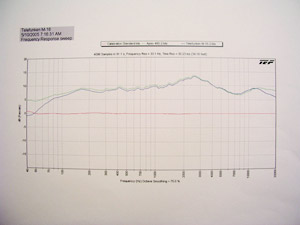 Frequency response on TEF workstation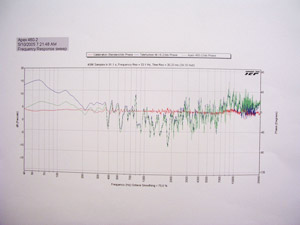 Phase response on TEF workstation
Included here are the initial results of our bench tests of an R-F-T Telefunken M16 and an Apex 460. These are both multi-pattern tube microphones currently available on the market. The M16 sells for around $1399. The 460 sells for around $229. In all the images available here, the M16 is on the left and the 460 is on the right. All images are clickable and link to large image files that are bandwidth intensive.
Based on tests, which include observations by an independent electrical engineer as well as response sweeps on a Gold Line TEF workstation:
Capsules are identical in every detail. They have not been touched. [see paint on the screws]
Circuit boards appear to be identical with the same parts except for 3 high-value resistors on the M16 that are a different brand. This should make no difference.
Wiring is the same and looks not to have been touched.
The output transformer is made in China and shows very poor phase response.
The overall build quality appears to be the same in every detail except the plating and paint.
Frequency response is nearly identical with the M16 having less low end almost 5dB less at 40Hz that is 5dB less than flat.
Noise floor in the two microphones is not the same. The NOS Philips tube in the M16 having 12dB more noise. The tube from China in the 460 is superior with less noise.
Phase response of both systems is nearly identical except for the inferior low frequency response of the M16.
Power supplies for both mics appear to be identical.
Conclusion of an independent lab: "My opinion is that the Telefunken M16 and the Apex 460 are the same microphone with cosmetics being the major change."
The next phase in the comparisons will be A/B and real-world recording sessions, and include performance observations as well as online soundfile samples. The Listening Sessions is currently testing and recording large condenser tube microphones. Soundfiles will be released on 24-bit WAV DVD and 16-bit CD.
For more information on these products visit:
www.rftfunkwerk.com
www.apexelectronics.com