---
Sunday, February 18th, 2018 | by Aaron Lyon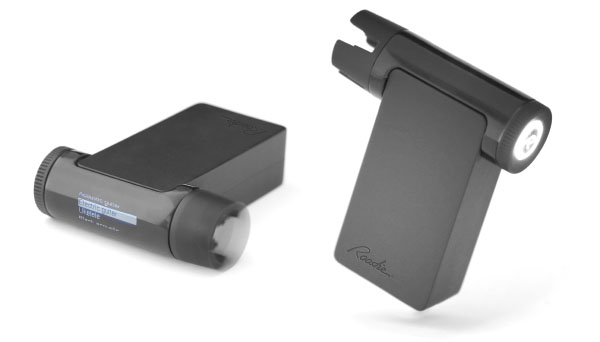 I'm confused about the name: "Roadie." That suggests a device that can carry your gear, set up the stage, roll up cables properly, maybe fetch a sandwich between sets. Normally I wouldn't let a roadie touch my guitars. But Roadie 2 claims to know something about tunings, both standard and alternate, so I gave it a try.

I have good relative pitch. I can tell when one of my strings, or one of my bandmates, is out of tune by a few cents. Having my guitars precisely in tune is important to me. More than important; it's mandatory. And you can't just tune my guitars any old way — there is a certain method. Strings must be tuned up to pitch, then stretched (bent) a whole step, then rechecked for pitch. That way, the guitar will stay in tune for a whole set, regardless of how hard I attack the strings. So I was dubious that Roadie 2 could live up to my standards.
Roadie 2 is a computerized, motorized, stringed instrument tuner, roughly the size of a deck of cards. It sports an attractive OLED display that serves as menu and directs you during the tuning process. A multifunction knob serves as controller. A LiPo battery is rechargeable via the supplied USB cable, and is reported to last "for a month of regular tune ups, retunes and restrings," though I have not had it long enough to exhaust the battery.
The basic procedure is simple. Press the knob's center button to turn on, twist the knob to choose an instrument (Acoustic, Electric, etc.) and the name of the first string appears (E2). Press the button again, and you can choose an alternate tuning from a preset list. (You can add custom tunings using the app; see more on that below.) With the name of the first string showing, hold the device over the tuning peg of the appropriate string and puck the string. Roadie 2 listens, then turns the tuner for you, quicker or slower, depending on its whim, with a winning, droid-like whine. Some patience is required as Roadie 2 trains you to pluck the string more than once, while it listens to the pitch. When Roadie 2 senses the string is tuned, it beeps, vibrates and flashes (providing valuable feedback for noisy environments), and highlights the name of the next string (e.g., A2).
[The Roadie 2 demo video below is from Engadget. –Ed.]

When Roadie has tuned all six strings to its satisfaction, you will find… a poorly-tuned guitar.
For purposes of tuning, a semi-tone (a step of one fret on a guitar) is divided into 100 cents. Any digital tuner will allow you to tune to within one or two cents. While Roadie 2 does OK with the thinner strings, it consistently tunes my low E flat by five to ten cents, and takes a long time doing it, as if it was having a hard time hearing the string.
I tried Roadie 2 on six different fixed-bridge electrics and one acoustic, and it struggled with the low E and A strings on all of my guitars. I tried varying my technique, plucking the string louder or softer, with rounder tone (thumb) or sharper tone (fingernail), all while keeping the other stings muted. Nothing helped. On the other hand, Roadie 2 was more reliable on the four higher-pitched strings, generally leaving them within a couple cents of true.
I learned that the Roadie 2 has a "Tune Up" feature, available in Settings, that causes Roadie 2 to loosen strings first, then tune up to pitch, addressing my earlier concern. This is a nice feature, and is not mentioned in the user guide. However, it did not solve the issue with poorly tuned low E and A strings.
Regarding my experience with poor tuning, Band Industries writes, "Roadie is designed to tune for attack and not for sustain. Meaning while plucking a certain string the frequency of the string varies from high to low (high at attack and low at sustain). If the pluck is strong the frequency can vary up to 0.5 Hz or even 1 Hz. …[because] we tune for attack, there is high chance when observing the signal on a rack or other tuning indicators the player will observe the string as tuned flat."
Low E = 82.41 Hz. If I pluck hard and the attack is 1Hz sharp, that's still only 1.2 cents, and it doesn't explain the poor performance I'm seeing. Band Industries promises new firmware to address this issue, and I will amend this review at that time.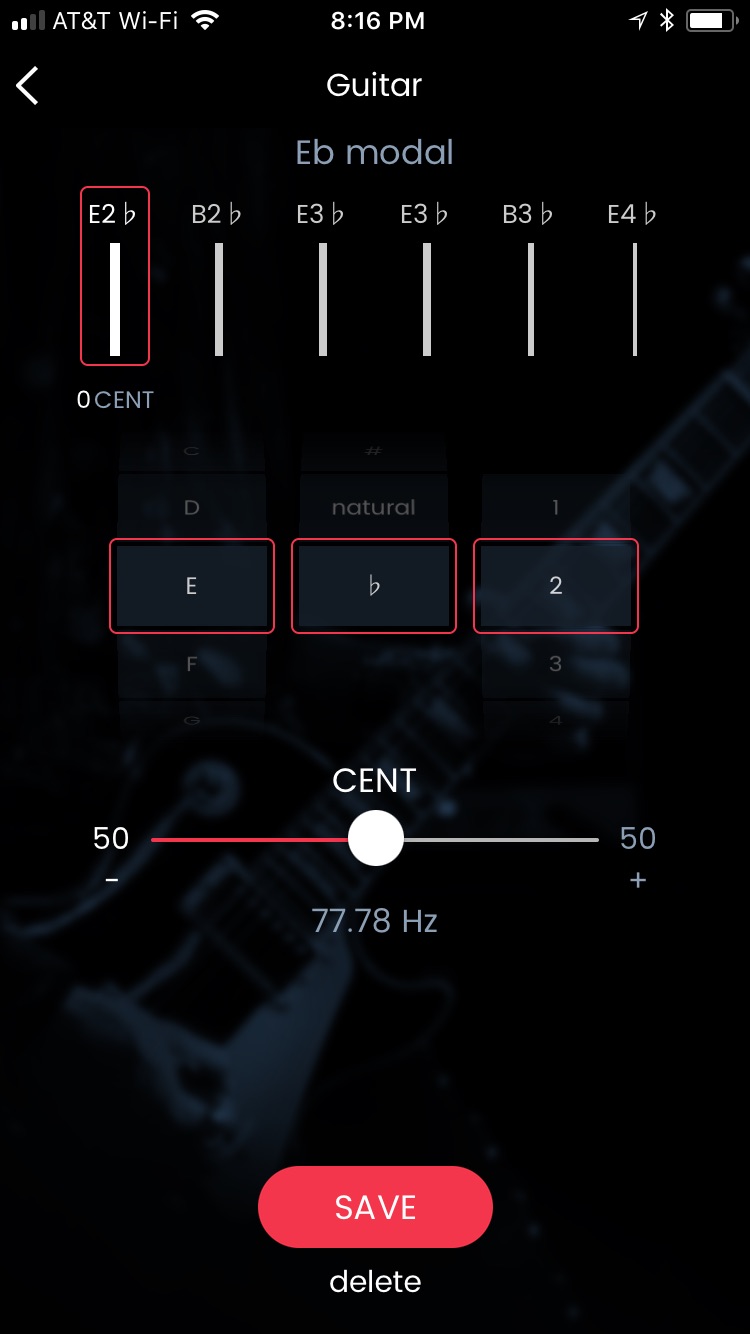 What about alternate tunings? I rarely play alternate tunings because, unless you practice this a lot, like Ani DiFranco, it's challenging to change tunings between songs, and I don't have a guitar tech, nor enough guitars to leave one in an alternate tuning. Maybe Roadie 2 can help.
The free Roadie app (I installed the iOS version; I assume Android is also available, but it doesn't say on the web site) is required to create and manage alternate tunings. After some minor bother setting up the app (they require you to register and log in) I was able to create a custom tuning, Eb modal (Eb Bb Eb Eb Bb Eb), a tuning I use for Suite: Judy Blue Eyes (Crosby Stills & Nash) on acoustic guitar.
After syncing with Roadie 2, the custom tuning is available in the menus. In use, the poor accuracy for low strings is the same, but I was encouraged that Roadie 2 can get my guitar in the ballpark faster than I could by ear. And putting my guitar back into standard tuning was just as quick — about twice as fast as I can manage on my own.
Band Industries promises increased accuracy as they refine their software and issue firmware updates. So, I'll hold out hope that they can improve performance on the low E and A strings. Until then, I'm still not letting a roadie tune my guitars.
Click for more info on the Band Industries Roadie 2 guitar tuner, USD $129.00.
[Editor's note: Thanks to Band Industries for providing a Roadie 2 in exchange for an honest review.]
Posted in Live Sound, Reviews | No Comments »
---
---
---