---
Monday, February 5th, 2018 | by Andy Freeman
Digital vs. Analog. We are all tired of that debate (I hope). [Not all of us. -Ed.] But beyond hard drives and ADC's, digital has revolutionized this business in another way that never gets brought up in conversation: networking. Didn't you always hear that making it in the music business was all about networking? I know I did. But these days, networking has become digitized, and a lot of us only know one another through forums, Facebook, and the Pensado's Place comments section on YouTube. What happened to In Real Life? Face to face? Shaking hands and making plans?
The folks at H.O.M.E. — that's "Helping Our Music Evolve" — miss that, and they think you do too.
"Helping Our Music Evolve" is a non-profit 501(c)(6) membership organization that acts as a launchpad and home base for music creators looking to get their foot in the door of the music business. That includes songwriters, musicians, and producers, as well as those that form the teams around them, such as managers and agents.
The organization's headquarters is a studio, performance space, and musician hangout, all located inside the Center 615 building in East Nashville. And because this is the 21st century, it has an online component, which has a directory of all its members and a robust search feature to help you find somebody to make music with (the brochure says it's been called "the LinkedIn for the music industry"). My favorite part, however, might be the coupon section for discounts at local restaurants. H.O.M.E. gets it: musicians are broke.

In the fall of 2017, I went out to visit H.O.M.E. and interview the founder, Logan Crowell.
AF: So tell me the story of H.O.M.E.. What was the genesis of the idea?
LC: I came out to Nashville to start a band. I wanted to get some really badass players on my team and pay my dues. And I would ask around, 'where do I go to plug in? Where do I go to build a band?" And all I got were answers like, "well, there are these jam nights" and, "you can go to these music industry mixers and meet people' and stuff like that. And I thought, "there's not a physical location in this town that everybody uses as a central hub? That seems like it should be a thing".
AF: A lot of people don't do what you did: come to town and ask, "Is there a physical place?". That's a unique way of thinking in this digital age, when a lot of folks would say, "Well, we have Facebook…"
LC: Yeah, that's what people kept telling me, "there are these Facebook groups…" And that's cool but if I'm going to build a band with somebody, I want it to be a long term thing where we hang out and enjoy making music together. It's not just me hiring you for a set or whatever. In Nashville, where everybody's coming here for music, it seemed like there would be a place like this. I just thought there would be some sort of central musician hang spot, whatever that looked like.
It hit me that this was a big idea. I had to take a few days to think about what it might mean, and pretty soon after, I hired a consultant to talk me through the process of forming a non-profit company and what things would be allowed. I read about 40 pages of tax law and I ended up going with a 501c(6). I started having an idea of how much this business — the nonprofit and the membership model — could knock down the cost of content creation and space.
It's like a gym: if you're trying to work out, and you try to buy all the gym equipment yourself, it's crazy expensive. It's nice having your own space, but for those who are at the entry point or for those who have some momentum but need a space to consistently create content, a shared space is a great thing.
AF: So the physical space exists to lower the barrier of entry for new bands, musicians…
LC: Yeah. The sharing economy. Exactly. And it's not about making more money because my target market is people who are already broke!
AF: When did you get the address?
LC: It's a funny story. So we're at 615 Main Street, and I met Christian [Paro], the owner of this building the first time I set foot in here. I was just looking to rent a cubicle. But I told him that my home address was also 615 on another street, and we just hit it off. I got a cubicle in here and a couple months later, we decided we were going to open this space. We made the official announcement at 615 day, a festival over on Fatherland Street in East Nashville.
AF: So it's mystical and numerological! 615 is Nashville's area code, and 615 Main Street and…
LC: Absolutely. There's some voodoo going on! Christian had always wanted to build out the space in the back of Center 615, and he enjoys being in the mix of what's going on in town, so it was a mutually beneficial thing.
The space in question is 7,000 square feet inside Center 615, and it's nearing completion as of this writing. The space will open on February 15.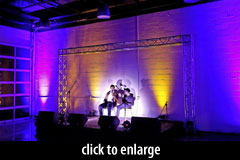 Inside, there is a control room with seating for students, a live room that doubles as a rehearsal space, a separate production suite, a spacious lounge and reception area, and a big performance space. Outside, find a large courtyard for hangouts, games, and more live performances.
Every room at H.O.M.E. is connected with Waves' SoundGrid system, which allows audio to be routed anywhere via cat5 ethernet cables. So an engineer can be working with Pro Tools in one of the two control rooms, while that audio is streamed to the other control room, where a different engineer is using Logic. Or the audio from the performance space can be streamed to Facebook Live while also being recorded to Nuendo on a laptop in the lounge. All this is because Crowell and Falcone understand that artists don't need to own this equipment so much as they need access to it in order to create their music.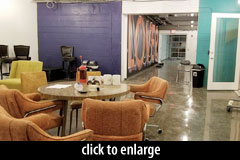 And once that music is created, H.O.M.E. want artists to show it off by playing live at the performance space, just next door to the big Studio A control room.
"We think this space is going to be like no other in town," says Falcone. "we're going to have projection mapping, a bunch of moving head lights… we're bringing festival-style production to a venue in Nashville."
"It's not about draw — you know: filling up the room if you want to play here," says Crowell. "I always use the term 'proving ground.' It's about having a place where you can go in and see where the bar is set and you can see if you're ready to beat that. It's not a competitive thing, it's just that it's hard to know where you are until you get next to some one who is head and shoulders better than you."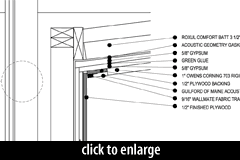 Every square inch of H.O.M.E. will be accessible to members for a monthly fee. There are three tiers to their membership, starting with the Music Community level, which gives access to the member directory and "LinkedIn" features of the website. Production Accelerator and Artist Accelerator packages give access to the studio, performance space, and more.
H.O.M.E. exists to help artists make their art and build their careers. It has the expensive equipment artists need but can't afford to own, it has the performance space for artists to show their stuff, and above all, it has a physical space to encourage real connection and community, which is the only way to build a real team that's stable and stands the test of time. "It takes the internet out of the equation," says Falcone.
Taking the internet out of the equation: that's a bold statement in our technological times. But real face-to-face relationships still matter, and musical magic is still made when human beings are in the same room with one another. Logan Crowell and Anthony Falcone understand this and that's why H.O.M.E. has an analog heart in a digital world.
Posted in Interviews, Music Business, Studios | 1 Comment »
---
---
---