---
Friday, December 12th, 2014 | by Phil Lewis
Shootout At Guitar-Cab Corral:
A posse of dynamics takes on the formidable SM57.
Behold the humble dynamic mic, the coalminer of the microphone world: simple, rugged, hardworking, unpretentious; toiling away in the dark spaces while the rest of the neighborhood gets its party on. Long a favorite for miking unruly electric guitar amps on stage and in the studio, dynamics are known to eat high SPLs for breakfast and for producing a focused, even tone that adds impact to recordings. Simply put, they just work.
And none has worked harder than the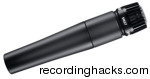 Shure SM57. For almost 50 years the SM57 has held sway as the Swiss Army knife of dynamics. Introduced in 1965, its then-revolutionary end-address profile allowed it to get up close and personal with vocals, drums, and, of course, guitar amps. Many top producers and engineers still swear by it for taming the blare and/or muddle of electric guitar amplifiers. Can any other dynamic hold a candle to its rock solid guitar amp performance, day in, day out?
Over the course of five decades many other end-address dynamics have been rolled out, some designed to improve on the SM57's "shortcomings." And yet, the praises of the SM57-on-guitar-amp continue to be sung in professional and project studios worldwide.
Like most guitarists, I'm obsessed with tone. And that obsession doesn't end when I drag my rig into the studio. I admit my trusty SM57 has served me well. Contrary to common sense, the damn thing really sounds good (though I like to pair it with a small diaphragm condenser). But I began to wonder: could there be a dynamic microphone out there that sounds even better?
In the spirit of scientific inquiry, I decided to put a selection of reputable dynamic mics to the test, capturing the acoustic perturbations of several popular guitar-and-amp combos.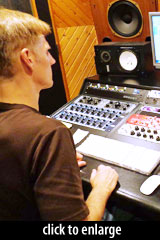 Paul Tavenner of Big City Recording in Granada Hills, CA agreed to join the quest and lend the necessary technical assistance. Paul has recorded and/or mastered a couple thousand albums, so I knew he'd be a vital accomplice. He offered the use of his fine studio. We decided to run the gauntlet of mics on three common guitar-and-amp setups: clean rhythm, screaming lead, and clean jazz.
The testing of mics on electric guitar is delightfully conducive to the use of re-amped guitar tracks, allowing for an identical performance on each pass. Thus our humble survey began by tracking guitars directly to DAW, capturing the raw fretwork without any processing or alteration. These direct tracks could then be amplified in the studio where we would be free to test as many mics as we wished, without the need to placate a bored or irritable guitarist.
Milo Gonzales, guitarist for Insects vs. Robots, furnished the lead guitar track. He wiggled his digits on a 60s tribute Les Paul outfitted with P90s, plugging it straight into an Mbox2 and then into ProTools.
The clean rhythm and jazz tracks were recorded by yours truly through the Hi-Z input on a Presonus Audiobox USB and directly into Digital Performer. I played the rhythm part on an American Standard Strat.
The jazz bit was played on a 17'' archtop built by Canadian luthier Peter Hopkins. All the guitar DI's were recorded at 24bit/48kHz.
The Signal Chain
Once in the studio, the pre-recorded guitar tracks were loaded up into DP8 and output through an Apogee Rosetta 800. The reamping was handled by a Radial JDI passive direct box with 45dB of padding to make it friendly to a Hi-Z guitar amp input. On the receiving end, the mic was piped through an API 3124, then digitized with an Apogee AD-16X and recorded back into DP8 at 24bit/48k with no plugs and 0dB gain.
Before each mic was tested, a 1kHz tone was played through the guitar amp and — by adjusting only the preamp input gain — Paul calibrated the system for the differing sensitivity of each mic. Dynamic mics have pretty low sensitivity — our subjects ranged from 1.12mV/Pa (SM7B) to 3.1mV/Pa (N/D 468) — but the API provided plenty of clean, quiet juice.
Two different guitar amps were used for the tests: A late model Koch Twintone II handled the double-duty of the clean rhythm and lead tests. The jazz tracks were played through my 2008 Evans JE200. The Koch is a Dutch-made combo packing 4 12AX7s in the preamp and 2 EL34s driving 50W into the custom 12-inch speaker. The Evans is a completely solid state rig with a digital power amp pushing 200W into a custom 12-inch speaker.
The Process
For each guitar-amp combo, the DI guitar track was first played back through the amp while I adjusted the volume and tone controls to achieve what was, to my ears, a desirable sound, including a touch of the amplifier's on-board reverb — spring in the case of the Koch, digital on the Evans.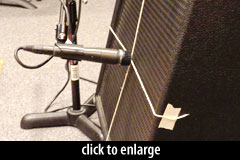 We then positioned the first mic to be tested (the SM57), checked the tone and level, and marked the mic's location with string taped across the amplifier grille in an x-y configuration (see photo). In all cases the mic was positioned at 90°, and the distance from the grille was checked with a ruler. (See Center Cone Technique, below.)
Each setup was recorded with one mic per pass. After the the whole collection was run through, the process was repeated on the next guitar-amp setup.
The Mics
I wanted the test to include some old favorites as well as some contemporary dynamics. We tried to include at least one specimen from each of the major manufacturers (sadly the AKG D40 did not arrive in time). Included were a medley of large- and small-diaphragm configurations, all end-address, instrument-oriented designs. Some of them offer onboard rolloff options, but in all cases only the "flat" position was tested. The venerable SM57 served as our baseline.
Here's the cast of characters:
Audio Files
Listen blind to all 30 tracks — 10 microphones per style — using the embedded MP3 player widgets below. Or, to download the raw 24-bit WAV audio files, use this link but first remove the 'X' from the end.
Jump to: [ Jazz | Shred | Clean ]
Jazz
Mic 1
Mic 2
Mic 3
Mic 4
Mic 5
Mic 6
Mic 7
Mic 8
Mic 9
Mic 10
Shred
Mic 1
Mic 2
Mic 3
Mic 4
Mic 5
Mic 6
Mic 7
Mic 8
Mic 9
Mic 10
Clean
Mic 1
Mic 2
Mic 3
Mic 4
Mic 5
Mic 6
Mic 7
Mic 8
Mic 9
Mic 10
Listening Notes
To me the mics seem more characterized by their similarities than by their differences. All deliver a smooth and focused tone, with that punch-in-the-nose I'd expect from a good dynamic. I think any of these mics would work just fine in a mix, especially if some good EQ were on tap. In all three configurations the SM57 still sounds surprisingly good -- smooth and balanced with ample definition -- although I confess it would not be my top pick. Here's a brief summary of my own thoughts, for what they're worth.
On the jazz guitar I like the extra bite that the N/D468 delivers, presumably due to its neodymium element, and I plan on using it at my next session. The RE320 sounds the smoothest to me and most balanced overall, with nice top end definition. The larger diaphragm mics (RE320, SM7, M99) have lots of tubbiness, and they impart a smoothness that some might find suitable for the jazz idiom. [Unfortunately, time constraints prevented us from testing the switchable low-mid filter of the RE-320 and M-99, which would likely have favorably changed the sound of these mics. --Ed.]
The sonic differences in the clean rhythm tracks are quite subtle, and high quality monitors or headphones are needed to reveal them. My two favorites in the clean rhythm test are the 421 and the RE-320. I think the RE320 gives plenty of sound to work with, and I find the high mids to be somewhat more focused and supple.
Not surprisingly, the differences between these mics are most conspicuous on the distorted guitar track -- which of course contains gobs more high-frequency information. Honestly, I think all the mics sound good and I have a hard time choosing a favorite. It really depends on the context. I love the sound of the i5, though I wouldn't argue if you called it "hyped." The M99 and RE320 both sound HUGE and would be perfect for a titanic metal mix. Once again, I like the 421 which cuts like a hatchet without any brittleness whatsoever and it would probably be my first choice for a busy mix.
Conclusion
No doubt the trusty SM57 still holds its own in the electric guitar arena, and I for one shall always revere it as one of the most useful tools in the annals of music recording. But after giving these other dynamics a listen, I think it is pretty clear that there are many viable alternatives. Although the range of colors among dynamics may not be as pronounced as among say, large diaphragm condensers, it probably makes sense to have a few extra dynamics in the locker to try on any given guitar-amp setup. Given that the most expensive of the mics we tested is around $500 (for the Beyerdynamic M99), and that most of them sell for under $200, it seems such an approach would be within reach of even a modest project studio.
The Center Cone Technique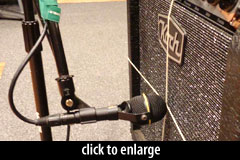 Honestly, I didn't believe it myself. When Big City Recording owner/engineer Paul Tavenner told me he'd gotten the best results recording guitar amplifiers with dynamic mics by placing the mic capsule dead center on the speaker cone and almost touching the grille, I thought he'd lost his freakin' mind. "That just gives you the sound of the speaker's center cone, strident and nasal, without any color," I snorted. I insisted that I'd always gotten the most natural sound by offsetting the mic a few inches from center, and 2–5 inches back. Paul calmly humored me and explained why his technique works. When the sound is played back through monitors, he assured me, they project the sound of the amp the way we're used to hearing it in the audience -- becoming, in essence, the guitar amp's acoustic drivers and adding just enough color to create a convincing image.
Of course I didn't believe him. Until we tested it out. Sure enough, played back through the control room monitors, my jazz rig sounded pretty much exactly the way it sounds on the bandstand, with all the warmth and definition I have worked so hard attain. My offset mic placements sounded dull and flaccid by comparison. Paul later admitted that he, too, had always held the off-center approach as gospel, but that a number of serious guitarists he had recorded, particularly Michael Landau, had opened his ears to the superior impact and gravitas afforded by the center-cone technique. It may sound nuts if you, like me, have always adhered to an off-center approach, but I encourage you to give it a try.
matthew mcglynn

Thanks go to Phil Lewis and Paul Tavenner for making this review possible.

Thanks also to Sennheiser for the evaluation loan of the e906.

The other microphones in this review are the personal property of Phil, Paul, or myself.
Guitarist, composer, and engineer Phil Lewis was born in New Jersey and educated at Berklee College, the Institute of Audio Research, and UCLA. Over thirty+ years he has worked with a wide variety of artists ranging from funk drummer Gerry Brown and Latin jazz trumpeter Bobby Rodriguez to arranger Lalo Schifrin and Motown songwriter Lamont Dozier. Since the late 1990s he has focused his energy on producing what has been referred to by some as "melodic jazz" – a style that emphasizes melody and emotion over musical pyrotechnics.
Posted in Microphones, Shootouts | 28 Comments »
---
---
---