---
Monday, March 31st, 2014 | by matthew mcglynn

As I made the rounds at the NAMM show in January, two products were on everybody's mind… two new products that seem to have captured people's imaginations in a way that a roomful of inexpensive cardioid condensers will never do. Two products that made people ask, "Did you see that?" Followed immediately by, "You should go see that!"
One is a microphone that could have been made 40 years ago, with handcrafted, solid brass parts and a very simple tube circuit. The other is seemingly as modern and transparent as it could be… except that it is designed for digital filtering that makes it sound like a vintage mic. Or, rather, like a bunch of vintage mics.

The New Vintage Microphones
If you were to ask me for advice about your new microphone company, I would probably not recommend launching with a hand-made, $4000 microphone. But I am so glad that Soyuz Microphones didn't ask.
The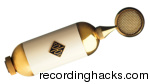 Soyuz SU-017 is a tube condenser with a strong Russian heritage. Nearly every part of the mic is made in Tula, Russia. The brass housing, transformer, and capsule are made in the Soyuz factory.
The mic's Cardioid capsule is detachable. Soyuz is producing large-diaphragm Omni and Figure-8 heads.
Soyuz announced a small-diaphragm condenser as well, the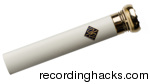 SU-012. This is a transformerless FET mic, whose circuit shares some similarities with the Oktava MK-012 (also made in Tula).
The SU-012 capsules are interchangeable with the SU-017, giving owners of both microphones access to large- and small-diaphragm capsules in multiple patterns, in both tube-and-transformer and transformerless FET topologies.
The other "new vintage" mic revealed at NAMM is remarkable for very different reasons. The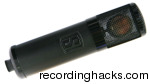 Slate Digital ML-1 is a large-diaphragm condenser with a modern aesthetic and, reportedly, a neutral/transparent sound. The magic of this device isn't in the hardware, but the software.
Slate Digital's "Virtual Microphone System" takes the signal from the ML-1 and applies DSP manipulation to recreate the sound of any number of vintage mic and preamp combinations, e.g. the AKG C12, Neumann U47, Telefunken Ela M 251 through vintage Neve, SSL, and API pre's.
The ML-2 is the small-diaphragm companion; the VMS will include models of numerous small-diaphragm condensers as well as dynamics (the SM57!) and ribbons (the R-121).
According to Stephen Slate, the algorithm used by the VMS accounts for frequency response, harmonic coloration, phase coherency, and saturation characteristics. The system relies on the hardware components of the VMS, including Slate's 2-channel preamp/converter, to provide a fixed starting point from which to begin the signal manipulation.
Purely Modern
In contrast to the above, Lewitt Audio's microphones seem unabashedly modern. They presented two new models at NAMM:
The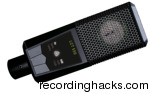 LCT 550 is the latest in Lewitt's Authentica series of large-diaphragm studio condensers. Its primary innovation is its extraordinary noise floor, 3dBA. It shares the backlit, pushbutton interface with the other mics in the series, and offers a full complement of pad and filter options to ensure its versatility.
Lewitt introduced their first USB microphone as well, the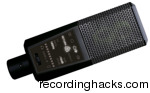 DGT 650. But this is no "me, too" USB mic. It is a stereo condenser mic and 2-channel digital audio interface. It ships with a small breakout box that can be attached to a host computer via USB, or to an iOS device via its Lightning connector.
This design allows signer/songwriters to record guitar and vocals simultaneously — one channel of vocals, one channel of guitar or keyboard. And it works at 24 bit, 96 kHz.
More to come
None of the aforementioned mics has been released yet, so we'll fill in the details as they become available.
Posted in Microphones | 2 Comments »
---
---
---