---
Tuesday, September 24th, 2013 | by matthew mcglynn
We've completed the second week of the studio remodel. The room has taken shape. Many hours have been spent hanging sheetrock and taping joints; the walls now have about 16x more mass than before!
But I'm getting ahead of myself… If you haven't seen it already, get the backstory in part I of the studio remodel.
I want to describe my intentions for this room, too, because "studio" means different things to different people.
What, no control room?!
Some folks have asked where the control room will be. But I never intended to build one. I mostly record myself, so a control room would be an expensive way to waste a ton of space.
This is a project studio, not a commercial studio. It needs to be a nice-sounding live room for tracking. It needs to be relatively soundproofed so the neighbors don't hate me. It needs to be well treated so that podcasts don't sound like cr*p. And it needs enough storage space for a mic collection that, frankly, has gotten out of hand.
Wall Architecture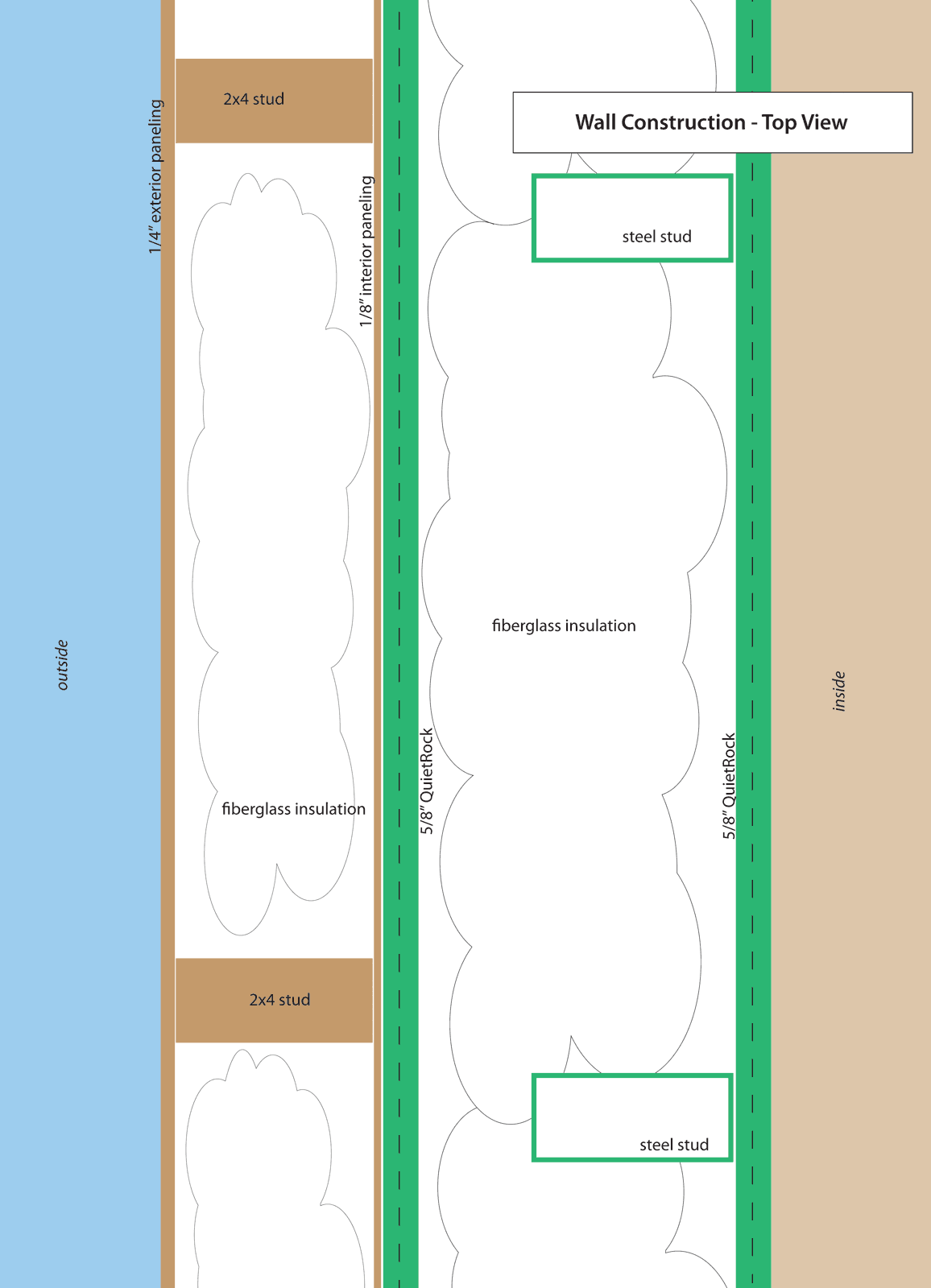 The wall construction plan was cooked up by a local acoustic designer and my general contractor. As noted previously, our choices were constrained by budget, weight limit, and space.
To be clear, there is no construction without compromise. Given twice the money, another 100 sq ft of footprint, and two more weeks, we could have squeezed another 20dB of attenuation out of this plan. But we didn't have the space, money, or time, and more to the point, this plan should be good enough. And I will be happy to invest all the money saved here into more microphones. (I'm not really kidding.)
The existing walls were retained, intact. There wasn't much to them: thin interior paneling coupled to thin exterior paneling via 2×4 studs. Acoustically speaking, these walls were barely there. (See the brown exterior wall in the cross-section image at right.)
We filled and sealed three of the windows and all the other various punctures in the existing walls, then lined the inside with QuietRock ES. That's a 5/8'' drywall panel with a damping membrane sandwiched between two gypsum boards. Each panels weighs 83 lbs (37.6kg). Seams were taped and sealed. Edges were caulked.
Then we built a second wall inside that one, using lightweight steel studs. These studs don't contact the outside wall; there's a 2-inch air gap. We hung a second layer of QuietRock ES inside that frame, after packing in fiberglass insulation. This gives us a wall thickness of over 10 inches. (See the green components in the wall diagram, above right.)
I had some concern that this plan yields a "triple-leaf" wall. (The linked page is great, but if you're not in the mood for a long discourse on STC levels of various wall construction techniques, the gist is that cutting an air cavity into 2-3 pieces creates worse performance than building a single-cavity wall with mass on both sides.)
We worked with the acoustic designer on this issue. The distinction here is that we're not building interior walls, with drywall (mass) on both sides. The structure's existing wall, as mentioned, is lightweight and all but acoustically transparent. It might have been a valid plan to open up those walls and add mass to the outside somehow. But we opted not to, based on the advice of our appointed expert.
Day 6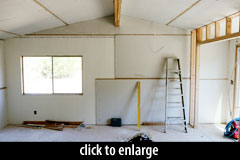 The replacement windows hadn't arrived yet, so corner of wall remained clear of QuietRock.
We chose to install a smaller, standard size window, rather than pay more for a custom window to fit this opening. The cost here was doubly important, because we'd need two of them.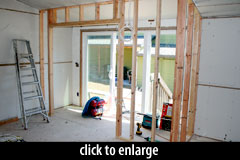 The new entryway was framed in. You can see fresh Romex in place for the lights.
The door that's going in here is a dual-pane vinyl slider that we purchased about 15 years ago, but never used for reasons I don't recall. We have carried it around from house to house, always planning to use it for a storage room or exercise room or whatever, but never actually built any of those things. Now it has finally found a home.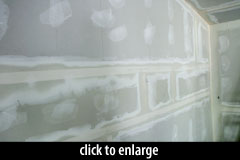 All the seams in the sheetrock were taped with a special tape that reportedly offers superior soundproofing performance than standard drywall tape.

Day 7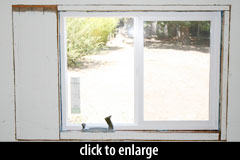 The new window was finally installed, and trimmed with leftover interior paneling. Seams were caulked and sealed.
Reusing paneling like this is both earth-friendly, and helps match the profile of the existing wall so that the sheetrock lays flat over the new wall sections.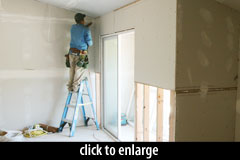 The new entryway was sheetrocked.

Day 8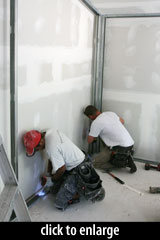 The new interior wall was framed with lightweight steel studs. Cutting these to fit, given the angled ceiling, was a big job; it kept two guys busy for the better part of three days.
The studs are too far apart to be a real Faraday cage, but I'm guessing wifi and cellphone performance in here will sort of suck. (We plan to pull wires for phone, cable internet, and Ethernet.)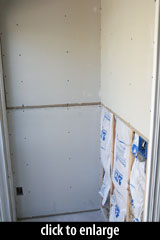 This somehow looks like a toilet stall, but it's the "vestibule." It was insulated and sheetrocked. We put a dual-gang switchbox on this wall, right outside the inner door, for light switches.

Day 9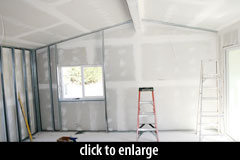 The steel framing had to accommodate this new window.
Lots of seam-taping had been happening at this point too.

Day 10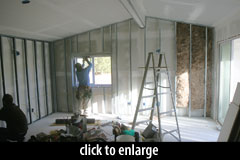 All the bays between studs were packed with fiberglass insulation.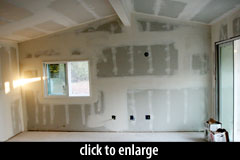 By the end of the day, the inside window and door had been installed.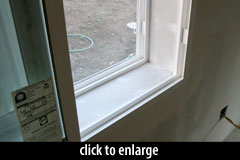 This image shows the thickness of the double wall. And a nice view of my septic system.

Day 11
We had two more crews out on Saturday of the second week, in hopes of catching up to the original schedule. We didn't catch up, but we made progress.
Inside the room, a sheetrock taper spent a half-day going over all the joints, getting them smooth and ready for the final texture coat.
(His last studio remodel project was for Jack Blades! And, yes, Tommy Shaw happened to be there at the time.
That sort of thing seems to happen a lot. For example, we had an HVAC guy out a couple years ago who had done work for Tom Waits. Maybe I'm just sensitive to it, or maybe we have a disproportionate number of music celebrities here. Probably some of both.)
We also had a crew spend a morning underneath the structure, installing cross-braces so the building won't fall over in the next earthquake.
Next steps…
Left to do: interior door, lots of fiddly finish work both inside and out — door and window trim, sealing up all the electrical boxes — pulling cables, and then installing a floating floor. Check back next week for what I sincerely hope will be the final installment: Studio Remodel, Part III
Posted in Acoustics, Studios | 6 Comments »
---
---
---