---
Sunday, July 28th, 2013 | by matthew mcglynn
Your microphone doesn't only hear your voice. It also hears your room.
Few things annoy me more, when listening to a podcast, voiceover, or vocal track, than a crappy-sounding room. You can't fix a lousy room sound in the mix! That's why professional studios usually have a vocal booth or isolation booth of some sort. It's a room that is lined with sound-absorbing materials. A vocal booth could be anything from a closet lined with packing blankets to an engineered space that acts like a sonic black hole.
Low-cost methods can work. But, needless to say, you need a space first. Sometimes circumstances just don't allow for a booth.
Or do they? I wonder if you've overlooked an excellent vocal booth that you already own?
Audio Test – The Mystery Vocal Booth
I recorded a quick voice track using an inexpensive condenser, the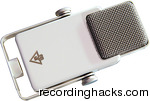 Studio Projects LSM. Although the LSM has a 16-bit USB output, I used its analog output and a Mackie Onyx Blackjack 24-bit USB interface.
The first track below was recorded in my studio room, which is fairly well treated with RealTraps and Auralex absorption products. It doesn't sound bad at all; in fact, all the podcasts I've guested on were recorded right here, as well as all my podcast mic shootouts [the Ultimate Podcasting Mic Shootout of broadcast dynamics, the $200 Condensers shootout, and the USB Dynamics shootout].
Voice track, treated room
… but then, this track does benefit from ~$2500 worth of acoustic treatment. It ought to sound pretty good. If you heard that track by itself, you might not notice the sound of the room at all.
Well, until you hear the same voice, the same mic, and the same interface, recorded inside my mystery vocal booth. Check out how dry and direct this sounds:
Voice track, mystery booth
This track is so much more present, more detailed, and more clear! It sounds louder, but it's not; all the tracks on this page were RMS gain-matched.
Maybe you don't need so much control over your room sound, but if ever you do, I'll show you how to get it.
But first, I'm going to be a bit unfair.
Audio Torture Test – The Flutter Echo Room
Let's pretend your recording space is not well treated. (Judging from some of the voiceovers and podcasts I've heard, too many are not!)
I recorded a track in the worst-sounding room in my house. It's a 16'x14' space with a hard floor, a giant window, and apparently not enough furnishings to tame its reverb. It suffers from gruesome flutter echo (click that link to hear flutter echo slowed down to half-speed, which is the sonic equivalent of watching someone get knifed in slow motion).
Voice track, echo room
I can hear the sound of the space clearly through monitors, but for best effect, listen through headphones. Then compare it to the two previous tracks. This illustrates the value of a dead space (or, at least, a controlled space) clearly.
Your Mystery Vocal Booth, Revealed
It is a small space, lined approximately 60% with sound-absorbent foam and fabric. It has no parallel surfaces that could set up standing waves. And it is shockmounted from the floor, to prevent capture of mechanical vibrations.
Is that description not ringing any bells? I'll give you the final clue: it's parked in your driveway.
Yes, I'm talking about your car. Hardtop and cloth seats preferred, and a garage too. It probably sounds better than your room does.
Convenience & Alternatives
Recording in your car is not always convenient, I admit. You probably can't stand in there, and there's probably no room for instruments. There are a limited number of applications for which a vehicle makes a perfect isolation/vocal booth.
But, when you need that degree of isolation and control, you have it.
I would still recommend treating your room. This pays for itself in the quality of your recorded tracks, as well as the translation of your mixes. There's really no substitute for a great-sounding room.
As an inexpensive first step toward treating your room, I'd recommend the RealTraps Portable Vocal Booth (click that link to read my review of the PVB). It puts a healthy dose of absorption immediately behind your vocal mic, giving you a significant improvement in control for a relatively low cost — certainly much cheaper than treating the whole room.
I also tend to recommend dynamic mics for most voice applications. Unless you have a trained voice, you'll probably get better results with a dynamic microphone. (If you're shopping, Audio-Technica has a crazy-inexpensive option in its ~$49 ATR2100-USB.)
It's dumb, but it works.
Some of you are probably tempted to write comments to tell me what a remarkably stupid idea it is to suggest recording voice tracks in a car.
But you can't deny the effect.
If you take just one thing away from this article, let it be this: Listen to your room. And then fix it.
Posted in Podcasting, voiceover | 29 Comments »
---
---
---