---
Wednesday, January 30th, 2013 | by matthew mcglynn
I don't usually get too excited about lavalier mics, but I think this one is going to be a big deal. Why? Because it turns your Apple smartphone or tablet into a high-quality voice recording device.

Better yet: the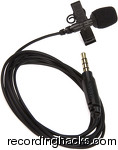 RØDE SmartLav does it invisibly! The iPhone can sit in a pocket, merrily recording away at any sample rate up to 48kHz. The miniature mic clips to your lapel or collar. The mic is tiny, at 5mm x 25mm.
To be clear, this is not a studio microphone. Rather, this is an inexpensive, totally convenient portable voice recording solution that's great for recording one person speaking. If you're giving a presentation and you want to record yourself, this is the best bargain I've seen for an unobtrusive, decent-sounding audio track. Or if you're recording a panel discussion on video, give each speaker one of these. Sure, each would already have a mic on a stand in front of them for the PA, but what about when they turn their heads or walk around? They can't walk away from a lav mic!
The SmartLav is fully compatible with Rode's new "Rode Rec" app for iPhone (also compatible with iPad and iPod Touch). There are two versions, LE and HD; the latter costs $5.99 and adds editing and export options, compression, EQ, and iZotope presets for optimizing a variety of recording types (some of which are likely more useful for other external mics like Rode's RØDE's iXY). But the free LE version is more than adequate for recording and exporting high-quality audio.
Introducing the SmartLav
In Use
Using the SmartLav is extraordinarily easy: plug it into your iDevice's headphone/mic jack, and clip the mic to your shirt or jacket, about 6 inches from your mouth.
The mic will hear you, but will not pick up much ambient noise from the room. And because it is an omnidirectional mic, it won't hear much of a level change if you turn your head away from the microphone while you're speaking. That's one of the reasons lav mics work well for voice capture.
Audio Samples
This test tries to answer the question, "why not just lay your iPhone on the podium or conference table in front of you, and record with the built-in mic?" I plugged the SmartLav into an iPad, and simultaneously recorded myself with an iPhone5.
This test is a bit unfair to the SmartLav, because I did the recordings in my home studio, which is a relatively well-treated space. In a hall or conference room, the reflected sound — the size of the room — is much more apparent. Nonetheless:
Rode SmartLav
iPhone 5 internal mic
I matched gain levels during tracking to within 1dB, using the analog level control within the Rode Rec app. Then I emailed both tracks to myself from their respective devices, imported both to Pro Tools for gain matching, compression, and limiting — as you'd do for most podcast and speech tracks.
The difference is clearly audible. The iPhone built-in mic hears an awful lot of room sound, even in my treated room. There is a hiss in the Lav track, an inescapable consequence of using a miniature capsule, but the noise in the iPhone's track has a wider frequency range — broadband noise that is harder to filter out, and to my ear, more distracting. The SmartLav track is significantly better sounding.
In a bigger room, say a church or conference room, the room sound would be even worse.
Alternatives
Your iPhone's built-in mic is not a reasonable alternative; it is designed for close-range pickup, which only happens if you can hold the phone right in front of your mouth. That's not an option during a sermon, presentation, or wedding ceremony.
How about a portable digital recorder, like the Zoom H2 or H4N? Those are great for capturing the sound of a room, which is precisely what the SmartLav is designed not to do.
How about the Apple earbud mic? This certainly approaches the lavalier model, and probably sounds fine, but you can't exactly wear earbuds in any of the environments where the SmartLav was intended to be used.
How about a lav mic from another vendor? These work well, so long as you have a portable recorder to plug them into. I'm not sure any of those recorders offer Dropbox, email, and Soundcloud filesharing, though, so the combination of the SmartLav and RodeRec app seem to provide a superior solution. I imagine you could find an adapter cable to plug a 3rd-party lav mic into the iPhone's TRRS jack, if you want to hunt one down. On the other hand, the SmartLav just works.
RØDE Rec
I bought the HD version of the app for $5.99, in part because I know that the guys at Audiofile Engineering had their hands on it. (See my recent review of the company's SampleManager application, which has become a key part of my audio file workflow.) I have not yet played with the various filters and editing features, but I found the app easy to use for basic field recording and file-sharing.
Conclusion
The SmartLav is an inexpensive, portable, unobtrusive, high-quality speech capture solution. If you need a lav mic and can leverage iDevices for recording, storage, and filesharing, the SmartLav and RØDE Rec app provide a unique feature set that puts them at the top of your shopping list.
Posted in Broadcast, Podcasting, Reviews | 38 Comments »
---
---
---