---
Monday, July 23rd, 2012 | by Ryan Canestro
Through The Home Recording Show podcast, I regularly get the opportunity to talk with many of the great people in the burgeoning DIY audio electronics community. I have been interested in the "guts" of electronics as far back as the days when I would inadvertently destroy my toys in trying to discover what made them tick. I always thought it would be great to build my own microphone preamps and other studio gear, but until I discovered Seventh Circle Audio, and a handful of other kits, I did not even realize it would be possible for me.

After first visiting the SCA website, I became mildly obsessed with it. The reality of being able to build the circuits of legendary audio hardware for a fraction of the cost of current production models excited me. I first considered just buying a few units and jumping in with both feet, sight unseen… or in this case unheard. Convincing my wife that we needed more preamps at a time when the grocery budget was tight would have been a losing battle. Then I thought that if I could review them, I would get a chance to play with them. This would also give me the opportunity to let others know what I thought, helping them make an educated decision on pulling the trigger themselves.
Through a fan of the podcast, I was put in touch with Tim Ryan. He is the man behind SCA. He was very receptive to my request for review units, and went out of his way to be helpful. I got the impression that this is how he is with all of his customers. After a few emails back and forth, the UPS man dropped off a nice heavy package on my doorstep.
For those of you not familiar with SCA, they supply "do it yourself" kits of many modern and classic microphone preamp designs, plus a DI module and a VCA compressor. The kits come with everything one would need to complete the unit: the printed circuit board, components, knobs, switches, transformers, etc. The enclosure will accommodate any eight complete SCA modules. Each enclosure needs one power supply (sold separately, preassembled). The SCA store provides a discount for customers buying the enclosure at the same time as any of the modules.
Pre-built modules are also available, for those not ready to DIY.
The current modules in production as described by SCA are as follows
Seventh Circle Audio

A12 Preamp – Based on classic American preamp designs of the '70s, the A12 delivers an aggressive, immediately recognizable midrange with pronounced transformer coloration.
A12b Preamp – The circuit is exactly the same as the A12 and sounds identical, but the op-amp is not modular. Available as an assembled module only.
C84 Preamp – The most "neutral" sounding module, the C84 is a kit version of one of the most popular transformerless preamp circuits. The C84 uses a combination of discrete transistors and IC amplifiers to deliver a very clean, uncolored version of your source signal.
J99 Preamp – Many people consider the Jensen Twin Servo to be the finest microphone preamp ever made, and our kit version of this classic circuit has garnered a lot of praise as well. Transformer coupled at both input and output, the J99 can be configured to provide more than 80dB of gain.
J99b Preamp – The J99b offers all the performance of the J99 in an assembled module.
N72 Preamp – Our most popular module, the N72 adds the unmistakable character of Carnhill transformers to your recordings. The single-ended class A circuit is essentially the same as that used in the 1066, 1073, 1272, and other Neve console modules.
T15 Preamp – Our simplest and least expensive kit, the T15 is quite possibly the best value in pro audio. Built around state-of-the-art integrated circuits from THAT Corporation, the T15 provides vanishingly low distortion and noise, +29dBu headroom, and superb audio quality. Best of all, it's simple to build and a great first project.
B16 VCA Compressor – Versatile, transparent VCA compressor tames unruly dynamics. Features program-dependent attack and release, up to 60dB of compression, and +/-24dB of makeup gain. Optional output transformers provide for superior isolation and euphonic coloration if desired.
D11 Active DI – Two independent, all-discrete, class-A DIs on a single module. Optional output transformers provide for superior isolation when reamping. Inputs can be jumpered to drive both outputs.
I was not able to test all of the products made by SCA. This was both a blessing and a curse. I would have loved to have had the chance to play with them all, but I barely had enough time to properly go over the units that I did have. Here are my impressions of the modules that I put through the daily rigors of the recording studio.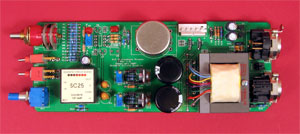 A12b – This is a great sounding preamp. It is punchy, mildly colored, and adds a bit of that secret sauce this design is known for without hitting you over the head with it. This circuit is inspired by the classic API sound of the 70's, but it is not an exact clone. When compared to a modern 512c, the two preamps were definitely different sounding from one another. I would be hard pressed to say that either sounded better than the other. They were like siblings, different while still being from the same family. The usual tasks that I would assign this preamp to would be electric guitar, electric bass, snare, kick, toms, and percussion.

N72 – This preamp is based on the Neve design, which holds a special place in my heart. If I had to pick a favorite preamp flavor, this is the one! There is something magical that happens in the imperfections and the way audio is smeared to create the coloration of this design. I was very excited to get my hands on this unit. Poor choice of words in the previous sentence? Maybe. Excellent preamp? Definitely. I was not disappointed with this build. It had the same transformers from Carnhill as the original Neve. It is also very well laid out on the circuit board. I was not able to get a Neve 1073 for the shootout, but the N72 outperformed my Golden Age Pre-73, which is an inexpensive Chinese made Neve clone. The entire time that I had the SCA review units, I tracked with the N72 in place of the Pre-73. I ended up tracking with it more than I thought I would. It performed beautifully on everything that I threw at it. The usual tasks that I would assign this preamp to would be electric guitar, electric bass, snare, kick, toms, and vocals.

J99b – This is a preamp design that I previously had no real world experience with. I was familiar with it from Jensen schematics, articles, and online examples. It is amazing from a design standpoint, and that comes through sonically. This preamp really brings something different to the table. It can give you a ton of gain, is very clean, but also has a coloration that is hard to explain as you reach the top of its gain structure. Without anything at all to compare them to, I am just going to say that I want to own one soon! The usual tasks that I would assign this preamp to would be acoustic guitar, acoustic bass, drum overheads, percussion, acoustic instruments in general, and vocals.

T-15 – This is the the least expensive kit in the SCA family and is generally recommended to the those that are just beginning with DIY. It is a simple build, based on an integrated circuit design. All that being said, they sound great! I would not get these preamps because they are inexpensive — I would get them because they are likely the best deal in pro audio today. In many cases I chose them over the other designs because they worked better on that particular source. If you are in the market for 8 inexpensive preamps, and you can work a soldering iron, the SCA T-15 would be my recommendation. The usual tasks that I would assign this preamp to would be just about anything for which you need a clean input channel — acoustic and electric guitar, bass, drums, percussion, acoustic instruments in general, and vocals.

B16 w/ Transformer – This compressor is a classic VCA design much like the dbx 160a. I have a dbx compressor in my rack that is similar enough to make the comparisons. The SCA unit with the optional transformer certainly had a noticeable tonal advantage. There is certainly something to be said about transformer mojo! This compressor sounds wonderful. My primary complaint at first was that there is no visual monitoring. There are no blinking lights telling me when things are supposed to sound good. This forced me to actually use my ears to figure out what sounds good. Novel concept. Turns out it was a blessing in disguise. This compressor has the honorable distinction to have made my wish list.
Overall Impressions
The SCA products are very well designed. The layouts are intuitive and clean. In some cases, they may be even better thought out than the original designs. The included components are of the highest quality. The documentation included with the kits is leaps and bounds better than any documentation that you will find with DIY project kits; the instructions carefully present every necessary detail.
Now the question is, would I buy any of these units? The answer is absolutely! I already have my SCA 8 space rack planned out. It is very likely that my next preamp purchase will be from SCA. After about a month with the review units, I was sold. I have become a fan. If you are decent with a soldering iron, or are interested in getting up to snuff, you can make world class gear for your studio on a beer budget.
Ryan Canestro is a recording engineer, producer, and cohost of the weekly podcast The Home Recording Show. Find Ryan's Simi Valley studio online at Ditch Road Records.

Tim Ryan of Seventh Circle Audio got in touch to say that the SCA enclosure has recently been upgraded; it now uses a modular front panel, which makes installation of modules easier, and provides individualized front panels rather than the generic version on the earlier design. Consider that just one more reason to buy SCA. (As if you needed another reason!)
Posted in DIY, Preamps | 3 Comments »
---
---
---