---
Tuesday, July 17th, 2012 | by Sam Pura
If you've ever run back and forth 30 times into the live room to adjust the mic position on the guitar cab, you'll really appreciate seeing Sam Pura's microphone robot, "the Intern," at Panda Studios in Fremont, CA. Read on for Sam's story of the robot's genesis.

Video by Evan Henkel.


I started in the "music industry" as a guitar player. When I started recording, my redeeming quality was the ability to get great guitar tones. Over the past 9 years of recording, I've tried new things every time I record. The point is the get better sounds today than I did yesterday. I've tried new mics, EQs, preamps, phase alignment tools, amplifiers, speakers, guitars, pedals, picks, etc. I went through absolutely every aspect of guitar tone and tried to develop better sounds each day. Still, I was unhappy with my guitar tones.
I started to try digital modeling. Softube's Amp Room was the first I had a positive experience with. Although I wasn't impressed with the amp sounds, and determined Amp Room wouldn't work for me, the ability to move a microphone's placement in the application was a huge breakthrough. I started to think, what if I had a robot that moved the microphone around the speaker for me?! The idea never went further than some "what if?" conversations over beers.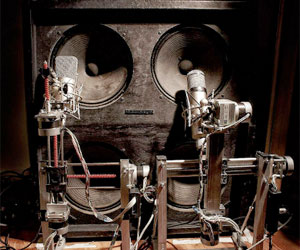 Fast-forward to 2010. Rammstein develops amp modeling software with Native Insruments, and demonstrates that their guitarist Richard Z. Kruspe has not one, but two microphone robots. [click photo at right to see more, via musicradar.com] I was immediately so frustrated that this product didn't exist, and that it looked like it would be $20k to make.
Then Eric Valentine posted about his robot, which looked extremely simplified compared to Richard's:
At that point, I assumed the robot couldn't be that complicated and that I could just find some parts online and build it myself. I mean, the real way to get anything done is to "Do it yourself," right?!?! … Wrong.
I showed both videos around and spent literally over a year trying to explain to my electronics friends why a robot was necessary to my workflow. They just didn't understand the concept and I continued to get nowhere. I spent the entire year trying to do it myself, and I failed. I'm too busy making records to learn robotics.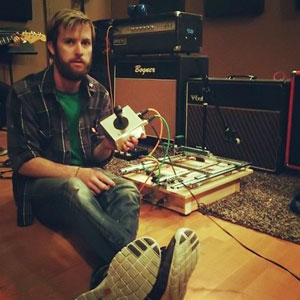 I got to a point where I would jokingly ask each band I would work with if they happened to be robot nerds. Eventually Kerry Gould (@k38g on Twitter) who plays drums for the band Troubled Coast was excited about it enough to say "That's awesome! I can TOTALLY build that!" Kerry is a web programmer and insanely smart. He immediately was tossing back ideas like making an iPhone app as a controller, that could save locations as presets. I was like, "Ok, it's more than obvious you understand why I need this, so let's work this down to the cheapest price point possible and start incorporating these ideas as we go."
We had to research how to make the most efficient and cheap robot possible, because every possible solution was not cheap. I came to the conclusion that going Up & Down is the same as Left & Right [in terms of the mic's position relative to the speaker cone –Ed.]. So, eliminating vertical movement solved a number of problems, and cut down the cost. Creating a robot that moved left and right over the cone, and back away from the cone, essentially covers all miking possibilities. We decided to just do these two forms of movement, and get a working prototype happening. (Adding a Pan/Tilt control, to enable variable off-axis miking, is something we're still working on.)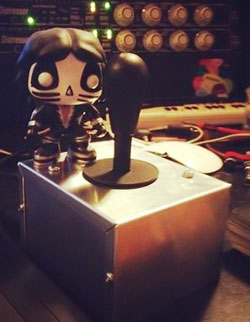 So here we finally are with the first working model. It's currently controlled by a joystick, but we plan to change that to arcade buttons for better precision. The way it works is I hook up 2 XLR cables to my Tie Lines and connect the joystick in the control room. The controller requires a 9-volt supply and that's it. It's made of two sliding rails controlled by two servos. It might sound simple and inexpensive, but it's really not; it took Kerry three months to find the right components, and then seven more to get them working together. The prototyping process hit many roadblocks, and required many changes of components. The finished model alone cost over $500 in parts, and is what we determined to be the cheapest solution possible for two axes of movement.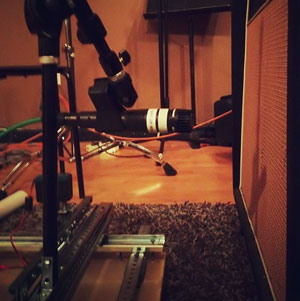 In the video, the guitar is a Jazzmaster into an Orange AC30, Avatar Cab with Celestion Greenbacks miked up with a transformerless SM57 (set slightly off-axis). When it moves across the speaker, it's either pointing off axis toward the dust cap, or away from it. That way we have a few more options than if the mic was just on axis.
Finding the perfect spot to mic on that speaker can be extremely time consuming. It can be too harsh, or too thick, or not have enough clarity in the note definition. But all I had to do was choose a great amp tone and guitar combination, and then play with the microphone position via The Intern while monitoring the guitar riff in the mix. The result are really awesome. I'm always struggling to get clarity from guitars without a harsh bite, and it is clear from this demonstration that changing the mic position is a very powerful technique and more drastic than an EQ.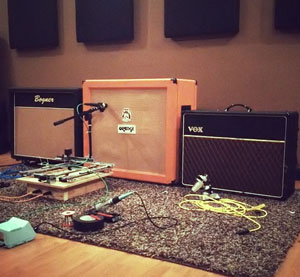 At this point, the goal is to build three robots for all three of the tracking rooms we have here at The Panda Studios. Also because we do our live performance recording called The Waiting Room, having a robot on each guitar and bass would be the dream. From there, hopefully we've got the product developed enough to be able to take orders and create robots for all my studio buddies (and anyone else who wants one), and offer some warranty in case anything happens.
Sam Pura owns and runs a recording business in Fremont, CA called The Panda Studios. He grew up in California and graduated from Ex'pression College of the Digital Arts in Emeryville, CA. Since then, he has been successful at producing albums for bands like The Story So Far, Heavy Heavy Low Low, and Basement UK. Sam also produces the live performance web TV called "The Waiting Room" which premiers on Alternative Press and has featured various bands including Touche Amore, Polar Bear Club, Title Fight, Man Overboard, and Balance & Composure.

Read more about Sam and The Panda Studios in this interview at AltPress.
Posted in Studios, Technique, Video | 14 Comments »
---
---
---