---
Thursday, March 15th, 2012 | by Marc Mommaas
First I would like to thank all of you who responded to Part I of The Quest for the Ultimate Live Sax Microphone, which reviewed dynamic microphones. This is a very exciting project, and since the last article I have made a point of talking to each live sound engineer I could get my hands on. Based on the responses we received from the dynamic microphone article, and feedback from sound engineers on the road, we gathered an enviable collection of condenser microphones for evaluation here in Part II.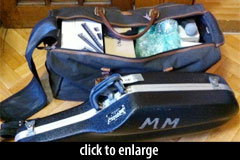 Before we get started, we need to keep in mind the premise of our quest: the microphone should be small enough to fit in carry-on luggage, and preferably it should fit in the saxophone case. We will stay away from clip-on microphones (for reasons explained previously).
We are looking for a natural and honest sound; the saxophone should be captured without loss of quality in any register, and the microphone should work well in live settings of various venue sizes. If you are wondering why we set these limitations, please refer to Part I.
Condenser microphones are indispensable in recording studios. They tend to be more sensitive than dynamic microphones, and are capable of picking up sound in great detail. Condenser microphones can also be made very small, which works in our favor.
For this article we went a few steps further. We tried a wide range of microphones, and we recorded an audio sample of each. The samples have no reverb or effects. I tried to be consistent in playing a short improvisation for each mic, covering the horn from top to bottom. All microphones were recorded in pairs at 24 bit/44.1 kHz through a 2-channel

True Systems P2 Analog mic preamp into a Digidesign 192 I/O converter to Pro Tools. Preamp gain was set for the hottest mics (Earthworks P30/C, CAD E-100S) and not touched for the rest of the session. [Ed. note: Because quiet source tracks make for lousy MP3s, I normalized the tracks to -3dB prior to MP3 conversion… but you can download the 24-bit sources below too.]
I had a ball in the recording studio. It was amazing to hear all the differences in character between the different microphones — it blew me away. I would like to thank Charles Martinez at Audio Paint recording studio in NYC for donating his time to this project!


As a reference we used the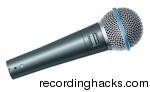 Shure Beta 58A dynamic microphone, which in my experience is a common choice for live sax reproduction. It is also the first microphone that I bought personally to travel with. It is small enough to fit in the sax case, and extremely robust. This way I always have a backup if sound engineers try to put a Shure SM57 (or something worse) in front of me.
Shure Beta 181
Shure calls this an Ultra-Compact condenser microphone, and for good reason. This design is amazingly small, the preamp (body) being 4.9 inches long and the capsule 1.36 inches in diameter.
It has a series of interchangeable small-diaphragm capsule heads. The design is brilliant. Now, let's see how it sounds.
Audio Sample - Cardioid
The cardioid capsule does not have a consistent pickup quality over the whole register of the saxophone. The middle register sounds good, but the top and bottom feel thin and harsh. Yet this microphone does have a clarity that we didn't hear from the dynamic microphones, which is nice.
Audio Sample - Supercardioid
The super-cardioid capsule sounds more compact and direct. The high register still feels thin, but compared to the cardioid, this one deals better with the lower register. The middle register does not really do anything for me; it feels dull and lifeless.
Audio Sample - Figure-8
The Figure 8 capsule sounds the best of the three. It sounds less compressed, and captures the sensation of sound traveling through the room, which makes it a more natural experience. The main concern with a figure-8 pattern is that it also picks up sound from the rear, meaning the audience and the band's monitors. I did not encounter such issues on stage. But I do mostly deal with Jazz audiences – which are willing to be quiet and listen to the music.
In general I would say that the Shure Beta 181 is definitely better suited for the saxophone then the dynamic 58A. Its low cost and compact, robust design makes this microphone a serious contender. I do feel that it is too directional for me, which might be the reason why I had a hard time getting an even and consistent sound over the whole register of the horn. As noted in Part I, the tenor saxophone is a large instrument that produces sound from top to bottom.
Shure Beta 27
Audio Sample
This microphone has a large diaphragm capsule, with a super-cardioid polar pattern. It is physically larger than the Beta 181. It also has more warmth and power, which comes in handy particularly in the low register of the saxophone. Yet I do not like the results with the middle and high registers. As with the Beta 181, I have the feeling that the Beta 27 is too directional.
Earthworks Audio P30/C
Audio Sample
What stands out immediately is the functional design of this microphone. It has a flexible 4-inch neck, and therefore it is very easy to reposition. The P30/C has a lot more power than the Shure Beta 181 and Beta 27, and has more depth to the sound, but I am not sold on it. The horn's high register was not picked up as nicely as the mids. The horn's low register lost its color with this mic, which surprised me because of the mic's Cardioid pattern.
Although the design is beautiful and compact enough to fit in the sax case, in the end it is the sound that has to seal the deal. This particular Earthworks microphone is unfortunately not working for me on my saxophone.
DPA 2011C
Audio Sample
Denmark has a great reputation in modern and ground-breaking design in all fields, and DPA holds up its end of the bargain. The design of this microphone is simple and functional, a Danish trademark, and the mic is very small, which is great for traveling saxophone players.
This microphone seems to have a broader pickup pattern, and it deals better with the whole range of the horn than the microphones described above. This initially surprised me, because of the mic's small size.
There is also a sense of space in the sound, and a lot of clarity. But it feels rather empty to me, with very little depth, and it does not have enough nuance to deal with the saxophone. This is definitely a high-quality mic, but I would not recommend this particular model for the saxophone.
3-Zigma HA-FX, Small-Diameter Cardioid
Audio Sample
This little microphone was quite impressive. The HA-FX has an even sound output, and it picks up the low register surprisingly well. It has more warmth than the Earthworks and the DPA, but I am detecting a pattern: the Earthworks, the DPA and this particular 3-Zigma have small capsules, and sound like it. They are not getting close enough to the natural sound of the saxophone, particularly in the high register.
Comparing all the small-diaphragm designs listed above, I do feel that this small-diaphragm Cardioid capsule from 3-Zigma is best equipped for the saxophone.
Mojave MA-201 FET
Audio Sample
This particular Mojave is a different animal than most of the other mics described above. It has a large diaphragm, has more color and more power and it has an even sound production over the whole range. It picks up the high register particularly well and overall it has a warm quality. I tried it out on a big stage and it worked out great, yet I am concerned about smaller venues. It is relatively sensitive, and I am wondering if it would run into feedback issues on smaller stages. It is also much bigger, physically, than most of these microphones, and therefore is not easy to travel with.
3 Zigma HA-FX, C-LOL-47 and C-LOL-67
Audio Sample - C-LOL-47
The C-LOL-47 is excellent. I feel a sense of space in the sound, and the sound quality is nice and full. This microphone has a lot of life in it.
Audio Sample - C-LOL-67
But the real winner for me is the C-LOL-67, a fantastic microphone with an even sound-production over the whole register. It deals very well with the upper register, but what sold me the most is how natural this microphone sounds compared to the other mics tested. I had to use self-restraint to keep the sound sample short with this mic. This is the first mic of the series tested where I forget that I was playing through a microphone and therefore was immediately in the zone of the music.
And there is more good news on this mic. Although it is a rather large microphone compared to some of the others tested, the large-diaphragm capsule head can be disconnected from the microphone body. Therefore, traveling with this microphone becomes a breeze, as it can be packed is two small, separate pieces.
CAD E100s
Audio Sample
This microphone is also a real beauty. With a large diaphragm capsule, it produces a warm and particularly smooth sound with a lot of depth. It is also has, by far, the highest output level of all the mics tested. This might be the reason why I had a lot of issues with this mic on stage. By itself it sounds great, but it is very sensitive, and I had serious feedback issues despite its supercardioid pattern. Also, it picked up a lot of the other instruments on stage.
In general, for a large stage where you can create some separation between players, or in a recording studio, this would be a great microphone, but if you have to deal with a smaller stage, you will run into problems. I do love the sound of it though; it works well for the tenor saxophone.
Lewitt LCT-640
Audio Sample
This microphone has a unique almost futuristic design and it immediately got my attention, yet the result was not what I anticipated. Although it had an even sound quality over the whole register, in general it felt too edgy for me. It did not have the same depth as the CAD E100s and was not as balanced as the Zigma C-LOL-67.
Conclusion
From the smaller microphones, the 3-Zigma CHI HA-FX with the small-diameter Cardioid capsule was the most successful. It did not make me want to run to buy one, but I was impressed. The design is compact, and it has a warm sound, which seems to be a challenge with small designs. Also, with this microphone I did not encounter any feedback or bleed issues.
The overall winner for me is the 3-Zigma with the C-LOL-67 capsule. This beauty has a smooth and natural sound, and it was inspiring to play through. I would be very happy with this mic on any stage.
What's next?
So far we have dealt with dynamic mics and condenser mics. This whole exploration has been an amazing learning experience and again, the differences between all these mics are astonishing.
There is another type of microphone that we have not yet covered: the ribbon microphone. These have a great reputation in recording studios. Just think of the beautiful sounds coming from all the great Coltrane, Miles and Parker recordings. But they are generally sensitive and delicate. I hear that improvements have been made in the ribbon-world, which should make the ribbons serious contenders in the live stage arena.
In Part III of The Quest for the Ultimate Live Sax Microphone, we will listen to several ribbon microphones. Then I should have my final winner, the microphone that I will buy. I am very excited! I feel that I am getting close.
Thanks
I would like to thank Shure, 3-Zigma, DPA, Earthworks, and Mojave Audio for letting us borrow their microphones for this article.
Also, special thanks to Charlie Martinez and Frank Piazza for their generosity in opening up Audio Paint Studios and their vintage mic locker for an afternoon of sax recording.
matthew mcglynn

I will join Marc in thanking all the vendors who participated in this review: Shure and Earthworks (always the first to volunteer gear), 3-Zigma, Mojave Audio, CAD, Lewitt Audio, and DPA; these microphones were provided for evaluation purposes, and most have since been returned to their respective manufacturers — although Marc has already asked me to get the 3-Zigma/67 back!

If you'd like to hear the original 24-bit AIF files recorded at Audio Paint, you can download the 47MB ZIP archive here. Note that, as explained above, these files were not gain-matched in the studio.

Be sure to see the other two installments in Marc's quest:
Posted in Live Sound, Microphones | 15 Comments »
---
---
---