---
Wednesday, March 7th, 2012 | by Paul Strikwerda
Lyre, lyre, your mic's on fire!
Is it just me, or are microphones getting more and more exotic?
We have Snowballs, Yetis, Voodoos, Fat Heads, microphones with holes, pear-shaped mics, flat ones, round ones…
To accommodate all these weird shapes, sizes and different weights, each microphone now seems to come with its own, custom-designed shock mount.
What amazes me is this. The most inexpensive mics often ship with a cat's cradle suspension system, whereas some of the big boys demand top-dollar for shock mounts that are sold separately. It's as if you're buying a high-end mountain bike that does not come with a proper seat.
I recently ran into that problem when I got my Microtech Gefell M 930 Ts. If you've read my review you know that I adore this nifty little thing. Because it's a pretty sensitive microphone, a proper shock mount is no luxury item. It is a necessity.
But here's the thing: the M930Ts is an exceptionally small large condenser and does not fit into a regular shockmount. Of course Gefell will happily sell you the one they make, for a little over $300, but that's just outrageous for a wire frame and some elastic bands.
But there's more to this story than my mini microphone.
If you run a studio with a decent mic locker, it becomes a real pain in the you-know-what, to have to unscrew a unique shock mount any time you change microphones. Besides, these mounts are often the weakest link in the recording chain. They last for a couple of years and then they fall apart. Just look at them. It's a last-century design with last-century materials. Sometimes, expensive microphones are just hanging there by a thread. Literally.
In my quest for a more universal, durable and modern suspension, I stumbled upon Rycote, a family-run business in Gloucestershire, UK. Founded in 1969 by film and television sound recordist John Gozzard, the company became first known for its furry microphone windshields.
Forty years later, Rycote products can be found in television studios and on film sets all over the world. In 2000, the Academy of Motion Picture Arts & Sciences recognized Rycote by a Technical Achievement Award, but the company certainly did not rest on its laurels.
Into the 21st century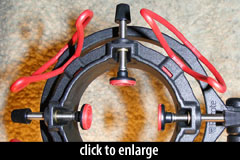 A few years ago, Rycote came up with the ingenious InVision™ shock mount system for side-address studio microphones. It is based on the patented vibration-resistant Lyre™ suspension.
Rycote's shockmount is made out of lightweight plastic, and has an inner and an outer ring, just like the more traditional mounts. Here's what's new: the inner ring that holds the microphone is not suspended by elastic bands, but by four W-shaped Lyre™ clips attached to the outer ring.
These clips are made from a thermoplastic material called Hytrel that is virtually indestructible. It won't sag, it does not need to be rethreaded, and Rycote says it offers up to 12 dB more isolation from unwanted vibration compared to a more traditional system. And yes, they have the test results to prove it!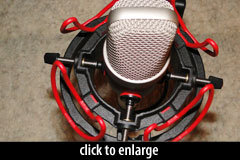 The Lyre™ clips (red in the picture) are not the only part of what makes this shock mount both unique and universal. What holds the microphones in place is a miniature version of a Christmas tree stand: four screw clamps with rubber tips. Attached to the inner ring, they can secure microphones of different sizes and shapes with very little effort.
There are several versions of the InVision™ Studio line. The regular USM (Universal Shock Mount) is for microphones between 1 and 55 mm, weighing 400–750 grams. The USM-VB (just introduced at NAMM) is for mics between 55–68 mm weighing up to 900 grams. My test model is the USM-L for mics between 18–55 mm, weighing up to 400 grams.
Rycote's compatibility chart (PDF) tells you which mount you will need for which microphone.
My demo mount, an evaluation loan from US distributor Redding Audio, came just in time, as I was about to test several microphones, one of which was my small new baby, the Gefell M 930 Ts. With the help of a 5/8 inch brass thread adapter (included) it was a breeze to attach the mount to the mic stand. In less than ninety seconds, my Gefell was safely suspended in mid air. I won't say that you can't screw this up because you have to.
Surprising detail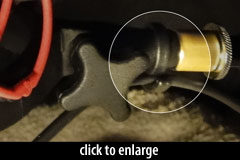 The InVison™ mount revealed one surprising but very welcome detail: a clever cable clamp close to the thread, separating the microphone cable from the boom arm. This prevents vibration traveling through the cable from reaching the microphone.
In the next few days I tried the InVision™ model on several microphones such as the more angular Lewitt LCT 640 and the more traditionally shaped Avantone CK6. Fitting these mics to the mount was simple, and at no point was I worried that the fasteners would lose their grip or crush the mic.
Because my Gefell only weighs 273 grams, I used the USM-L ("L" for Lite) that comes with the red, more flexible Lyres. Whereas the other models can also be suspended horizontally or angled, the USM-L can only be used vertically or at an angle with mics up to 400 g.
I tried the same microphones with the shock mounts that were provided by their respective manufacturers. In a series of unscientific but rigorous wiggling and thumping tests, the Rycote suspension system lived up to its promise and audibly outperformed the more traditional mounts.
But wait. There's More!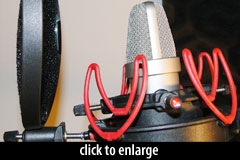 Rycote also sells this shock mount as a Studio Kit which consists of a suspension system and a pop filter. The filter's slightly curved frame can be attached to the outer support ring of the mount, but it will also lock tightly to most "spider" type elastic shock mounts. Thanks to a rotatable fitting, it's easy to get the filter out of the way when swapping microphones.
The oval shaped filter is made from super light mesh (an ABS nylon blend plastic), which is really a 10 mm thick open cell foam pad, held in place by a support ring. This foam can be easily removed for cleaning or replacement.
I've never been a fan of pop filters held in place by a heavy metal clamp and a gooseneck. The less stuff I have in my field of vision, the better. Somehow, the clamp always seems to loosen its grip after a while, and I've had the whole thing come down in the middle of a live recording session. That won't happen with the Rycote filter because it only weighs 45 g.
Being used to the old metal mesh and nylon filters, I was surprised by how effective the Rycote foam filter really is. The company says it can reduce the effect of plosives by 20 dB (as compared to no pop screen at all). It sits at a good distance from the microphone, but it cannot be moved closer or further away. It wasn't a problem for me, but some might consider that to be less than ideal.
Conclusion
Having tested this filter in my voice-over studio for about a week, I can safely say that it does not color my voice at all. I no longer have to swap mounts when I swap microphones and unlike other filters, it stays in place. Pops are a thing of the past.
At $149.99, I think Rycote's InVison™ Studio Kit is very reasonably priced, especially compared to the more than $300 I would have had to fork over for a genuine Gefell shockmount. Not surprisingly, I am not returning my kit to the dealer.
Where to buy
matthew mcglynn

If you found this review useful, please consider supporting the site by purchasing through one of our affiliates.

Paul's kit, the USM-L, fits mic diameters 18–55mm and up to 400g in weight, while the standard USM accomodates heavier mics of the same size. The USM-VB is for mic diameters 55–68mm, with weights up to 900g.

Your browser does not support iFrame.
Posted in Microphones, Reviews, voiceover | 9 Comments »
---
---
---