---
Monday, March 5th, 2012 | by Paul Strikwerda
The Holy Grail of voice over microphones: is it a mythological object or does it really exist?
If you spend any time on forums for fellow-gearheads, you know that the quest for the best VO-mic can take on Monty Python-esque proportions. People swear by certain brands, makes and models, based on their own (and often vague) criteria.
It is easy to forget that any microphone is part of a recording chain, and when you change one link in that chain, everything changes. Of course the source of the sound is very much part of that chain.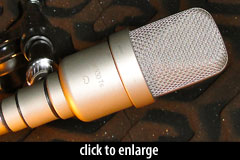 Very few armchair reviewers actually ask the question: What would make a microphone specifically suitable for voice-over work?
Before the home studio revolution, the answer would have been different. Talent would go into a certified soundproof recording studio and use one of the German workhorses on hand.
Nowadays, lots of VO's hide in walk-in closets, cover themselves in movers' blankets or buy a prefab foam-filled box from a boothtique. In other words: the ideal voice-over microphone has to handle less than ideal recording environments.
This is what I am looking and listening for in a VO-mic:
minimal voice coloration
tight pick-up pattern (cardioid or supercardioid)
excellent rear rejection
controlled proximity effect (bass boost)
low susceptibility to sibilance (shrill "S"-sounds) and popping
low self-noise
high-pass filter to cut out lower frequencies
rugged design, ready for the road
With this in mind, I had been shopping around for a new voice-over mic when a small miracle happened. I became the winner of Recordinghacks' December microphone giveaway! My prize was the new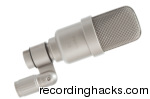 Microtech Gefell M 930 Ts studio condenser.
Prior to that, Gefell had never really been on my radar screen, but when I discovered that Georg Neumann had founded the company in 1928, I was intrigued. Gefell itself had been operating under the East-German radar for years, until the Berlin Wall came down. Now, their hand-made microphones are used in the United Nations, the German Parliament and in The Vatican, as well as in the studios of the BBC and other networks.
My prize possession was developed at the request of Gefell customers and is based on their popular M 930 model. "Ts" stands for Travosymetrierten Ausgang, and that's German for "output transformer." That's exactly what has been added to the M 930, together with a newly developed circuit design. This results in a deeper low-frequency extension, negligible distortion and no signal degradation when running long cables.
A big surprise
I knew I was expecting a large-diaphragm capsule studio microphone, but when I received a package in the mail the size of a brick, I thought somebody had made a mistake. This couldn't possibly be my new mic, could it? I was almost disappointed.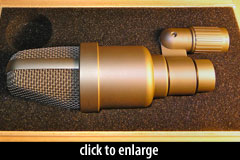 I was also wrong.
Out came a simple wooden case with a satin nickel colored microphone and holder that could easily fit in the palm of my hand. It was by far the smallest large condenser I'd ever seen. Judging by this model, Microtech takes its name seriously!
Strangely, the company logo is laser-engraved on the back of the microphone. The model and pick-up pattern symbol are on the front of this side-addressed design. There are no switches such as a bass rolloff, and the M 930 Ts has just one pickup pattern: cardioid. This microphone exudes sophisticated simplicity.
Because of the output transformer, the Ts is longer than the M 930 (130 mm vs 118 mm). It's also a little bit 'heavier' (273 g vs 210 g). In comparison, Neumanns like the TLM 103 and U 87 come in at 500 g.
The high-end steel body–also available in dark bronze–feels very solid, and it is virtually impossible to take this mic apart without damaging it. Gefell actually seals the housing with glue. The 28mm capsule with its gold-plated polyester membrane is mounted elastically in the compact housing, which has a diameter of 45mm.
According to Gefell, the combination of the optimized impedance conversion circuitry and the output transformer gives the microphone a very high maximum SPL 142 dB, with at most 0.5% total harmonic distortion and extremely low self-noise level of just 7dBA. This gives the M 930 Ts a clean, uncolored sound over a wide dynamic range.
This microphone has a constant frequency response with an accentuation of about 2.5 dB between 6kHz and 12 kHz, aimed at raising the speech and high-frequency presence. In theory, this should make it very suitable for broadcasting applications.
The M 930 Ts is connected by a standard 3-pin XLR-male plug with gold-plated pins, and needs an external 48 V phantom power supply.
Size Matters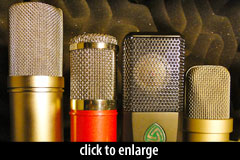 If you subscribe to the "bigger is better" theory, you're not going to like this mic. However, if you believe that small is beautiful, you will love it. A few years ago, my studio went almost completely paperless, and these days I read my voice-over scripts off the computer monitor in front of me. For the first time, I now have a microphone that is not disturbing my field of vision. That's exactly why the M 930 was developed in the first place: to be discreet. I already find it much easier to concentrate on what's in front of me, because there's very little in my way.
If you work for a radio station that is also televising its shows, or if you record YouTube tutorials on your webcam, this mini mic makes sure the focus stays on you and not on some bulky blob blocking your face. On stage, a smaller mic means the audience can actually see and respond to the facial expressions of the performer.
There are three more advantages to this clever design.
First of all, this microphone is easy to position. It fits into tight spaces. Because it is light, you don't have to worry that your stand will tip over when extending the boom. Third: it's an ideal compact, sturdy companion for the road.
If you've been keeping score, you know I've already ticked off a few boxes of my ideal voice-over mic. But there's more to explore.
Sound check
When my prize arrived, I was already testing a few new microphones in different price ranges. What immediately struck me was that the M 930 Ts is a neutral, natural sounding mic. This is not a microphone that will add a lot of extra "oomph" or a distinct color to your voice, but the sound isn't exactly thin either. Just like its older brother the M 930, its sound is quite rich without being fat. It sounds transparent, or "unfooled around with" as they say in the commercial. That's exactly what most of my clients want. They like my audio to be crisp and clear, and if it needs to be sweetened, they'll take care of that in their studio.
The other thing that struck me from the start is how low the noise floor of this microphone is. This really is a big plus during more intimate reads. The M 930 Ts is rated at 7dBA self-noise, making it one of the lowest self-noise microphones on the market. [See others listed on the Microphone Zeitgeist page. –Ed.]
The cardioid pick-up pattern will give you a reasonable area to work with. For more animated narrators, this means they don't have to pin themselves down to one spot. At the same time, the off-axis and rear rejection is definitely sufficient to keep the microphone focused, and to keep most extraneous noises out of the mix. This is definitively an advantage under less-than-perfect recording conditions.
I do like my voice-over microphones to have a little bass boost when I get closer to the mic (this is known as "proximity effect"), as long as I get coloration instead of distortion. Up close and personal, the M 930 Ts does add some lower end presence without being too much "in your face." Sibilance wasn't really a problem during my test, but that's also a matter of mic technique. While this Gefell picks up of lot of detail, it is not overly sensitive to popping. Nonetheless I prefer to use a pop filter, if only to protect my mic from mouth moisture.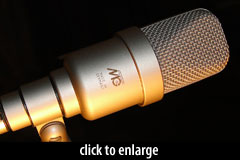 As far as I can tell, the M 930 Ts is not yet sold in the U.S. but in Germany it retails for about 1350 Euro (around $1780). The only complaint I have is that this microphone comes with a "hard mount" rather than a shockmount. Gefell charges a shocking $300 for an elastic suspension, and over $200 for a rubber isolation "donut" mount. This mic is quite sensitive, and I do recommend getting something to isolate it. Because it is so small, a universal shock mount won't hold it securely. Fortunately, I have found a perfect solution at a reasonable price, but more about that in a later review.
Sound Bites
Because I am testing the M 930 Ts specifically as a voice-over microphone, I didn't want to try it out in a full-blown recording studio, but in a typical, rather small sound booth. When it comes to VO equipment, less is often more, and so I hooked my Gefell up to a CEntrance MicPort Pro, a popular portable mic preamp with a built-in 24bit/96kHz A/D converter. [Read about the MicPort Pro in our USB Mic Pre Shootout –Ed.]
The samples were initially recorded in 24-bit, 44.1 kHz WAV format and converted to MP3.
I thought it would be fun to record one sound bite in Dutch. After all, it is my native language and because the content doesn't really matter, you'll be able to focus on the unprocessed sound. What you'll hear is the short poem Memory of Holland by Hendrik Marsman.
[audio:http://recordinghacks.com/sounds/samples/m930ts-VO/narration.mp3]
Next, I recorded my voice at 10, 7 and 5 inches from the microphone.
[audio:http://recordinghacks.com/sounds/samples/m930ts-VO/10inches.mp3]
[audio:http://recordinghacks.com/sounds/samples/m930ts-VO/07inches.mp3]
[audio:http://recordinghacks.com/sounds/samples/m930ts-VO/05inches.mp3]
Finally, I started recording in front of the mic and then I moved to the left and to the right. This should give you a better sense of the way this microphone picks up the source of the sound.
[audio:http://recordinghacks.com/sounds/samples/m930ts-VO/moving.mp3]
Conclusion
Based on my criteria, the Gefell M 930 Ts scored 7 out of 8 points, plus a bonus point for size. Apart from lacking a high-pass filter (not a deal breaker) and a shock mount, it has everything a voice talent could hope for. It's neutral without being boring, and when I listen to my audio samples, I hear myself and not some boutique sound.
Due to its price tag, this is certainly no entry-level mic, but let's remember that Gefell microphones are still made, measured and tested by hand in Germany.
Great things do come in small packages, and — just like me — the Gefell M 930 Ts is a winner!
Paul Strikwerda is a multi-lingual voice actor based in Easton, PA. Learn more about his voiceover work at Nethervoice.com.
Posted in Broadcast, Microphones, Reviews, voiceover | 24 Comments »
---
---
---