---
Sunday, October 30th, 2011 | by matthew mcglynn
Earthworks recently redesigned the windscreen attachment for the SR20, their entry-level cardioid condenser. The new windscreen is a metal-mesh design that will be instantly familiar to anyone who has ever sung on stage.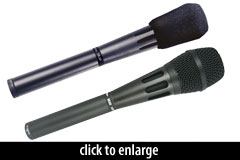 Below the mesh head, a ring of carefully-designed slots has been cut around the periphery of the new attachment, allowing the SR20 to maintain its excellent cardioid pattern control.
This is great news for future SR20 customers, who get this screw-on headbasket for free with the microphone. What about all the existing customers, the folks who already bought an SR20?
Well, Earthworks loves you, too. They're offering a free headbasket upgrade. The new metal-mesh unit screws onto the existing SR20 body, converting your awesome instrument mic into an awesome vocal mic, with better plosive protection than ever before.
To get the free windscreen, download this form
There are now two request forms: one for the US, and one for Europe/Asia/etc. See those document for restrictions, and be sure to file your application before March 31, 2012!
I love to see microphone manufacturers take care of their customers. Earthworks has done so for a long time, as their 15-year warranty indicates. This is just one more episode of what I expect will be a long series of remarkably good deeds.
See a closeup photo of the new windscreen in our SR20 profile.
Posted in Microphones, News | No Comments »
---
---
---