---
Wednesday, September 21st, 2011 | by Agent 19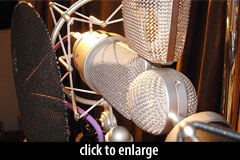 For this review I used the the RODE NT1a (Michael Joly Mod) microphone on voice and acoustic guitar.
Test equipment included a Neumann TLM 103 and a Blue Baby Bottle (as comparison microphones), along with a Focusrite Liquid Saffire 56 (the Liquid Pre channels were not used) and Canare microphone cables. All files were recorded at 24-bit/48kHz with no EQ or compression. I did do some very slight gain adjustment, just to be sure that the volume of the reference files played back as closely as possible.

The Michael Joly (www.oktavamod.com)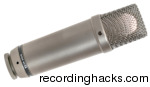 RØDE NT1-A modification is quite a popular modification, and at its price point, I feel it is a great option for any home studio looking for an excellent general-purpose LDC to have in the locker. It is an outstanding addition to any project or large studio's arsenal as well.
If you have read about the RODE NT1a (Michael Joly Mod), you will know that it is described as a Neumann U87 alternative (a shootout between the two microphones is available on the OktavaMod website). Though I believe this summary is a great way to reference the sonic characteristics of this microphone, for this review I wanted to use two other microphones that were roughly in the same price range for comparison. The RODE NT1a (Michael Joly Mod) can be purchased from the OktavaMod website for $629 (the mod is available separately for $399). The TLM 103 can be found for approximately $1100, and the the Blue Baby bottle is right in the $400 range.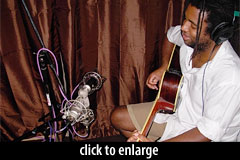 For our sonic source material, I was fortunate to have the very talented multi instrumentalist Brian Rodgers, of the band Izabella come by the studio, Green Robe Recording, to perform on acoustic guitar and vocal. For the review Brian performed part of his song entitled Relle Belle. After tracking guitar and vocals separately for the review, we went ahead and recorded a full version of this song using the RODE NT1a (Michael Joly Mod) for both the acoustic and vocal (once again, tracked separately in the same positions as the review clips). You can find the whole track at the end of the review.
THE SET UP – Acoustic Guitar
For both voice and acoustic guitar, we tracked in the back of my control room which when curtained off is 6'x7'x9'. This area is treated, but not entirely "dead." For acoustic guitar I set up all three microphones at a distance of approximately 13.5'' from the 12th fret of the acoustic guitar.
The tracks you will hear are the same performance captured on three microphones at once.
Sample A
Sample B
Sample C
(Scroll down to find out which is which.)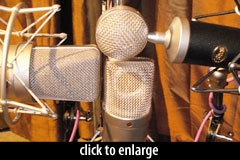 I found all three microphone preformed quite well, and though the differences were not huge, they are significant. Depending if the acoustic guitar part was being tracked for a large or small production, I would make different microphone selections based on what I have heard here.
Making a "quick choice" of the three, I would choose Sample C, simply because to my ears it felt the least "accented" or "hyped." When I asked Brian what he thought of each mic, his response was, "Sample A has a bigger bottom end, Sample B sounds really good but sounds as if the mids are scooped, and Sample C sounded as if the highs and high-mids were more articulated." His favorite among the three was sample A. (He made this statement without knowing which mic was used on each sample.)
The Reveal
Acoustic guitar Sample A is the

Neumann TLM 103.
On this guitar, the TLM103 had very rich low mids, and it seemed "grab" the string noise. I also found the top end to be bright yet not brittle. I use this mic often on acoustic guitars and find it to be a true workhorse in the studio. If I were tracking for a large full-band rock production, I believe this is the mic that I would choose, as the top end is already there to help it stand out in a full mix.
Acoustic guitar Sample B is the

Blue Microphones Baby Bottle.
I agree with Brian's statement above, and found this mic to be lacking a bit in the mids (in comparison to the other microphones), and it seems as though the highs are a bit pronounced and crisp around the 5–6k range, though this is still a very useful mic on acoustic, and I would probably try it first when recording a Baby Taylor or Parlor Acoustic guitar.
Acoustic guitar Sample C is the

RØDE NT1-A (Michael Joly Mod).
As stated previously this is my top choice from this three-mic selection. I find this mic to sound true, flat and natural on the acoustic guitar. If I were doing a folk/acoustic song or singer-songwriter with minimal production, this would be my go-to choice.
THE SET UP- Vocals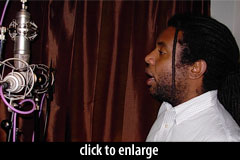 In the same location where we tracked the acoustic, I raised up the microphones, and set them up to all capture Brian's vocal performance. Brian sang from approximately 11'' away from the microphones.
The tracks you will hear are the same vocal performance captured on on three microphones at once.
Sample A
Sample B
Sample C
Scroll down to find out which is which.
All the microphones performed quite well. I do use all three of these mics on vocals, and my choice is always dependent on the timbre and quality of the singer's voice.
After listening to these microphones on Brian's voice, my "quick choice" between the three was Sample B, for the same reasons as my "quick choice" on the acoustic guitar: it seemed to me to be the most "flat" and natural sounding. When I asked Brian what his thoughts were, he described sample A as "powerful and intelligible." After hearing Sample B, his response was "it's is very present and natural." And as for sample C, he simply called it "clear and defined."
The Reveal
Vocal Sample A is: the

Blue Microphones Baby Bottle.
In this clip you can clearly hear the Baby Bottle's dip and boost (dipping around 1500 Hz and a slight boost around 5kHz). If I were to use this on Brian's voice, I would need to experiment with placement, as I found the sibilance was a tad much, and that the high end wasn't as "open" as what I would like on a lead vocal. That being said, the mids are clean and smooth and there was nothing lacking. I have had great success with this mic on male singers who have a higher register or who are singing falsetto.
Vocal Sample B is: the

RØDE NT1-A (Michael Joly Mod).
My "quick Choice" again. To my ear, this mic is very flat and natural sounding. Though it may not be my first choice for all vocals, if I were tracking a strong vocalist who has good mic technique and can enunciate well, this would clearly be an excellent mic to select. The top is open and the highs/high-mids are smooth. I am very impressed by this mic. Fortunately Brian is a great vocalist, and for a production of just guitar and his voice this would be my choice.
Vocal Sample C is: the

Neumann TLM 103.
I feel that the TLM 103 is one of the best vocal microphones in its price range. It really does so well on so many different types of vocalists; it is hard to go wrong with this mic. In this clip you can hear how its bright and open top end really help to add definition and clarity to each word. If I were tracking a pop or rock song with a lot of program material, I might grab this mic first, just to get that quality top end recorded, so there would be less need to EQ later.
In Summary
The RODE NT1a (Michael Joly Mod) is a awesome addition to my mic locker, and for someone who is looking for a great workhorse LDC, I definitely would recommend it. If you are on a budget, this mic might be a great way to build up the quality of your mic locker. Just buy a RODE NT1, and while saving up for the mod, use it as is. One of many bonuses to having modded microphones in your locker is getting a "flavor" or "character" that is unique and affordable. It is very cool to own a mic that is non-standard, for you know that you have a mic the few other people in the world do.
Ordering with Michael is a breeze. His customer support is top notch, and his work is impeccable.
I personally have been a huge fan of Mike Joly's work for over a decade, and this mod further instills my confidence in what he can do.
The only thing thing that makes this mic better is getting the matched pair, which I did!
Here is the whole song Relle Belle. Please enjoy!
Relle Belle (MP3)
Happy Recording and Mixing,
Agent 19
Other OktavaMod Options
matthew mcglynn

It is no secret that we are fans and customers of OktavaMod. You can find more information about the numerous OktavaMod modifications within the Microphone Database. And you can hear the OktavaMod MK-012 all over this site: in our Beyerdynamic MC-930 review, our Oktava Figure-8 Capsule review, and Neumann KM88 Mid-Side Guitar Shootout that took place on The Microphone Show, to name just three of many!
Tags: Brian Rodgers, Michael Joly
Posted in Microphones, Shootouts | 15 Comments »
---
---
---