---
Sunday, June 26th, 2011 | by Dren McDonald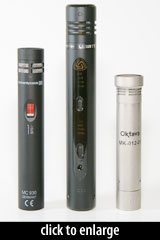 I often read mic reviews, but sometimes find them hard to relate to because many of the engineers who write them are working in a much larger room than I do, or because they are often recording rock/pop bands. Maybe they have a cornucopia of vintage mic pres or compressors, and they are usually working on a big desk… if only!
So here's my situation: I record music and sound effects for video games. I do it as my full time gig, from my basement home studio. I don't need a desk or a big room, I don't use Pro Tools (Logic since the eMagic days), and I only have a few mic pres/compressors (how many analog recording channels do I need?). I also have to be very versatile, creating all styles of music, and often creating invented genres (Easter Renaissance Dance music, Coal Mining Mole music, Amiga computers meet Erasure etc…)
It is always better when you don't have to rely entirely on virtual instruments.
I have certainly spent a small fortune on virtual instruments to help out with many of these challenges, but my main instrument is guitar and I manage to 'fake it' on a lot of other stringed instruments (bass, baritone guitar, fretless bass/guitar, banjo, mandolin, ukulele, oud, and some antique and homemade instruments). So I'm often recording these stringed instruments as well as a variety of small hand percussion instruments. My philosophy in creating music for any medium is that it is always better when you don't have to rely entirely on virtual instruments. So I try to record as much as I can.
Time is always a consideration, because I usually have very short turnarounds for a lot of the work I do. So when I'm recording a part, I need to get to a good sound and I need to get to it quickly. So it's great to know what type of mic to go to, depending on the source. Fortunately I had the chance to audition several really wonderful FET Small Diaphragm Condensers (SDC) recently.

Here's what I was working with: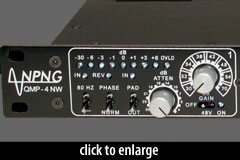 I used an NPNG DMP-2NW 2 channel mic pre, on loan from my pal Dan at Mercenary Audio. The first few samples on acoustic guitars were different performances (yeah, I know, I hate that too), but the hand percussion/ukulele was A/B'd on the same performances.
I included one of my stock MK 012s in this experiment figuring that most folks are familiar with what that mic brings to the table. I really do like these on acoustic guitar (6 and 12 string), mandolin and ukulele, not to mention maracas and other hand percussion. The MK 012 usually has a fairly smoothed out high end (for a mic of that price range) and retains enough low frequency information to keep things honest. And that's the case here. The MK 012 provides a track that I'd be comfortable putting into just about any mix, and I'm familiar enough with that mic to know how it takes to EQ etc (though no EQ was applied to any audio samples here.)
Unlike the Oktava, the Lewitt 340 has some flexibility built in with backlit switches for a 4 way attenuation pad, and 4 way hi-pass filter. Not to mention, this is one of the beefiest, most tanklike SDC mics I've ever picked up! For the samples I left everything at the default (0 dB attenuation and the hi-pass set to 'flat'). Listening to the Lewitt I noticed a few differences from the Oktava: the LCT-340 had an increased clarity and detail in the high end and a pleasant bump in 150k–200k range. Where the MK 012 tends to start blurring that high frequency detail a bit, the Lewitt brings it into focus a little more.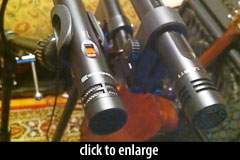 Now this is where personal taste comes into play. While I was setting up the Lewitt I found myself getting lost in playing the acoustic guitar, experimenting with the mic, its placement, and the guitar dynamics. In fact, my left brain had to sort of step in, take over and get back to business because I found myself getting carried away with ideas. I think whenever a piece of gear starts inspiring your creativity and gives a little spark, it is always a good thing.
The beyerdynamic MC 930 also has a built in switch for pad and hi-pass filter (3 position, instead of 4). At first I was trying to stick to my rule of leaving the on board switches at the default, but I couldn't. The 930 has a whole lot of output! So I engaged the -15dB pad for the recording, otherwise I was going to be attenuating all over the place. I found the 930 to be very similar to the Lewitt, although while it may have revealed even a bit detail and felt cleaner, I wasn't as happy with the 930 (especially when strumming) as I was with the Lewitt.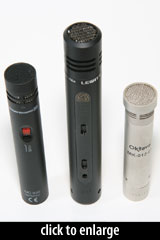 While strumming, the low-mids started to swell up slightly through the MC 930, and this could be a problem if you were layering some acoustic guitar tracks. The 930 felt very clean, had great output, and was very detailed, but there was some element of sterility to it. Maybe that word is too harsh, but it was very clean. That may be what you want sometime, but when doing some of these stringed instrument tracks, I found myself going back to the Lewitt to play around with it some more. I guess that's what happens when the artist is also the engineer (but I assume that is the case for many of us.)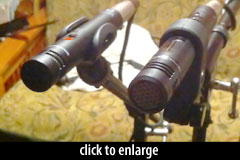 So when it came time to do some hand percussion tracks I felt like the Lewitt and beyerdynamic were extremely close in terms of what they offered. So I decided to test them together, side by side, on the same performances. So I balanced the 2 channels on the NPNG to each mic level (930 continued with the -15dB pad engaged), and started recording. In this case, the 'sterility' that I had experienced with the stringed instrument tracks through the 930 became a quality I enjoyed on the shakers and maracas. Even the key jiggling. While there was certainly nothing lacking with the Lewitt, the 930 brought a presence to the percussion instruments that I felt would sit well in a mix.
I don't record drum kit in my studio, but I would imagine both the Lewitt and 930 would be great choices for overheads. [The MC930 is indeed great for drum OH; hear it in a blind shootout: MC930 drum overhead review. –Ed.] I also tried out a little ukulele and really liked the results from both mics. The Lewitt may have been slightly mellower and buttery (can I say that about a mic?) but I thought they both captured something that I'd be happy to throw in a mix.
Depending on the number of flavors you like to have available in your mic locker, I could see owning all of these.
Depending on the number of flavors you like to have available in your mic locker, I could see owning all of these. I certainly would be happy having that option. While the Lewitt inspired some experimentation and sparked my imagination with the acoustic stringed instruments, the 930 has a lot of flexibility, especially in terms of recording quiet sources while retaining a low noise floor. In fact, I would consider the 930 for recording many indoor sound design sources, like cloth or paper foley.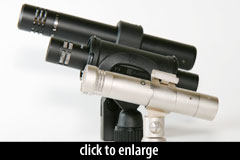 Everyone has specific needs in their recording environments and in the sources they need to record, and hopefully this gives you some insight into the different personalities each of these FET SDCs have to offer.
Posted in Microphones, Reviews | 8 Comments »
---
---
---