---
Tuesday, October 12th, 2010 | by matthew mcglynn
The name Oliver Archut should be familiar to anyone with an interest in microphones. His company, AMI, has provided microphone design and manufacturing services to a variety of boutique manufacturers including Bock Audio, Wunder Audio, Telefunken Elektroakustik, and Miktek Audio. See also the Lucas Engineering microphones, developed in partnership with Terry Manning.

AMI is also known for its reproductions of vintage-mic transformers, including the BV8 (for U47), BV11 (for M49/M50), BV12 (U67), UM351 (for UM57 and CMV-563), and T14 (for C 12 and Ela M 251), and as such is on a short list of first-call suppliers for vintage-mic owners looking to restore the performance of tired microphones.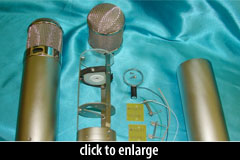 The company's inventory of historically-accurate mic replacement parts recently got bigger in a really interesting way: AMI has recreated the body and all metalwork for the Neumann U-47!
Two kits are available: one "classic" (for Tuchel jack), and one "modern" (for Binder jack). Both include the chassis, body, capsule mount, and headbasket.
I think this is pretty exciting news for the DIY crowd. Consider the AKG C12, whose body style has spawned numerous copies. Inexpensive imported reproductions serve as the basis for literally dozens of commercial mics (e.g. a, b, c, d, e…) and probably even more mods. It's long past time when recordists have more affordable U47-inspired tube mics to play with. Hopefully the ready availability of U-47 metalwork will inspire some new mic development.
Read on for an interview with Oliver about the new gear.
Interview with Oliver Archut
How did the idea of a U47 kit come about?
For a number of years I've seen companies put out newly produced, reproduction U47 parts that I thought were of pretty good quality but at prices that I was reluctant to pay. When doing one-off U47 restorations, I made the parts from scratch. As soon a the opportunity came around to make the bodies, bells and head baskets, Joe [Hauck] and I jumped on it. We thought that it could be something that we could use in the future.
Then we needed to make the internal components for the Lucas CS-4 which are mostly the same as the historic U47 and we decided to over-produce them so that we could have those parts in stock for customers to buy, as we always get requests for them. The next thing we knew, we realized that we had the parts for folks to build microphones themselves. We decided to offer kits to members of our mailing list at a promotional price to see what people thought. People have been happy with them so we will try to keep them in stock moving forward.
Who is the target customer for this kit — advanced DIY'ers who are building their own one-off designs, or boutique manufacturers planning a U47 recreation mic?
I guess it could be either. If there is a small, boutique microphone company interested in contacting us about buying some or all of the parts in bulk, we would certainly see if an agreeable deal could be made. But we went into this figuring that the advanced DIY folks would be the more likely customer for these kits and parts.
How historically accurate is this kit? Could these parts be used by people restoring vintage microphones?
Well, if you go to our website you can see how I used parts from the kit to refurbish an historic Telefunken U47 that had been chopped up and converted into a FET mic. The ribs and body tube were from our kit. The bell used part of the original and part our new bell, and the finish looks consistent.
Everything on the kit can be swapped over to use as a replacement part to restore an historic U47, but I have to add the we lowered the transformer deck to add space for any glass tube replacement.
There are three parts in an original U47 that we do not have in stock — the aluminum capsule deck, the polarity switch cover and the polar switch. We started this project based on parts that we needed for the Lucas CS-4 and because that mic uses a remote polarity switch, we did not have those parts made with the rest of the internal parts. Depending on how the kits go, we may make those parts down the road.
The Neumann U47 grille imparts a natural EQ curve that is part of the U47's signature sound. Does this grille behave the same way?
Our goal was to match the grill as close as possible, what we did, but there are a few minor differences with reference to the weave (imperial/standard vs. metric spacing), as well as a different radius/angle around the polar switch. Despite these minor changes, we have observed that the EQ curve sounds the same as the original U47 head baskets.
Do you intend to offer full-mic build-it-yourself kits, including a suitable tube, circuit, and capsule?
On the U-47 kits page there is a schematic that I designed for making a U47 with a couple of alternate tube suggestions. [Ed. note: read why the U-47's VF-14 tube is not an option.] Other tubes could be used as well. Not only is there a schematic, but we also included a parts list with the values and part numbers from Mouser Electronics on the second page of the file.
There are already lots of places on the web to purchase tubes and electronic components, so we wouldn't be adding any value there. The same is true with capsules. There are so many different types, we wouldn't be able to stock all of the options for folks. Plus with most of the capsule manufacturers willing to sell direct to consumers, again we wouldn't be adding any value there.
We just wanted to provide folks with the opportunity to make their own mics inside the historic U47 housing.
Many thanks to Oliver for providing the backstory on these U-47 kits!
We hope the kits are a big success. You can be sure we'll be fondling them at the AES show in a couple weeks.
Posted in Interviews, Microphones | 1 Comment »
---
---
---