---
Thursday, September 23rd, 2010 | by matthew mcglynn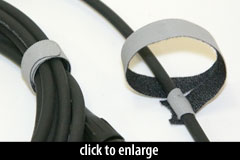 My pal Michael Capella turned me on to the best cable ties for microphones that I've ever seen.
They're made of two-sided Velcro. Loop one end around the cable and pull it tight; the Velcro will snug up so the tie doesn't slide around when the cable is in use.
The ties don't rattle during a session. They don't break when you step on them. They don't take up any space to speak of. They're long enough to tie up your longest cables. And they only cost about 9¢ apiece.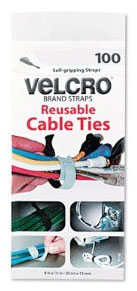 These things are a win all the way around.
Amazon sells 100-packs for under $10. That's enough ties for your patch cords, power cords, and computer cords too, with some left over for you to, I don't know, hang up some very small bass traps maybe? Well, maybe not that. Still, it's the best $9.29 upgrade your studio will see this year.
Amazon link: Velcro Reusable Self-Gripping Cable Ties, 0.5 Inches x 8 Inches Long, Black, 100 Ties per Pack (91140)
Update: Sven of Foundation Recording Studio suggested in the comments to check out a rubber cable tie called "Wrap-n-Strap." They come in 6-inch and 9-inch lengths and look like they'll last forever. They're a good bit more expensive — nearly $2 apiece — but they look nicer than the Velcro ties.
Musician's Friend link: Wrap-n-Strap Cable Ties
Posted in Microphones | 6 Comments »
---
---
---