---
Monday, July 5th, 2010 | by matthew mcglynn

JZ Microphones has announced a new pop filter, said to be based on the Black Hole series filter, although photos suggest a lot more R&D has taken place in the interim.
The Black Hole pop filter used two convex screens mounted back-to-back. JZ claims the design "reduces blasts and blows more than any other pop filter in the market." Except, presumably, for the new one.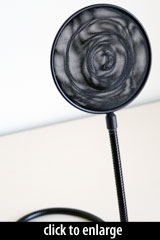 The new design retains the idea of mounting two screens back-to-back. But the shape of the screens has changed — both are complex wave shapes. There are no parallel surfaces between the two screens.
JZ Microphones

The pop filter has unique shape designed to maximally reduce plosive sounds coming to the microphone's capsule and to maximally avoid altering the harmonic content of the sound source.
The last bit is the trick.
I welcome comments from folks on this, because I've been unable to find anything relevant and authoritative on the topic of how sound changes when it passes through a screen.
The following tells why a sound wave changes:
Harry Olson, Acoustical Engineering

Acoustical resistance may be obtained by forcing air through a small hole. The resistance is due to viscosity which may be considered as friction between adjacent layers of air… when sound travels in a small tube, the particle velocity varies from zero at the boundary to a maximum at the center… the smaller the hole, the higher will be the resistance.
Any day I can quote Harry Olson is a good day. Still, a day that I could quote Harry Olson describing in lay terms why pop filters act like passive EQ devices would be an even better day.
Here are more pictures of the new JZ filter:
The filter includes a long gooseneck, and will include some sort of clamp for attaching to a mic stand.
Pricing has not been announced.
Find the press release here.
Posted in Uncategorized | 2 Comments »
---
---
---